Due to its grit, Dubai has managed to battle the odds to become the metropolis it is today. It went so far as to create a floral oasis among glistening skyscrapers and sand dunes! Hence, people who say Dubai is a desert city and shouldn't be visited during the summer have no idea what awaits them in this remarkable emirate during the low season. Despite the harsh summer weather, Dubai has several indoor treats that ensure that visitors can enjoy Dubai at any time of year. Consider going on a Dubai summer trip if you have a Dubai visa, as this is a great way to gain experience at a lower price. An entire day can be spent exploring the attractions listed below.
Places to Visit in Dubai During Summer
Ski Dubai
One place in Dubai is always covered in snow, no matter what time of year it is. At Ski Dubai, you will find a temperature-controlled indoor ski resort that offers a variety of ways to beat the Dubai heat and have fun. Ski Dubai, located inside the Mall of the Emirates Dubai, welcomes visitors to cool off at -4 degrees Celsius. Snow Cinema, Ski Dubai Snow Slopes and Ski Dubai Snow Park in Dubai featuring  snow zorbing, chairlifts, high-speed sledding, and cute penguins who pop out occasionally to cheer you up, make up this recreational Winterland. Ski Dubai is one of the most popular kid-friendly attractions to visit in Dubai and if you are travelling with your family, then it is one of the best places to visit in Dubai in summer.
IMG Worlds of Adventure

Looking for an adventure? Come visit IMG Worlds of Adventure, where MARVEL and Cartoon Network characters entertain you with thrilling rides and shows. IMG Worlds of Adventure is an epic indoor amusement park with fun for all ages and is counted as a favourite among the best theme parks in Dubai suited for all ages. Here, you can join the superheroes in battle, watch the nostalgic characters of Cartoon Network in 3D shows, and even go back to prehistoric times to experience a truly jaw-dropping adventure with dinosaurs.
Dubai Mall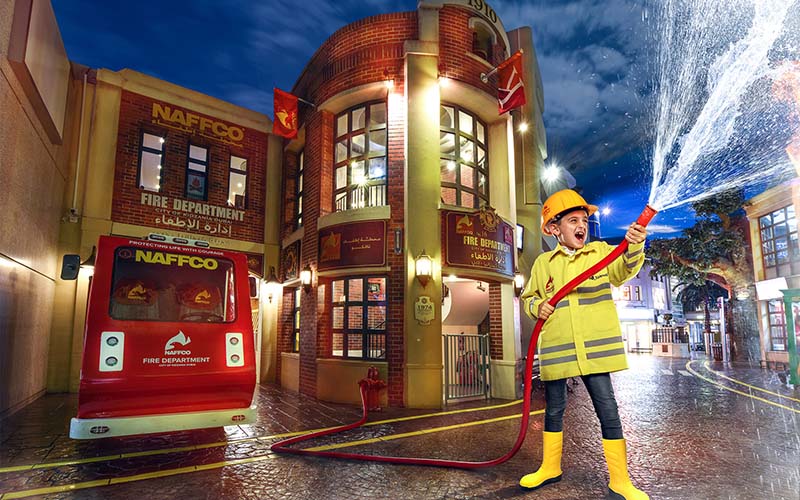 It is impossible to keep track of time at Dubai Mall. The largest mall in the world by area is home to magnificent attractions as well. Besides shopping and dining, Dubai Aquarium, Underwater Zoo, and VR Park allow you to explore new realms. Among the mall's attractions is a huge Ice Rink where you can hone your ice-skating skills and experience winter in Dubai summer. There is no escaping the temptation of shopping when in Dubai during summer as it offers slashed prices and amazing deals on merchandise. The mall is fully air-conditioned and is a great place to visit in Dubai during the summer.
The Green Planet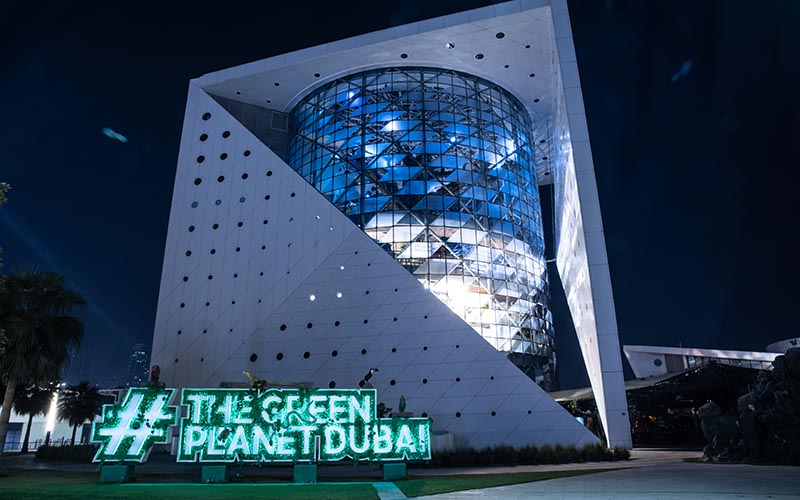 Green Planet is another amazing attraction to visit in Dubai during the summer months. Discover an indoor man-made tropical rainforest. Over 3000 plants and exotic fishes, birds, and animals are housed in this biodome. The atmosphere in Dubai's indoor rainforest is surreal and cooler than what you experience outdoors. You can take a day tour or even camp in a verdant wilderness inside a spectacular modern structure.
Museum of the Future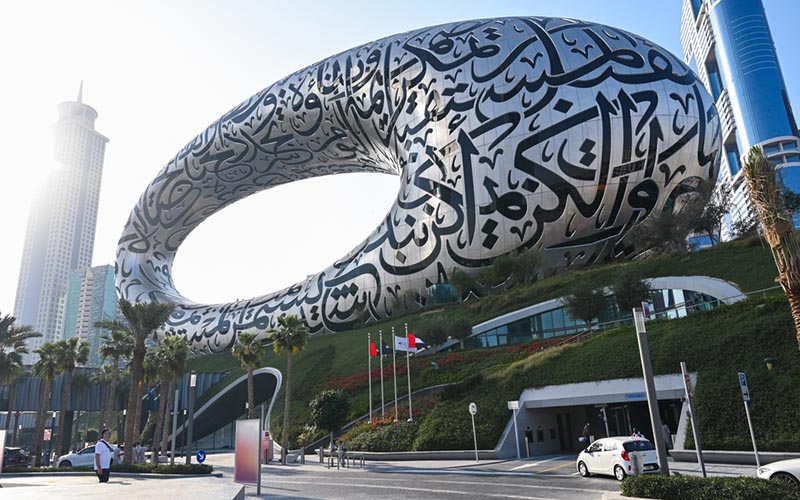 Visit the Museum of the Future while you are in Dubai, no matter what time of year you are visiting. When you pass along Sheikh Zayed Road, you will see an unusually shaped metallic structure glinting in the sun. This magnificent museum celebrates futuristic visions for mankind, unlike other museums that focus on history and the past. A masterpiece of creativity and innovation, the Museum of the Future captivates you from the first glance at its enticing Arabic calligraphy-covered façade. The museum houses a variety of exhibits and galleries dedicated to science, technology, and space. The exhibits you will see here are certainly the first of their kind and you will rarely encounter such a variety of innovations anywhere else.
Ain Dubai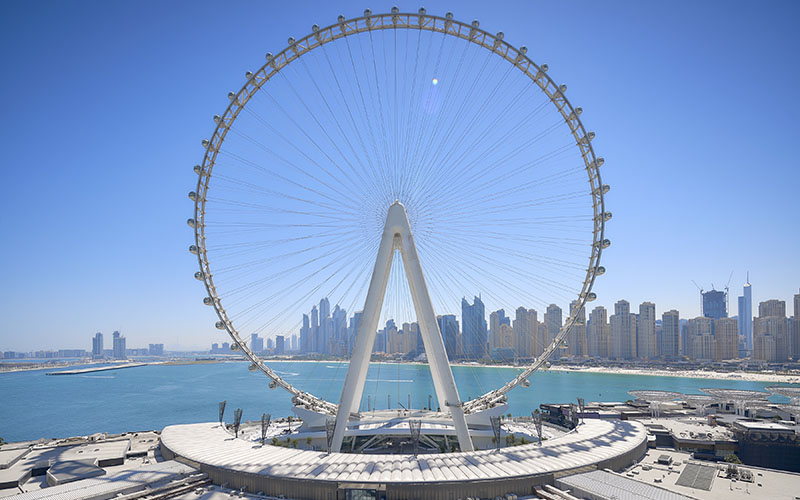 As the largest observatory wheel in the world, Ain Dubai is the latest landmark to join Dubai's mega monuments. On the Bluewaters island, an emerging recreational destination in Dubai, Ain Dubai offers breathtaking views of Dubai's sea and cityscape from various vantage points. A 40-minute ride in a fully airconditioned spacious observatory pod takes you on a slow-paced ride from where you can take in the gorgeous vistas of Dubai city's splendours.
Atlantis The Palm Dubai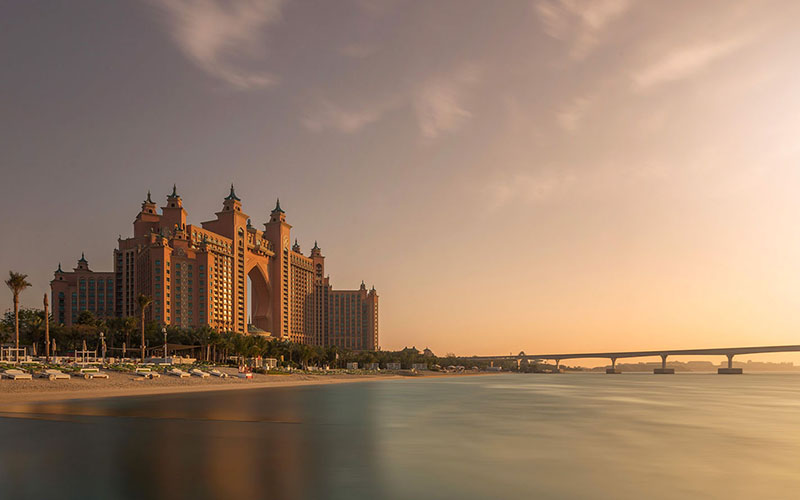 Dubai and luxury go hand in hand. If you want luxury and opulence in Dubai but the price is out of your reach, then you can get a Dubai tourist visa and visit this emirate during the summer months. Take advantage of low season pricing at Atlantis the Palm Dubai. Why this resort particularly? Because, when you stay as a guest at this luxury resort you also get complimentary access to Aquaventure water park and Lost Chambers Aquarium. These Atlantis attractions will certainly boost the thrill factor as well as deliver the best luxury Dubai hospitality.
Luxury Dubai Spas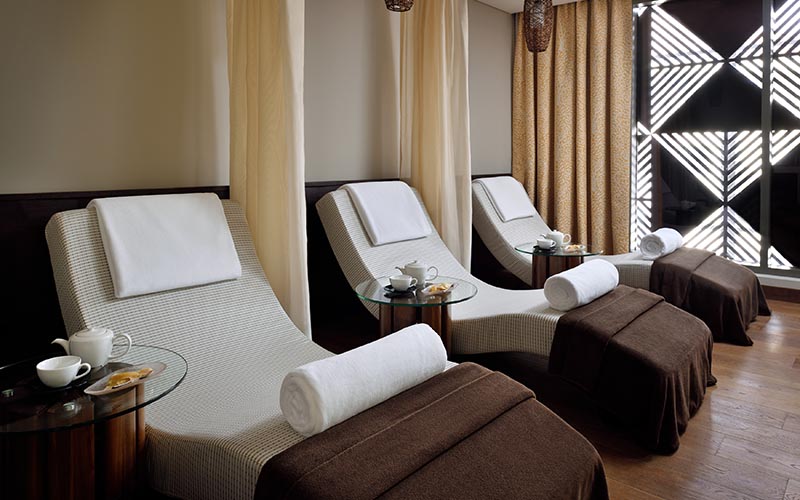 Talking about luxury, how can you miss a stress-melting, opulent session of pampering at Dubai's opulent spas. There is an incredible collection of the luxury hotels in the emirate, each with its own exquisite spa. Enjoy the opportunity to unwind, relax and take time for yourself with spa wellness at opulent spas such as Talise Ottoman Spa, Jiva Spa, and Ahasees Spa, which will certainly offer some summer offers during the low season.
Dubai Marina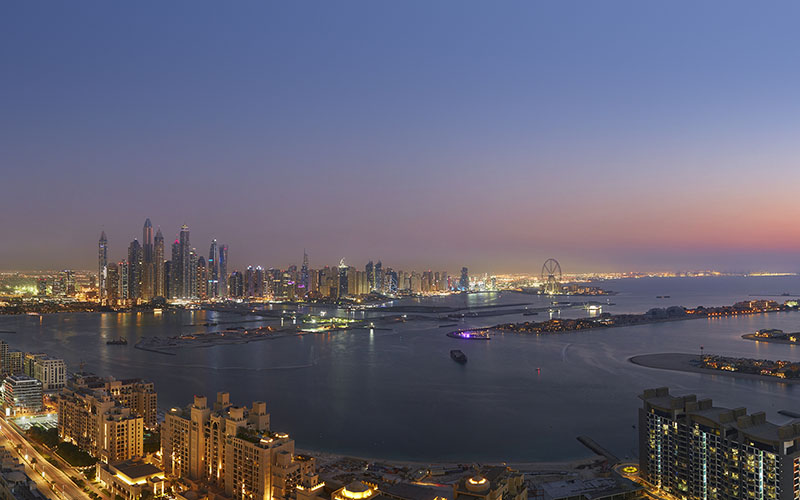 Dubai Marina is known as a happening hub of the emirate because of its suaveness and wide selection of recreational activities. There are beautiful beaches nearby Dubai Marina where you can unwind, relax, and enjoy water sports. You can choose your type of thrill – from adrenaline-pumping Flyboarding, parasailing, and wakeboarding experiences to mellow adventures such as banana boat rides and kayaking. In this section of Dubai, you can also enjoy some of the finest boating and dhow cruise experiences.
La Perle by Dragone Dubai

La Perle By Dragone features an aquatic theater play that will blow your mind. Dubai's permanent live entertainment show, La Perle By Dragone, will captivate you in a theatre specially designed to showcase acrobatic performances mixed with water elements. It takes place in an aqua theatre and is skillfully choreographed so that you will be amazed by the grace and precision of the whole performance. It is one of the most unique shows to watch in Dubai and you will regret missing it.
Conclusion
There is a way to make Dubai a memorable experience regardless of the heat during the summer months. Summer means a low tourist season in Dubai. This means fewer crowds and you can most of the time have the city to yourself. A trip to Dubai during the summer means lower rates for all travel services, right from flight bookings to hotel accommodations to discounts on shopping and dining. A desert city, Dubai nonetheless has an innovative side, proving that nothing is impossible for this city.