Dubai is synonymous with glitz, glamour, and an opulent vacation. And you don't really have to do much, the exclusive hotels in Dubai are sufficient to make you feel like a royalty with their exceptional hospitality, uber luxurious rooms and state of the art services.
Planning to spend a luxury vacation in the emirate? Here's a list of luxury hotels in Dubai that redefine extravagance through their accommodations and services.
1. Burj Al Arab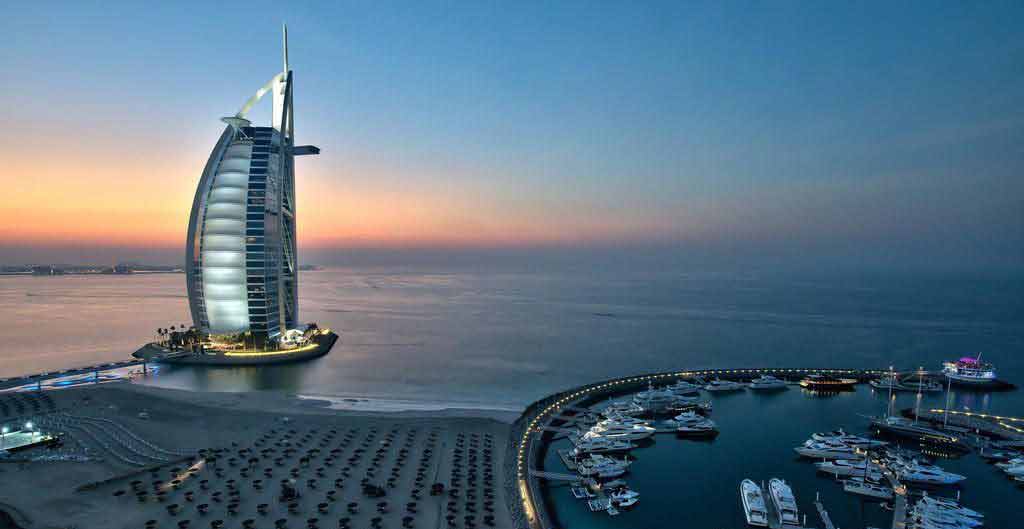 Okay, we are not listing the Dubai luxury hotels in any particular order or hierarchy but there's no way any other hotel is getting a mention before the mighty Burj Al Arab. In fact, if you go through any Dubai travel guide for first-time traveller, the first luxury hotel you will get acquainted to in Dubai is the Burj Al Arab. Shaped like a sail, this fabulous structure has been on every traveler's bucket list since its opening. It is the most luxurious and the only 7-star hotel in the world where every guest gets a personal butler. What more do you need to know?
Located at: Jumeirah Beach, Dubai
2. Al Qasr, Dubai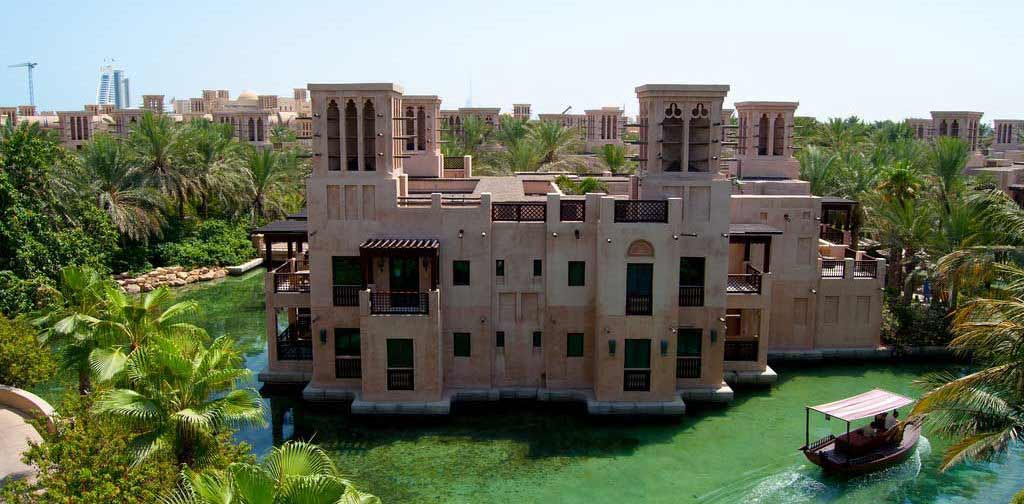 With each luxurious room offering a view of the uninterrupted expansive desert, any suite at the Al Qasr allows you to soak in the Arabian architecture with designer mosaics and intricate jewelleries adorning the traditional Arabian interiors. The spa and the pool are more additions to your luxurious escapade.
Located at: Al Sufouh Rd, Dubai
3. Shangri-la Hotel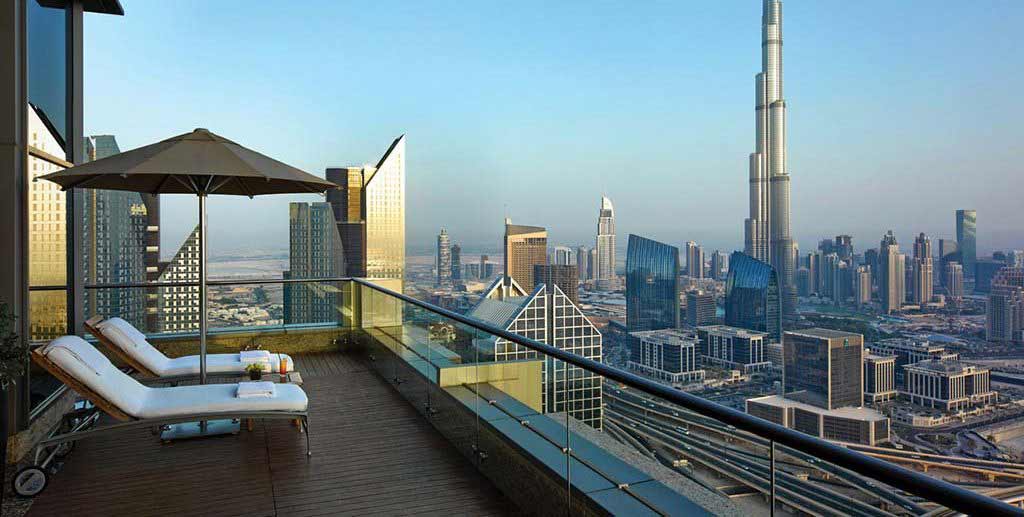 One of the top hotels in Dubai, Shangri- la's , each of the 302 rooms feature immaculate design, panoramic views of the Arabian sea and the Burj Khalifa. Offering the best amenities including squash and tennis courts; it is one of the most preferred family hotel in Dubai.
Located at: Sheikh Zayed Road, Dubai
4. Al Maha Desert Resort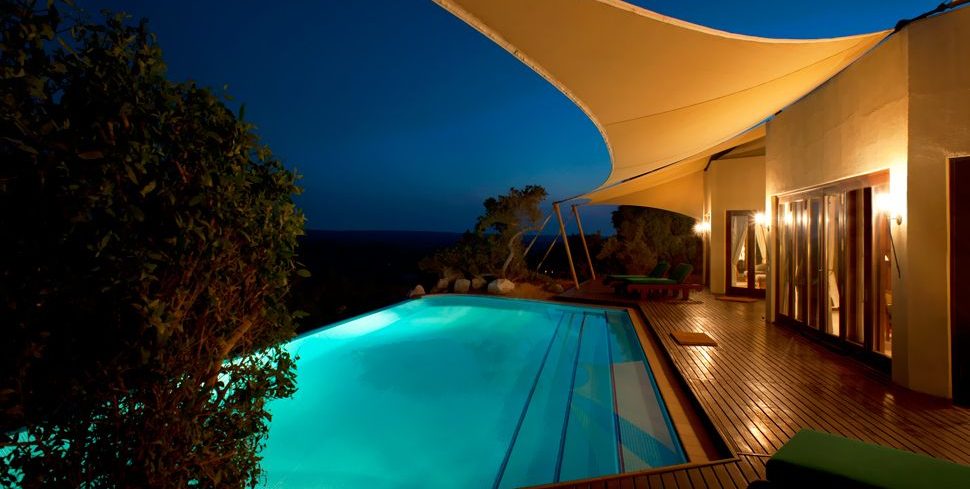 A traditional Bedouin style design infused with every modern amenity to offer you best in class comfort, Al Maha Resort is arguably a one of a kind property in Dubai. It has 42 standalone private suites with every possible amenity you can dream of. This is a great excuse to get your Dubai visa.
5. Raffles Dubai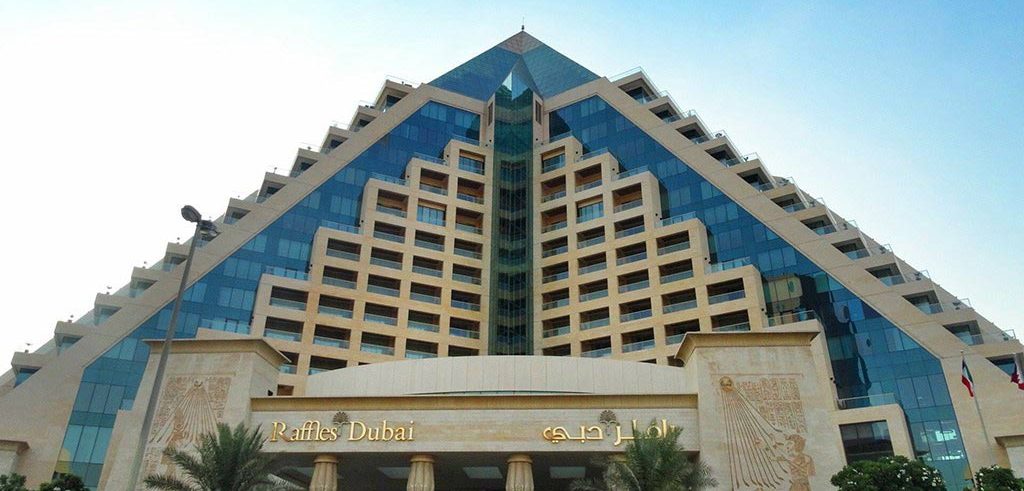 This Egyptian themed hotel is one of the most renowned hotels in Dubai and loved by both the business travellers shopping enthusiasts due to its extravagant services and impeccable location. The pyramid shaped edifice has sophisticated interiors and the unmatched hospitality makes it an ideal luxury pad.
Located at: 13th Street, Sheikh Rashid Rd, Wafi city, Dubai
6. Park Hyatt Dubai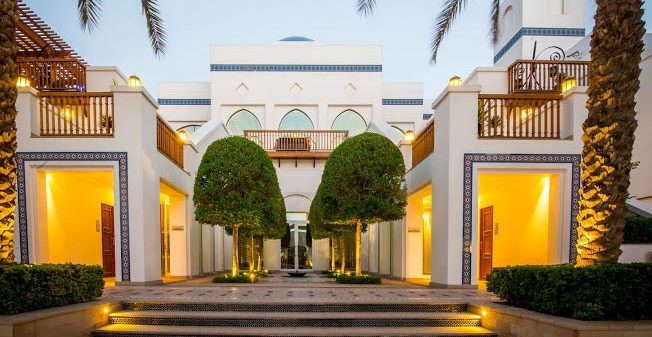 An ideal blend of Moroccan, Mediterranean and Arabian styled architecture, the Park Hyatt Dubai is known for its alluring and exotic feel. The plush rooms with balconies overlooking the magnificent Dubai creek along with professional and respectful service makes a complete value for money stay.
Located at: Dubai Creek Club Street, Dubai
7. Kempinski Hotel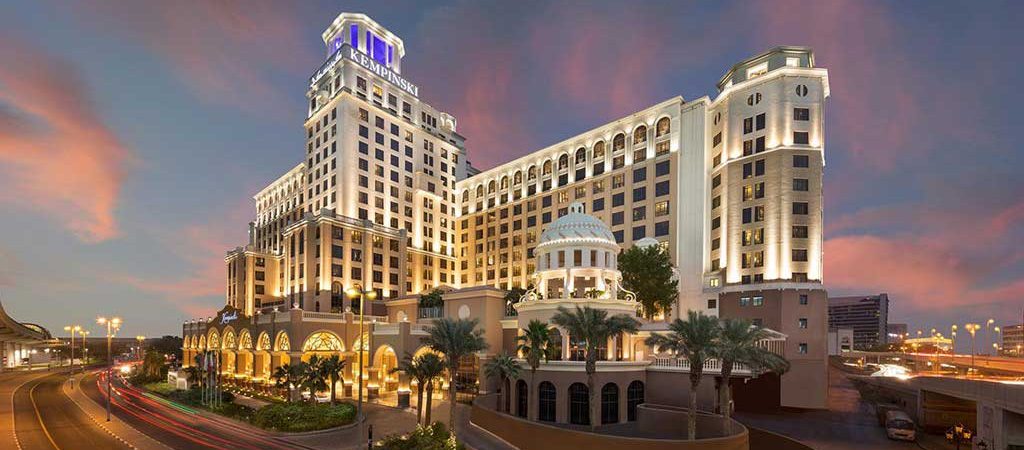 This unique five-star hotel of Dubai offers cosy chalets, that overlook the plush ski slope of the Mall of Emirates. It is all set to woo you with it exceptional hospitality, faultless service, two outdoor pools and a lovely spa. The traditional Arabian carpets and velvet sofas infused with a contemporary look gives the guest a regal feel.
Located at: Mall of The Emirates, Sheikh Zayed Road,Al Barsha 1, Dubai
8. Jumeirah Beach Hotel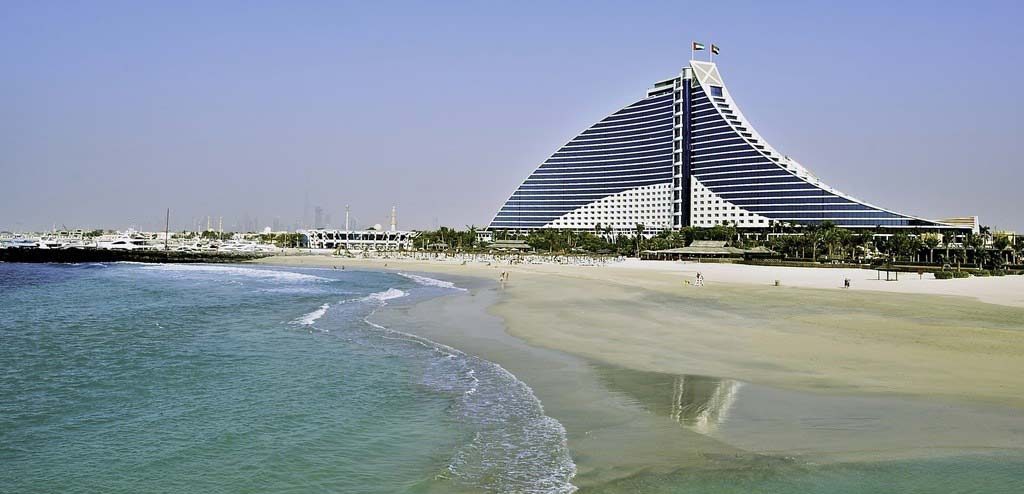 This colossal waterfront hotel designed in the shape of a gigantic wave has all the upscale amenities like iPod docking stations, four plush pools, entertainment and fitness centres, special kids centres and more. Such is the popularity of the hotel that when it's the peak season, it's difficult to get even one out of 617 rooms without prior reservation.
Located at: Jumeirah road, Dubai
9. One & Only The Palm
Known as Dubai's most seductive beach resorts, One & Only the Palm allows you to indulge in the unrivalled views of the Dubai Marina. The service of the staff is friendly yet discreet that's highly appreciated. The pavilion and pools are magical when lit by lanterns at night.
Located at: West Crescent, The Palm Jumeirah, Dubai
10. One & Only Royal Mirage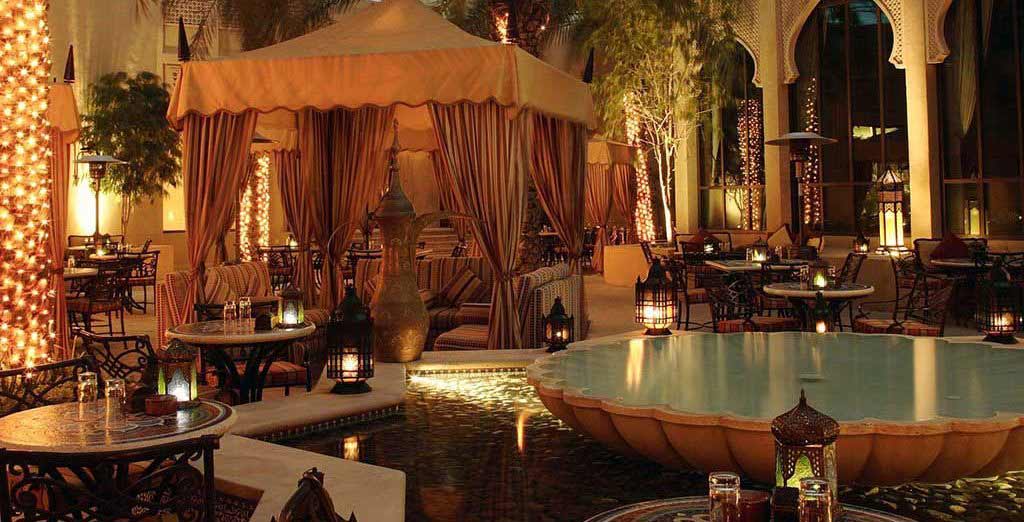 The hotel goes beyond the definition of luxury. The Arabian style décor takes you back into the ancient era without compromising even a bit on your modern day amenities. Smoke shisha under the palm tree courtyards or eat the Moroccan menu at the Tajine, shop at its boutique shops inside or go to the nearby Mall of Emirates; whatever you do, rest assured of a blissful night sleep.
Located at: King Salman bin Abdulaziz Al Saud St, Al Sufouh, Dubai
11. Waldorf Astoria Dubai palm Jumeirah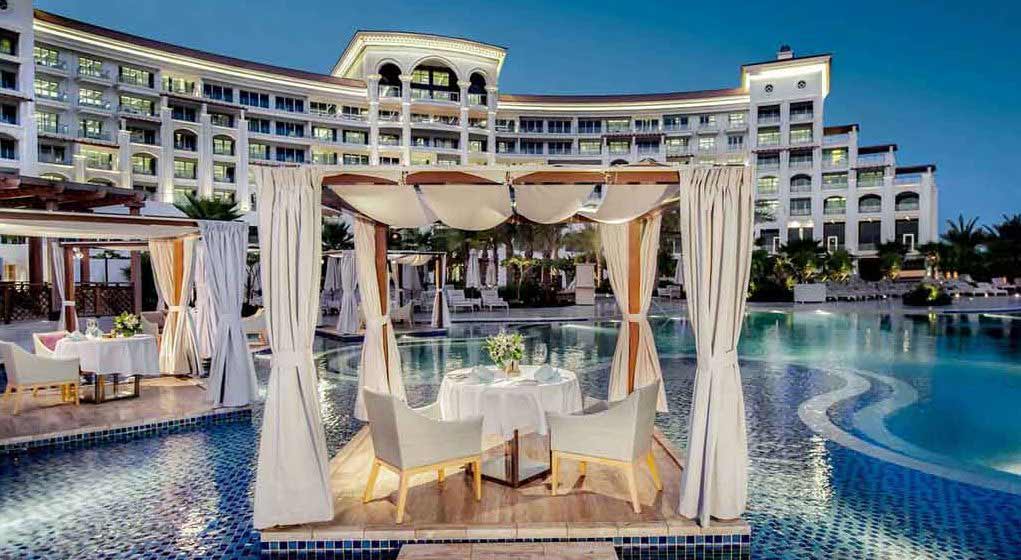 With an underwater uber luxury spa, a choice of ten restaurants to choose from, and the mesmerising views of the vast Arabian sea are just some of the impeccable qualities of Waldorf Astoria. Designed with palatial Arabian architectural designs and gold coloured marble floors, Waldorf is every bit your choice for a luxury escapade.
Located at: Palm Jumeirah, Crescent East, Plot C-34, Palm Jumeirah, 24988 Dubai
12. Atlantis The Palm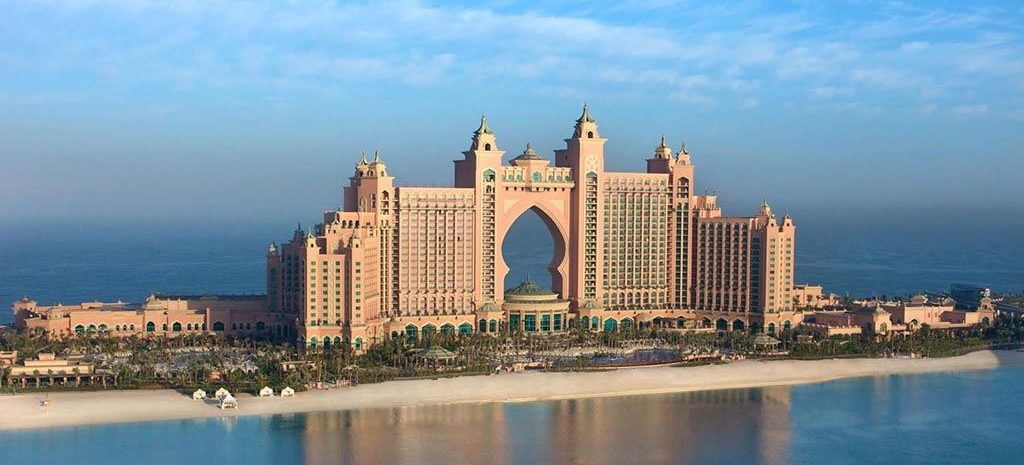 Lavish suites, sumptuous fine dining restaurants, a mile of private beach and amazing kid's activities; Atlantis the Palm welcomes you with its exquisite under- the –sea décor and a free access to the Aquaventure water park. Every bit the perfect place for a luxury family vacation, Atlantis the Palm is your place to be for unlimited fun. The best time to visit the Atlantis in Dubai is year-round giving guests the opportunity to beat the heat during summer months with world-class water park and to relax on the beach in winter.
Located at: Crescent Road، The Palm Jumeirah
13. Armani Hotel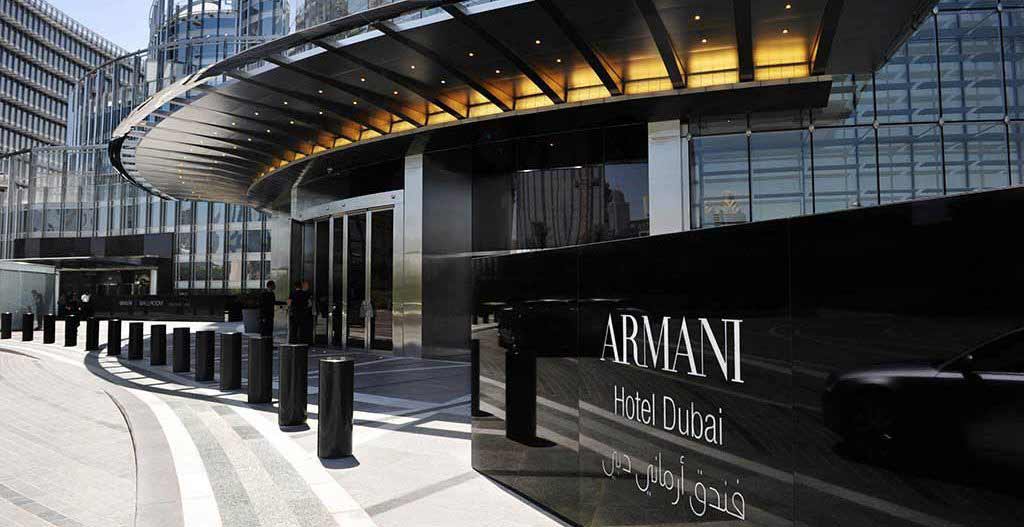 Bringing you spectacular views of the impressive downtown Dubai, the Armani room décor is to go for besides the fact that it is located in the tallest building on earth- the Burj Khalifa. Been designed by Armani, the rooms are every bit sleek and stylish with elegant colour furnishings and hide away closets, essential to the Armani designer style.
Located at: Burj Khalifa, Burj Khalifa Area, Downtown Dubai, Dubai
14. Palazzo Versace Dubai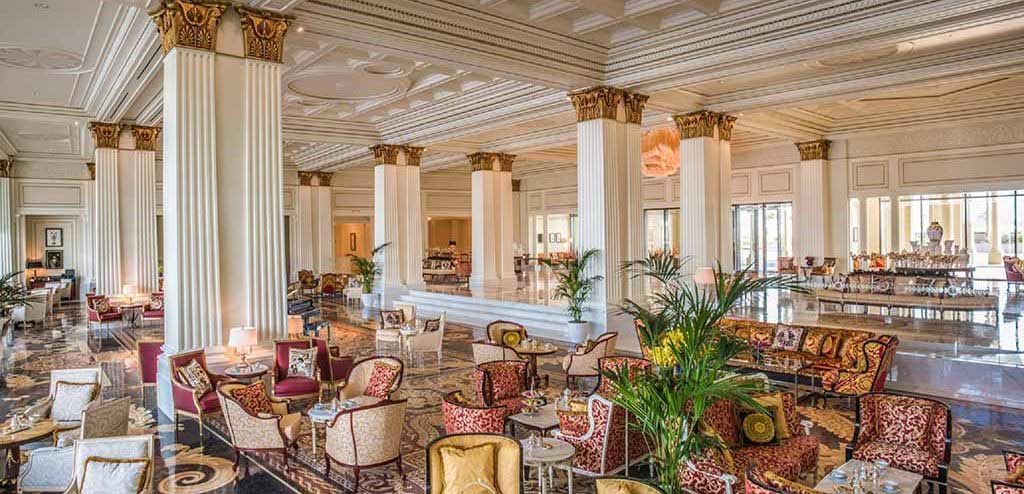 The perfect hotel for those for whom nothing is enough, Palazzo Versace is every bit over the top even for the opulent vacationers. Everything, right from the lavish room designs, to the wow lobby interiors; palazzo Versace is your pick if you want to accentuate your vacations up a notch.
Located at: Culture Village, Bur Dubai, Dubai
15. Jumeirah Mina A' Salam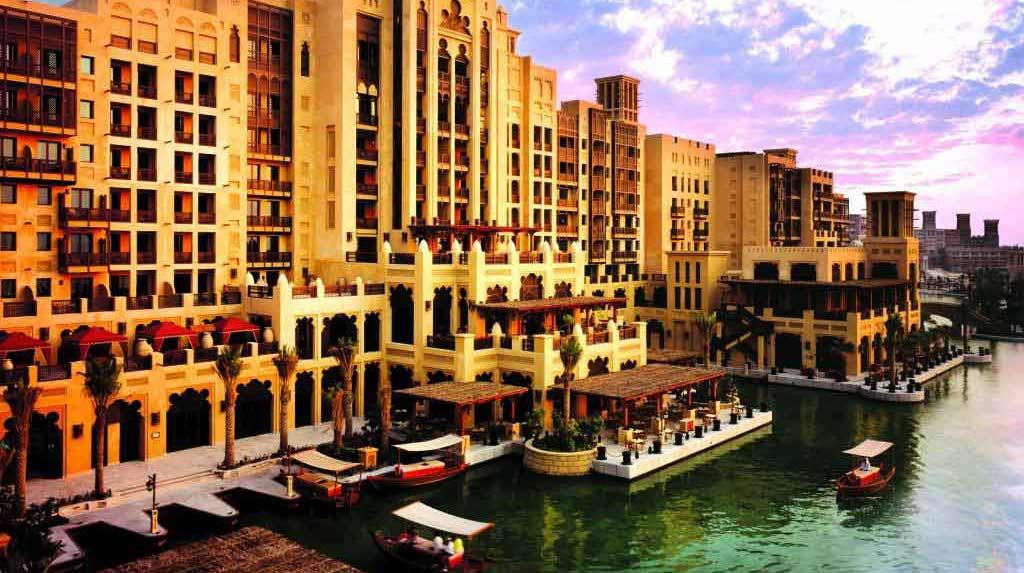 A part of the Madinat Jumeirah compound, Jumeirah Mina A' Salam is a perfect choice if shopping and desert view is on your mind. The hotel has plush suites catering to all your luxury requirements. It has some great dining options and a special Bahiri bar that is loved by Sundowners.
Located at: Madinat Jumeirah, Al Sufouh Rd, Dubai
Dubai's luxury hotels suit their reputation of being the playground of the rich. The best of world amenities, impeccable service, and top-notch hospitality is available in Dubai if you are willing to shell out a little more money. Several upcoming tourist attractions will boost the development of luxury hotels in the UAE, particularly in Dubai. A new Atlantis hotel is about to open in Dubai, and a number of luxury hotel chains plan to open their ventures here. Dubai is the perfect place if you're looking for the ultimate in luxury living.