The advent of January in Dubai just doesn't mean the arrival of New Year but fabulous and world-famous Dubai Shopping Festival (DSF) as well. This time, though, with a difference; it will be already live to welcome New Year in the grandest manner possible, as it kicks off for next season end of this year. That year's edition of DSF is almost upon us, carrying with it endless possibilities for the whole year's shopping.
But wait before you think that this one-month extravaganza which would last till January 29th 2022 is purely a shopper's event. DSF, started off in 1996 with the main intention to promote the region's trade scenario, has come a very long way and is now an astonishingly all-rounder event which is equally a favorite of families, entertainment lovers, adventurists, culture vultures, fashion freaks, movie enthusiasts, and of course, almost all categories of people you can imagine and beyond.
Whether you're a first-timer or a regular attendee of this event conducted by Dubai Events and Promotions Establishments (DEPE), one thing DSF guarantees is that it will be far from all your visualizations, with fresh themes and always something new to look forward to. So enough of the never-ending prelude now; we don't want to keep you guessing anymore. Have a look at what's on for Dubai Shopping Festival for its visitors. So get your Dubai visa and have a look at what's on for Dubai Shopping Festival 2022
Find out what is in store for you this year at the remarkable Dubai Shopping Festival.
1. Grand DSF Opening & Festal Spirit
The event on the whole is indescribable. Employing the latest pyrotechnics, the spectacular fireworks across the regions of Creek Park, Global Village, and The Beach (adjacent to JBR) mark the grand opening of DSF every year. Don't worry if you're not able to catch up with the inaugural fireworks; this mind-boggling spectacle will continue throughout the DSF, mainly on Thursdays, Fridays and Saturdays till the completion of the event. Moreover, an implausible festal spirit daubs every nook and cranny of the city, with colorful lightings and buoyant decorations embellishing the prominent malls, key locations and full of life thoroughfares.
2. Shopping Paradise: Malls, Night Souks, Carpet Oasis
There is no dearth of places for shopping in Dubai. In fact, it is the best emirate to spend a whole day shopping. From the world's biggest mall to the dazzling Gold Souk, come to Dubai any part of the year and it will not disappoint shoppers at all! So what's special about shopping during DSF? It's the time when most renowned brands in textile, fashion, gold, and electronics launch their finest line-up of merchandises, giving you widespread possibilities to grab the most stunning yet latest designs and collections not available anywhere else. Besides malls, souks and popular retail outlets, be sure to look around at dedicated DSF venues by way of Carpet Oasis, Night Souks etc.
3. Discounts, Discounts Everywhere
More than 60 malls, several renowned brands and around 6000 retail outlets participate in the event means DSF has huge discounts, promotions and unbelievable deals in store for you. Along with free (quality) gifts with most purchases, get 25% to 50% or even whopping 75% discount on your favorite apparels, perfumes, sunglasses, cosmetics, handicraft items, dry fruits, confectioneries, cameras, home appliances, smart phones and more.
The discount offers aren't restricted to these merchandises though. Majority of service providers in the hospitality, tourism, airline, and health sectors come up with best packages offering best ever prices during DSF. Purchase all-inclusive vacation packages, book discounted hotel rooms, grab value-added wellness packages, and take advantage of free check-ups conducted by medical experts.
Make the most of DSF deals by taking advice from locals, checking service providers' website, and of course creating a perfect priority list with your unique DSF staples.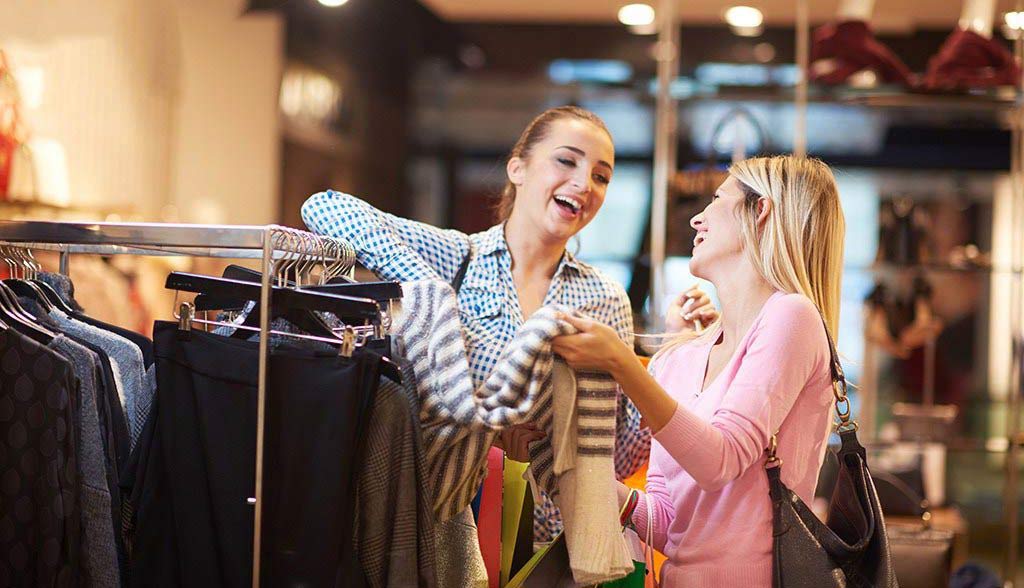 4. DSF Mega Raffles & Massive Surprises
The highpoints of shopping festival in Dubai are beyond tax free shopping and discounts, as all through the event you'll get chance to participate in raffle draws and take home exciting rewards. Ever since DSF was launched, a total of around AED 2 billion has been distributed in prizes which even included classy vehicles like Rolls Royce as well as several kilos of gold worth AED 750 million. DSF is only getting splendid year after year, so you can definitely look out for some grander and even life-altering prizes this year. Here are some of them:
Nissan Grand Raffle: Organized by Dubai Festivals and Retail Establishment in association with Arabian Automobiles and ENOC / EPPCO, Nissan Grand Raffle provides you the opportunity to win a latest Nissan car every day, besides a chance to win Nissan Patrol per week. It's easy to obtain this raffle coupon; spend as low as AED 20 at one of Zoom or Pronto outlets or get your car washed at ENOC for just AED 30.
Dubai Gold & Jewellery Mega Raffle: This is probably the most awaited raffle draw during DSF. Buy products worth AED 500 from one of the participating malls or outlets and receive a raffle coupon for Gold and Jewellery Mega Raffle. Lucky winners can return home with several kilos of gold and an eight carat diamond.
Infiniti Mega Raffle: Infiniti Mega Raffle comes with jaw-dropping prizes, allowing a raffle ticket holder to win an Infiniti QX70 along with AED 150,000 in cash. It also includes a weekly draw offering AED 50,000 for five fortunate participants. Purchase your Infiniti Raffle ticket (AED 200) from Zoom stores, participating malls, or exclusive ticket booths / kiosks put up by ENOC and EPPCO.
Dubai Shopping Malls Group (DSMG) Raffle: DSMG collaborates with Dubai Festivals and Retail Establishment to organize an array of mega promotions, including 'Win 5 Kg Gold' and 'Shop, Play & Win,' giving away prizes worth 3 million.
Not alone these, you'll get a chance to win AED 500,000, with a minimum spend of AED 200 from one of the participating malls. Best of all, many prominent businesses and brands like Nakheel, Jumbo, Visa, Paris Gallery, etc offer prizes ranging from gold and cash to Mercedes Benz.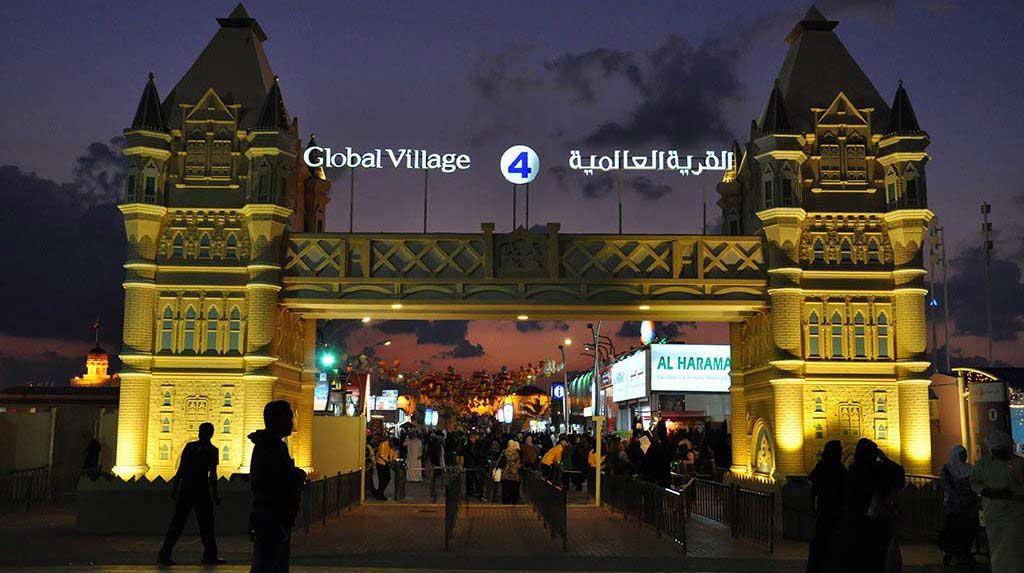 5. Global Village: Around the World in One Day
When Jules Verne's popular character Phileas Fogg took 80 days to travel around the world, DSF lets you experience the real thrill of globetrotting the world in a single day, fascinatingly without leaving Dubai. Simply make a trip to the open Global Village with pavilions representing 30 plus countries. Be in awe at exemplary calligraphy created by talented shadow artist from Jordan, see Venice's special water proof masks, and experience the representations of Bedouin life at Heritage Village, among others. Not only does it enable you to experience the authentic culture, heritage and traditional scrumptious cuisines of different parts of the world, but also revel in a variety of shows and attractions like Children's Show, Pre-historic Oceanarium, Streetmosphere etc.
6. DSF Carnivals, Concerts & Live Celebrity Performances
Check out DSF event calendar for an array of splendid performances and awe-inspiring visuals. Held every weekend during the event, DSF Carnival will see hundreds of highly famed performers entertaining Dubaiites with their gifted talents, such as highly skilled acrobats, celebrated dancers, and remarkably trained instrumentalists etc. Expected to be amazing than ever, the carnival will wend its way through Dubai's most popular locations: Sheikh Mohammad Bin Rashid Boulevard, Al Rigga Street, Al Seef Street and Global Village to name a few. Equally of note are celebrity performances and special concerts by both international and Arab artistes conducted all over the duration of DSF, from Salaam Dubai 2022: Bollywood Melodies Unlimited and Cirque du Soleil's Michael Jackson the Immortal World Tour to the 7 Sopranos Show by Australia's highly talented operatic singers.
7. Fashion Shows & Fashion Squad
As DSF rolls around, it also brings the best in haute couture to you, with special fashion-themed venues and shows making a roaring comeback to unfold the upcoming season's choicest trends. Check out the high end Market Outside the Box at Downtown Dubai's Burj Park, and also be a part of such innovative shows as Street Runways featuring high-street brands, Fashion Express that takes place at Ibn Battuta Mall, and Fashion on Ice – a unique staking fashion show conducted at Dubai Mall's amazing Ice Rink, wherein top models display latest collections by Galleries Lafayette. For fashion enthusiasts, the most enthralling element of DSF is probably Fashion Squad. This squad is actually a team of Dubai's highly reputed fashion bloggers who will wander through popular malls and boulevards to pick the most stylishly dressed people and gift them several discount vouchers.
8. Enjoy Finest Cuisines
It's not just shopping, performances and entertainment shows that make DSF Carnival, Global Village, Malls, Souks, etc a major hit! With these attractions also turning into a culinary extravaganza accompanied by flavorsome live cooking stations, food and beverage outlets, and exclusive snack kiosks, you can tantalize your taste buds with the finest of traditional Arabian specialties and international cuisines.
9. Cultural & Heritage Activities: Heritage Village, Camel Marathon Al Faris & More
There is no better time to discover the intriguing culture and traditions of the region than during DSF. From traditional folklores to classic car shows, visit Heritage and Diving Village to see activities and shows inspired by the rich heritage of the country. For a totally unique cultural experience, tour Dubai's historical districts and also spectacle camel marathon held at Hamdan Bin Mohammad Heritage Centre. You can further join Al Faris- a show based on poetry of Dubai's visionary ruler, HH Sheik Mohammed bin Rashid Al Maktoum.
10. Interesting Events & Exhibitions
As discussed earlier, DSF has been designed to entertain people of every age group and interest. Events and shows like Pony Fiesta, Latin Art Fest, Gulzaar Theatre Fiesta, Dubai International Kite Fest, and Hankook 24H Dubai are sure to entertain visitors of all types. A number of exhibitions also form part of DSF highlights, including Sign and Graphic Imaging Middle East, Intesec Middle East, and Arab Health Exhibition.