Dubai is home to a wide variety of architectural marvels. The city is riddled with world-record-holding structures and monuments, ranging from the world's tallest building (the Burj Khalifa) to the world's largest manmade island (Palm Jumeirah). Dubai has set a new global record and added a new feather to its cap when Ain Dubai opened in October 2021. Since its announcement in 2015, locals and visitors alike had been anticipating the opening of Ain Dubai. According to The Telegraph, Dubai officials first approved the world-record-breaking ride in 2013, as part of a larger push to enhance tourism in the area.
Ain Dubai, on Bluewaters Island, is the latest addition to Dubai's increasing list of world records. The island's observation wheel is surrounded by spectacular social and celebratory events, making it a must-see destination for anybody. Thus, the attraction has made it to the top of the list of best places to visit in Dubai for discerning tourists within a short period of time after its unveiling. All of the pertinent information regarding Ain Dubai can be found right here.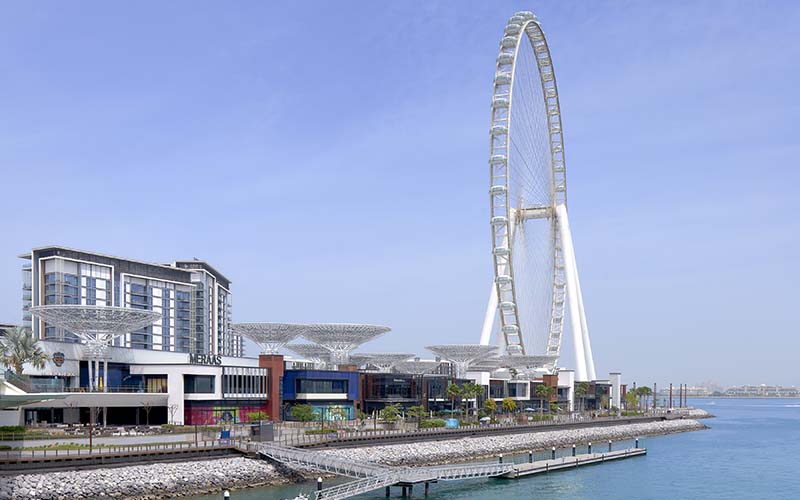 About Ain Dubai
According to their website, the Ain Dubai stands at a dizzying height of 250 meters. This marvellous construction stands at around 820 feet tall and provides views of the Dubai metropolis. It required nearly 11,200 tonnes of steel to construct. It is the world's highest of its kind. From its 40 passenger cabins, which are located off the famous Jumeirah Beach Residences (JBR) shoreline, it features 360-degree views of the Dubai skyline.
Views of the city's prominent structures, such as the Burj Al Arab, Palm Jumeirah, and Burj Khalifa, as well as views of Dubai's gorgeous shoreline and Dubai Marina's stunning cityscape, are available from Ain Dubai. The wheel's base serves as an entertainment zone, thanks to a large LED screen atop it.
The London Eye, one of the world's highest and most well-known observation wheels, is only around 440 feet tall. The High Roller in Las Vegas stands around 550 feet tall and has been the world's largest Ferris wheel for more than a decade. In comparison, Ain Dubai beats these amazing travel destinations by a lot.
With 1,750 seats and each able to accommodate a maximum of 40 riders, the Ain Dubai holds the record for the most people allowed to ride at the same time. A ride on the Ain Dubai will take longer than a spin at your local county fair; one full circle will take about 38 minutes. Food and beverages from concession stands on the ground, as well as drinks from the bar, are allowed to be consumed throughout the ride.
What to Expect at Ain Dubai?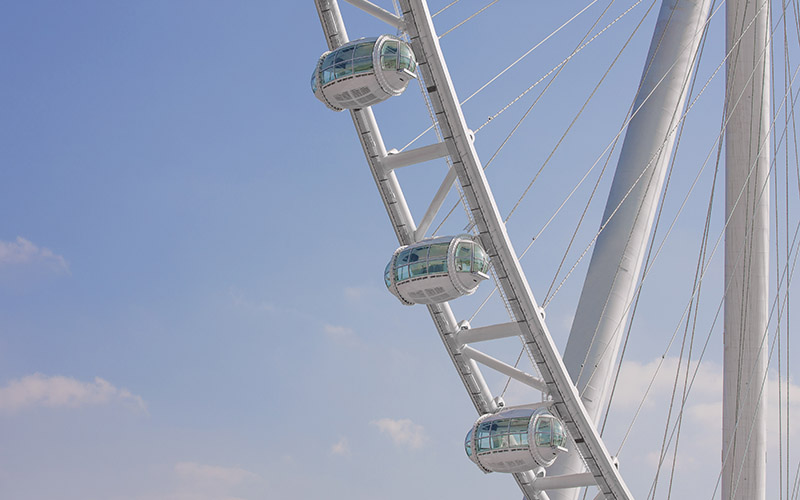 Ain Dubai is a 360-degree observation wheel that gives visitors a bird's eye view of the city. It's one of the best places to admire Dubai's magnificent skyline. Your Ain Dubai experience will be determined by the type of ticket or observation pod you choose. The three types of pods available are observation cabins, shared cabins, and private cabins.
Observation Cabins
Observation cabins are for visitors who want to take in the amazing views of Dubai, as the name suggests. These staterooms include LED screens that give detailed information on the sights and activities you will see during your cruise. The Burj Al Arab, Burj Khalifa, Dubai Marina, and even the Palm Jumeirah will be visible during your excursion. Currently, Covid19 laws limit the number of people permitted in a cabin to seven or ten.
Social Cabins
Social cabins are a step up from observation cabins and are designed for those who want to take in the landscape while still having fun. People who buy tickets for the social cabins will be given drinks and snacks, depending on the package they choose. You'll also get access to the terra firma-based Seaview Lounge at Ain Dubai. The social cabins are a great place to unwind with friends and co-workers after a hard day at work.
Private Cabins
Weddings, engagements, birthday parties, and other important events may all be commemorated at the private cabins. While there are a variety of packages available for private cabins, you may also customize your own to meet your specific requirements. It's also possible to book a private three-course meal or two-wheel spins in one of these cabins, which will take around 80 minutes. An isolated cabin might be used for a romantic proposal or simply a date night. On the other side, private cabins can be utilized for business gatherings and meetings.
Things to do around Ain Dubai
Bluewaters Island, where Ain Dubai is located, is a renowned tourist attraction. So, once you've finished your ride on the Ain Dubai Ferris Wheel, you may go exploring around the vicinity. To make your evening unique, there are lounges, cafés, seafood restaurants, beach resorts, and a variety of games. One of Dubai's most popular bowling lanes is Brass Monkey. Another attraction that has been opened to the public is Madame Tussauds. For all sorts of adventurers, this will certainly be a thrilling journey. Dubai Marina and Palm Jumeirah are located nearby, which means that there is a wide variety of activities and attractions to explore in the surrounding areas as well. Also, seasonal attractions such as Dubai Miracle Garden and Global Village can be visited along with Ain Dubai, which is just about 30 minutes away from this attraction and is easy to combine with the other attractions in a one-day plan since they are so close to each other.
Travel to Ain Dubai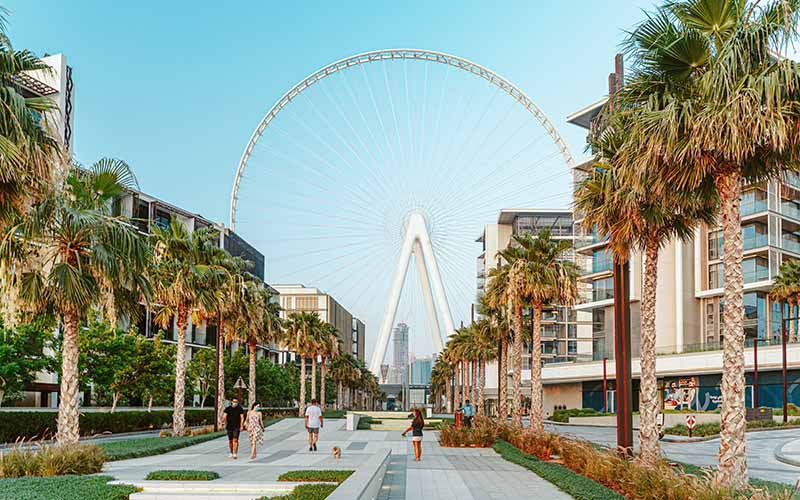 The first thing on the agenda would be getting to Dubai and that will require certain documents and Dubai tourist visa applications and when that is done the major part of the deal is done. Help regarding the Dubai tourist visa can be obtained from Dubai travel helplines and travel agencies. Once that is done, the major work is taken care of, and then comes the travel to Ain Dubai itself. If you're taking the metro to Ain Dubai, get out at Dubai Marina Tram Station and take the monorail to Bluewaters Island, which is connected to Dubai's mainland. If you are traveling by car or cab, you may utilize the bridge between Dubai and the island. If you wish to walk to Ain Dubai, begin at JBR Beach and cross the footbridge to Ain Dubai. Visitors coming by car can park their vehicles at Ain Dubai's large parking area. Bluewaters Island may also be reached via bus (8, 84, and F55A).
Conclusion
Ain Dubai is one travel destination that will bring out the wanderlust in anybody. After knowing about this destination, I can assure you that your Dubai trip will feel incomplete if you miss out on a visit to Ain Dubai. So, what are you waiting for? Visit Ain Dubai and see the beautiful locations of Dubai from heights never seen before.