A visit to Dubai is bound to leave visitors with their jaws dropped. Each year, the city surpasses the intrigue of its guests wondering what's next in store? The opening of the Dubai Miracle Garden was a totally mind-blowing experience for both locals and tourists. Who would have thought they would see a colourful oasis in a desert city? Dubai, with its big-picture vision and meticulously laid out innovation, made sure that Dubai Miracle Garden became a reality, offering a vibrant and fragrant oasis in the city. If you have a Dubai visa or are getting one, you might want to go during the cooler months, when Dubai Miracle Garden would be an excellent change from the city tour and desert adventure of Dubai. Here's an insight into the beautiful attractions in Dubai.
The Dubai Miracle Garden in a nutshell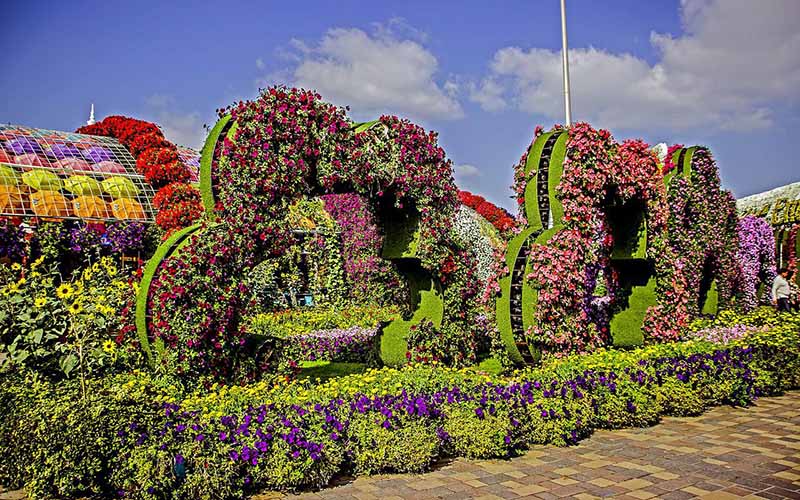 If you are a nature lover, then Dubai Miracle Garden ranks numero uno in your list of best places to visit in Dubai. The Dubai Miracle Garden is a natural floral wonderland located in the midst of the emirate of Dubai in the United Arab Emirates. It is the world's largest natural flower garden, where more than 50 billion flowers grow over a 72,000 square meter area. Designed to be the prettiest oasis in the world, the garden is kept hydrated with recycled water and an extensive drip irrigation system. This attraction stays open annually only in the winter months of Dubai when flowers can bloom in the arid climate. There is only one place in the world where you can find so many colorful flowers at once, and that place is in Dubai.
On Valentine's Day 2013, the Dubai Miracle Garden was officially opened to the public. The garden is devoted to floral installations and dioramas, like a flower town, an Airbus, famous landmarks, floral tunnels, and fantasy characters. Flowers are planted in various colours and sizes, manicured, and crafted meticulously to make an attractive display of 2D and 3D objects based on various themes. The landscaping is so meticulously maintained that you will never find a dried or withered flower on your visit. It is easy to lose track of time in this magical garden, which can make you feel like you are in a tropical paradise and make you forget for a moment that you are actually in a desert city! Due to its unique design and bright, beautiful, colourful flowers, the garden has become one of Dubai's most popular tourist attractions. It is suitable for visitors of all ages as well.
Location
Dubai Miracle Garden is located in Al Barsha South 3, Dubailand, about 20 minutes from Downtown Dubai and 15 minutes from Palm Jumeirah and Dubai Marina.
Hours of operation and ticket prices
Dubai Miracle Garden is a seasonal attraction, staying open only during the shoulder and peak months which are the best time to visit Dubai. This picturesque garden closes for maintenance for several months and opens to the public only from October until April when the weather is pleasant to allow the flowers to bloom and remain fresh. Get a Dubai tourist visa around October to April when Dubai Miracle Garden comes back for season 11 and will welcome visitors in October 2022 with new enticing installations. Till the end of the season, the garden will be open from 9.00 am to 9.00 pm every day. Dubai Miracle Garden Ticket prices are AED 55 per person.
Dubai Miracle Garden's must-see exhibits
Sunflower Fields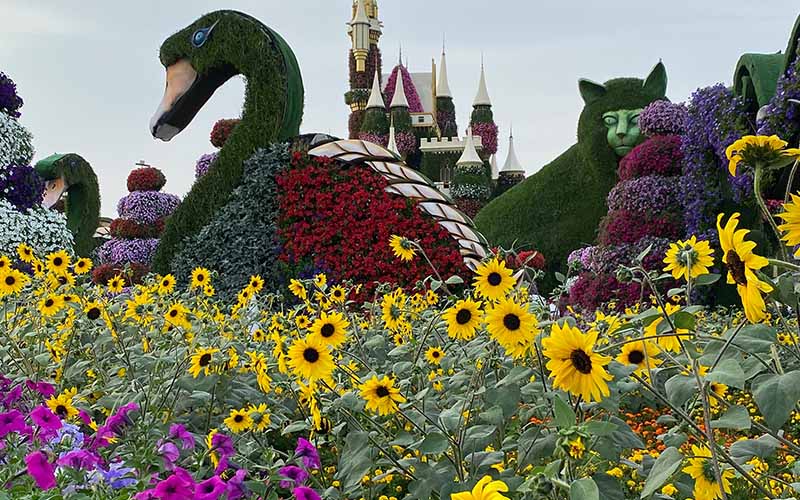 Who would have thought that you could stroll through fields of Golden Sunflowers in Dubai? Miracle Gardens of Dubai makes this possible. Being nurtured and cultivated in the right environment and under the bright sunshine of the emirate makes these golden blossoms easy to flourish so well. While in Dubai, you should not miss capturing this Instagrammable moment.
The Emirates A380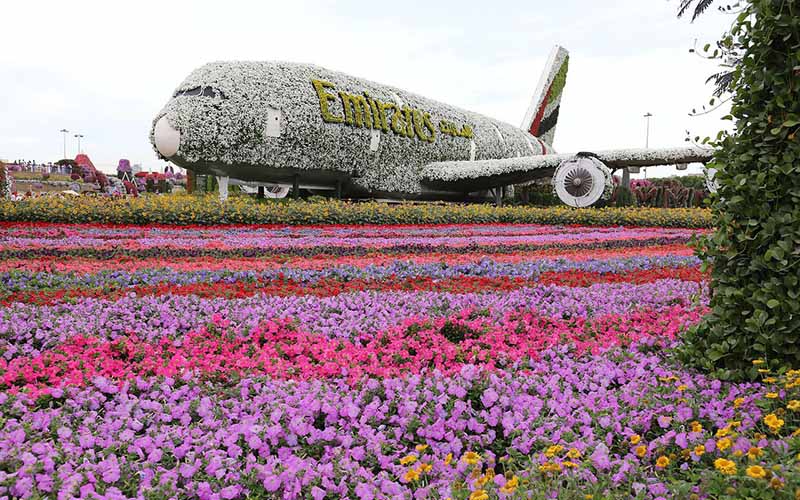 Another record under Dubai's long list of ground-breaking achievements, the Emirates A380 is the world's largest floral diorama ever made! Get ready to be mesmerized by the giant life-size model of Dubai's flagship carrier's pride covered in millions of flowers.
Heart Tunnel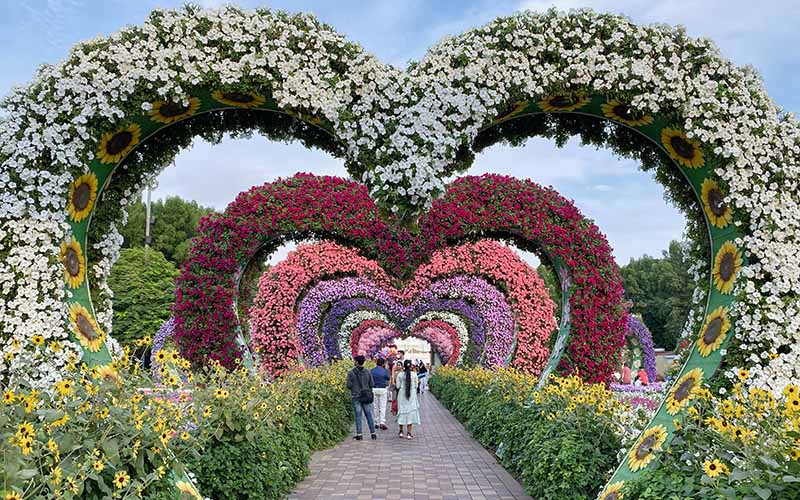 Another spot in Dubai Miracle where you can capture memorable moments on your camera, this heart-shaped floral passage is the perfect space for couples and honeymooners to add a few moments of romantic ambience to their Dubai vacation. It is undoubtedly one of the best Instagram-Worthy spots in UAE/Dubai to visit on a holiday.
Floral Clock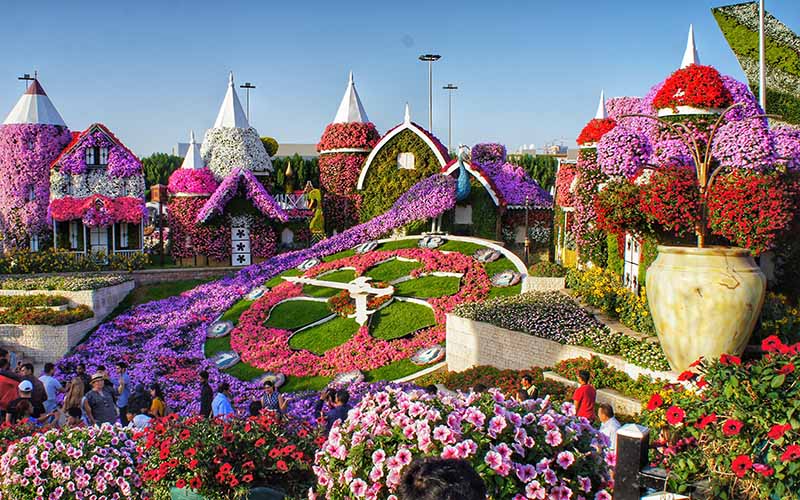 Dubai Miracle Garden's Floral Clock makes up one of the most beautiful manicured landscapes in Dubai. Each season, the clock's face and its surroundings are decorated with different flower arrangements.
Floating Lady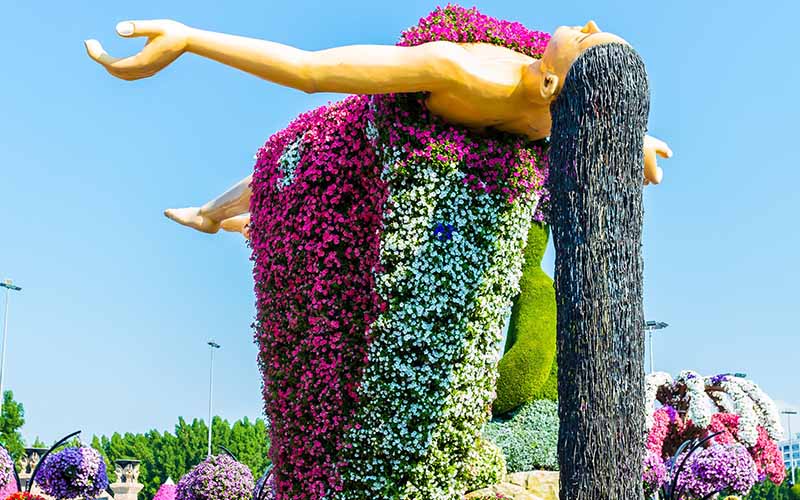 Image Credit: www.dubaimiraclegarden.com
Another impressive installation to see here is the Floating Lady. With arms outstretched and a body levitating above the ground, this floral installation is visually stunning. The figure's long, free-flowing hair is entirely made of flowering vines.
Smurf Village
Last year, the garden added a new attraction that was a hit with kids. Smurf village, with its tiny blue characters and mushroom-shaped houses, was one of the most popular attractions last year, and it hopes to do the same this year.
Lake Park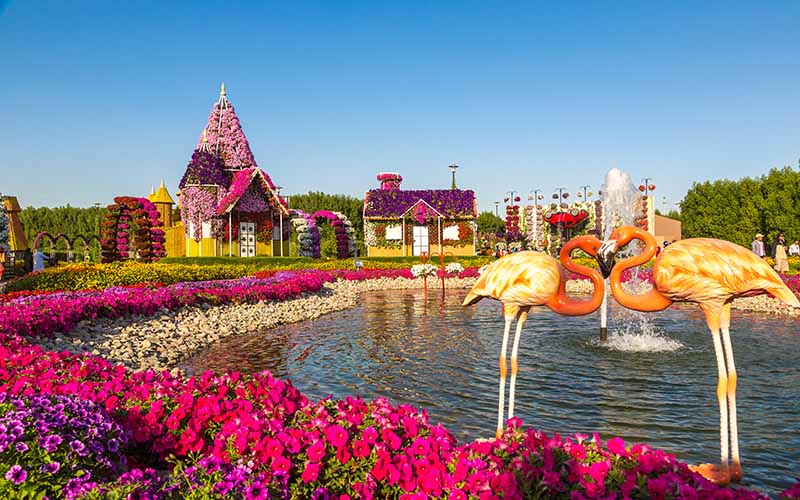 This section has a charming countryside feel with an artificial lake filled with fountains, flanked by 3-D models covered in floral prints and flamingos dotting the banks. There are also some funky flower installations on the lakeshore like a lady with a hat and a wooden dhow to name a few.
The best time and easiest way to see Dubai Miracle Garden
The Miracle Garden in Dubai opens only when the weather conditions are suitable for blossoms to remain unfurled for a long period of time. Thus, the attraction is open only from October to April. Dubai enjoys the most comfortable weather at this time of year for outdoor activities. It is best to pre-book the tickets in advance if you intend to visit Dubai during this period to avoid disappointments. Getting to Dubai Miracle Garden is easy if you take the Metro Red Line be it from Dubai Downtown or Dubai Marina and get off at the Mall of the Emirates Station. From there, you can take a taxi for 15 minutes to the attraction.