Dubai is a city where all kinds of travel and leisure interests can be catered by. Whether you want to check out extravagant landmarks, relax at the beach, or explore the souks and the malls; there is something for everyone and every mood! There are many things to do in Dubai but to experience them, you need a Dubai visa sorted out first. For someone visiting from the UK, getting a Dubai tourist visa is fairly easy. Read on to know more.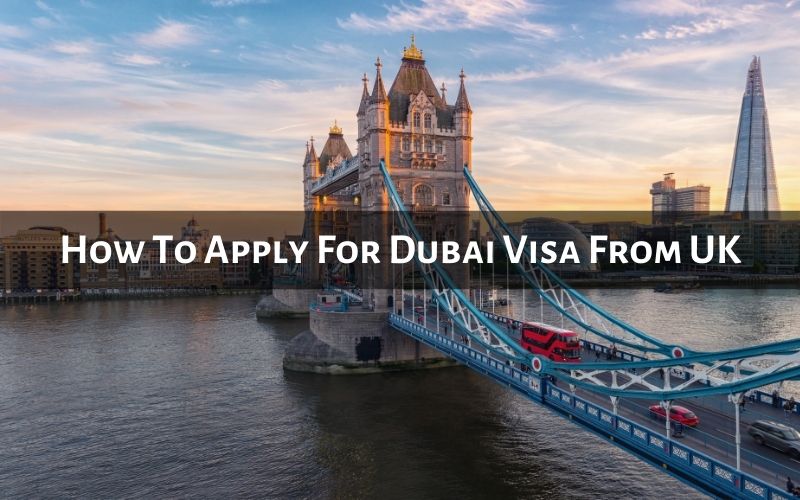 UK citizens do not need a Dubai Visa.
Yes, you read that right! If you are a UK passport holder, then you do not need to stress about pre-approved visa arrangements for a 30-day UAE visit. You can simply take a flight, disembark in UAE, head to the Immigration counter at the airport, and get a 30-day visit visa at no additional cost.
But, what if you are not a UK citizen, but reside in the UK and want to visit the UAE?
In such a case, you need to check whether your nationality is included in the list of countries that are visa-exempted and can avail visa on arrival. A GCC country citizen is fully visa-exempt and can visit UAE without a visa and a sponsor residing in the UAE. However, the citizens of the following countries listed below wanting to visit the UAE can enter the destination on a visa on arrival for 30 days social visit.
| Andorra | Australia | Bahamas | Brunei | Canada | China |
| --- | --- | --- | --- | --- | --- |
| Vatican City | | | | | |
| Mauritius | Monaco | New Zealand | Singapore | Ukraine | USA |
| Hong Kong | Italy | Japan | Kazakhstan | Macau | Malaysia |
The citizens of these countries can avail a visa on arrival for 90 days to explore UAE.
| Argentina | Austria | Barbados | Belarus | Belgium | Brazil | Bulgaria |
| --- | --- | --- | --- | --- | --- | --- |
| Slovakia | Slovenia | Solomon | South Korea | Spain | Saint | Sweden |
| Chile | Costa Rica | Croatia | Cyprus | Czech Republic | Denmark | El Salvador |
| Estonia | Finland | France | Germany | Greece | Honduras | Hungary |
| Iceland | Israel | Latvia | Libya | Liechtenstein | Lithuania | Luxembourg |
| Maldives | Malta | Montenegro | Nauru | Netherlands | Norway | Paraguay |
| Poland | Portugal | Romania | Russia | San Marino | Serbia | Seychelles |
Mexico – Those with Mexican passports can obtain a Dubai visa on arrival for 180 days.
India – Indian passport holders who have a UK residence visa or a residence visa issued by the European Union countries can enter Dubai with a visa on arrival for 14 days. Indians having a US Green Card or the USA visit visa can also get the same visa benefit.
All other nationalities and Indian citizens who do not fulfill the terms for visa on arrival will have to apply for a Dubai visa from the UK before they arrive in Dubai.
What do you require to apply for a Dubai tourist visa from the UK?
You can apply for various visa types depending upon your duration and purpose of travel from the UK. For a Dubai tourist visa, you get 30-day and 60-day visa options. For a social or tourist visa, a 30-day Dubai visa will suffice.
A Dubai tourist visa can only be applied at the Embassy located in the UAE. For that purpose, you need a sponsor residing in the UAE who will submit the visa application on your behalf. Those who do not have a friend, acquaintance, or relative residing in the UAE can approach the airlines, hotels where their stays are pre-booked for the trip, or travel agents in the UAE to assist in visa processing on their behalf.
Before you proceed with Dubai visa formalities, it is important to check if you have a passport valid for at least 6 months more from the date you arrive in Dubai. If you hold a residence permit in the UK, then ensure that your passport is valid for 3 months from the date of arrival in the UAE.
Now, all you have to do is fill out the UAE visa application online completely and without any errors, pay the visa fees, and gather the following documents:
You will have to provide bank statements and salary slips to indicate that you can cover the expenses incurred in UAE during your stay.
Letter from employer stating your employment information and details of leave granted.
Confirmed return flight tickets.
Details of sponsor residing in UAE, travel itinerary, address of accommodation.
Letter of invitation from sponsor citing purpose and duration of travel in UAE.
Colour photographs that are not older than 3 months and taken as specified in the UAE visa guidelines. If the photographs do not meet Dubai Visa Photo Requirement, the visa will almost certainly be denied.
Health and Medical insurance, and vaccination certificates.
Other documents as required such as a marriage certificate, birth certificate in case of a minor, etc.
Submit these documents to your sponsor residing in the UAE, who will take it up from there to execute your Dubai visa procedure. Then all you need to do is wait for your visa results which would take about a 3 to 5 working days. To be on the safer side, apply for your Dubai visa as early as possible to avoid any last-minute delays or hassles. Once you get your Dubai visa result, pack your bags and off you go exploring this marvellous city of wonders!