Dubai Marina is one of Dubai's most vibrant and buzzing neighbourhoods, with its own distinct personality. Dubai Marina, a contemporary residential and commercial area built around an artificial canal, is home to some of Dubai's best modern architectural marvels, finest restaurants, bars, cafes, and outstanding waterfront scenery. At Dubai Marina, you can get a sense of the extraordinary flair of Dubai's modern lifestyle, as well as the many activities and experiences available to keep you entertained. This is the place to go for an extraordinary luxury Dubai experience, from fine dining to an opulent lifestyle. Here is a list of the top 8 things to do in Dubai Marina during your visit.
Shop at Dubai Marina Mall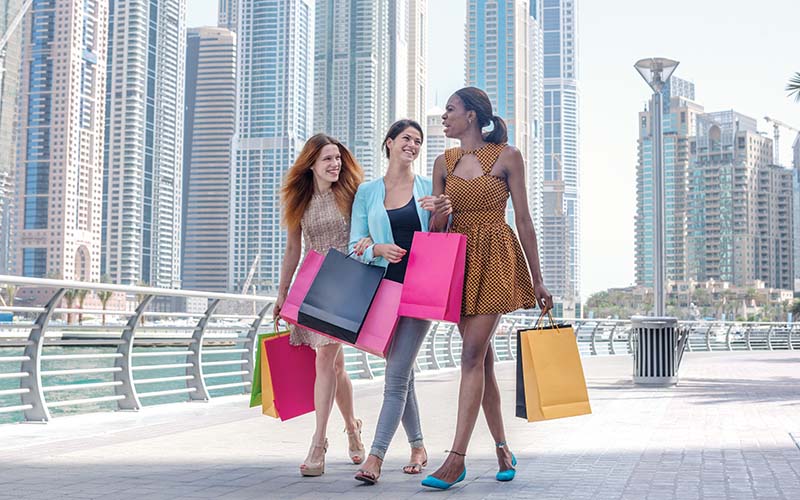 While visiting Dubai Marina, it is difficult not to indulge in some retail therapy. Over 140 outlets are located within a sweeping, eye-catching modern arena of Dubai Marina Mall. You can find anything your heart desires, from the latest fashion trends to electronics. One of the best things to do in Marina Mall Dubai is to savour mouth-watering dishes from around 21 dining venues and a food court where you can sample delicious cinnamon rolls and French patisserie, have a sumptuous Italian breakfast and coffee, a chicken wing bucket, or a hearty Indian meal. These are just a few options from the wide-ranging menu. There is so much more to discover and enjoy! The mall also has a multiplex and is a great venue for international events, musical performances, and art exhibits. In a nutshell, it's one of the best places in Dubai to spend a relaxing day with friends or family and shop your heart out.
Embark on a Dubai Marina Dhow Cruise journey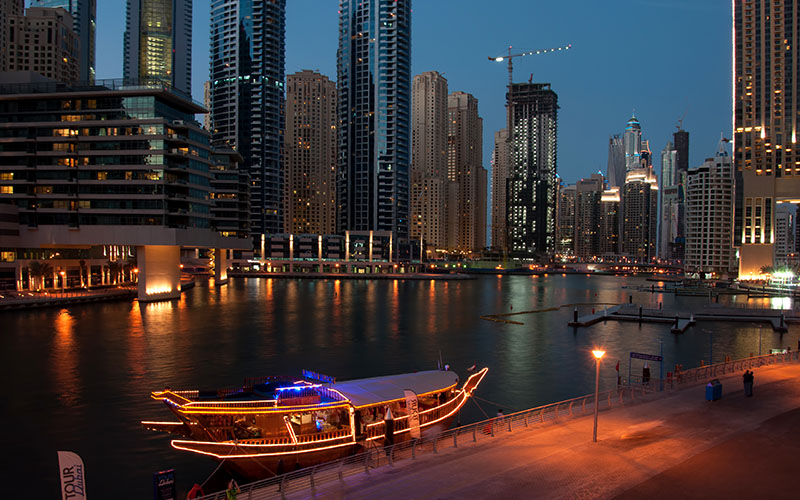 You can also spend the day on a Dubai Marina Dhow Cruise excursion to get a gist of the emirate's Bedouin times when dhow sailing was a popular mode of transportation on the water. Today, the tradition continues, and the Dubai Marina Dhow Cruise is one of the most popular tourist attractions in the city to experience. This is an excellent choice if you want to do something different and enjoyable with your family or friends. You'll be able to see all of Dubai Marina's stunning scenery while cruising along its coastline on a traditional dhow boat! These wooden vessels are revamped into double-deck cruises that have huge windows that allow you to enjoy the beautiful sights of Dubai Marina while taking a relaxing cruise around the Marina.
Dubai Marina Dhow Cruise with dinner will cost about AED 140 per person. The cruise glides on the Dubai Marina for about 2 hours and offers a sumptuous dinner with Arabian folklore and live entertainment.
Zoom down Xline Marina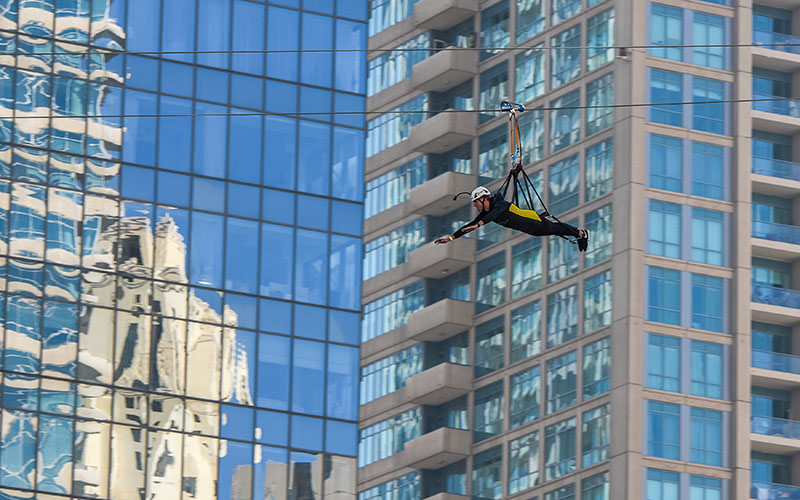 if you love adventure sports and want to try something new then zooming down Xline Marina is the one of the best things to do in Dubai Marina. Xline Marina has become one of Dubai's most popular attractions over the last few years due to its unimaginable thrill level and the remarkable view across the city skyline. The longest urban zipline experience in the world offers visitors an opportunity to enjoy unparalleled views of Dubai Marina while zooming along 1 kilometre zipline from Amwaj Towers to Dubai Marina Mall.
Xline Dubai Marina price starts from AED 650 per person. The ride lasts approximately 30 minutes. The adventure activity is only open from Wednesday to Monday from 9.20 a.m. to 11.20 a.m., and then in the early evening from 3.20 p.m. onwards with 20-minute breaks in between. The last ride begins at 6.20 p.m.
Stroll down Dubai Marina Walk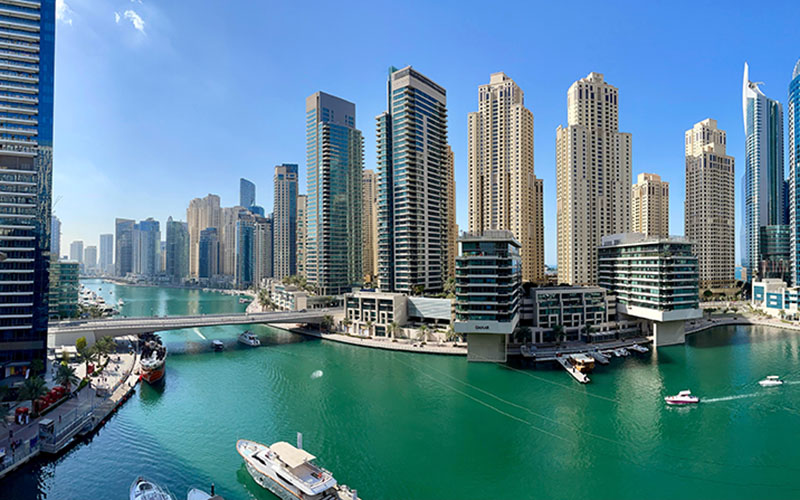 The Dubai Marina Walk is a must-visit for tourists, who love a leisurely stroll along the waterfront. Wander down Dubai Marina Walk, a beautiful waterfront dotted with palm trees overlooking modern Dubai's majestic city views. This walkway is 7 kilometres long. If you are confused about where to start your Dubai Marina tour, a stroll along this promenade will provide plenty of inspiration. You can stop and explore as much as you want along the walkway, which is lined with cafes, restaurants, spas, and shops offering high-end fashion stores as well as off-the-shelf souvenirs and knickknacks.
Take a break from shopping and relax at one of the many seating areas along the waterfront to enjoy the serene and contemporary vibes and views. Visitors can explore the city's most beautiful waterfront location on this promenade as well as engage in a variety of recreational activities such as cycling, and boating to name a few.
Enjoy wakeboarding and wake-surfing adventures
Why not wakeboard or wake surf across the water for a thrilling experince or to get away from the crowd? Wakeboarding is a sport in which you ride on a surfboard while being towed behind a motorboat. It is yet another distinct type of water sport to enjoy in Dubai's shallow, easily accessible waters. Adventurers will enjoy riding on this incredible venue, which features fantastic ripples and stunning views of Dubai Marina.
Experience fine dining along the waterfront
Dubai Marina is home to some of the best restaurants, all of which provide excellent fine-dining experiences. When it comes to exquisite dining experiences, there are numerous options. If you want an elegant dinner with great views of the Dubai Marina waterfront, head over to Pier 7, which has an exceptional assortment of upscale restaurants for an amazing gastronomy experience with a stellar ambience and Dubai Marina view. Check out Dubai Marina restaurants like Atelier M, Cargo, and Abd el Wahab, among others. Want to make your dining experience a little bit more exciting? Try the Dinner in the Sky experience – a one-of-a-kind experience available only at Dubai Marina in the UAE!
Enjoy luxury experiences at their finest
Be it a cruise along the rippling waters of Dubai Marina or a comfy leisure stay, you get the best of eloquence at Dubai Marina. For a pampered stay, get yourself a reservation at some of the most luxurious hotels in Dubai such as Address Dubai Marina, Crowne Plaza Dubai Marina and Hilton Dubai Marina to name a few. For those seeking to have an opulent time amid good company and fabulous scenery of Dubai Marina, rent a yacht and enjoy a fascinating time enjoying the luxe vibes with impeccable comforts. You could also try out Dubai Marina Yacht Club which offers an all-rounder experience of yachting as well as a sensory meal experience – right from sumptuous breakfasts, brunch to fine dining dinners with spectacular vistas of Dubai Marina.
Explore the nightlife!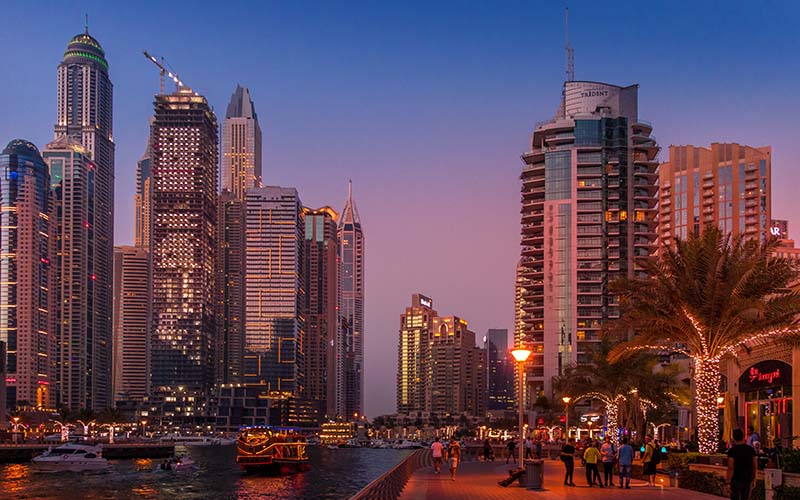 Among the best places to visit in Dubai at night, Dubai Marina comes in second after Dubai Downtown. If you love to party, then Dubai Marina is the place for you. With plenty of lounges, bars and clubs where you can enjoy a night out, Dubai Marina is one of the happening spots in the city. Trendy clubs like Zero Gravity and Vero Sky Bar are perfect for things to do in Dubai Marina at night which features live music, beach views, and a cool atmosphere. You can also check out Barsati Beach for a beach club experience that's perfect for those who want to let loose their hair down and dance the night away.
Conclusion
This guide covers everything that you can possibly do in Dubai Marina. Get your Dubai visa and do explore this posh neighbourhood that brims with numerous things to do and see.