Dubai is one of the most visited cities in the world. A part of the United Arab Emirates, Dubai is most popular for its unique and one-of-a-kind architecture. With architectural marvels like Burj Khalifa, Palm Jumeirah, Ain Dubai, Burj Al Arab, etc. the city has been able to attract the attention of the world. While the glamorous city of Dubai is in the limelight, no one can ignore the beauty of the desert. Dubai is essentially a desert city and is home to a vast land of sand dunes. There are various ways of enjoying the desert, but the best and the most unique one is definitely the hot air balloon ride. Here you will get to learn all about hot air balloon ride Dubai.
What is a Hot Air Balloon Ride?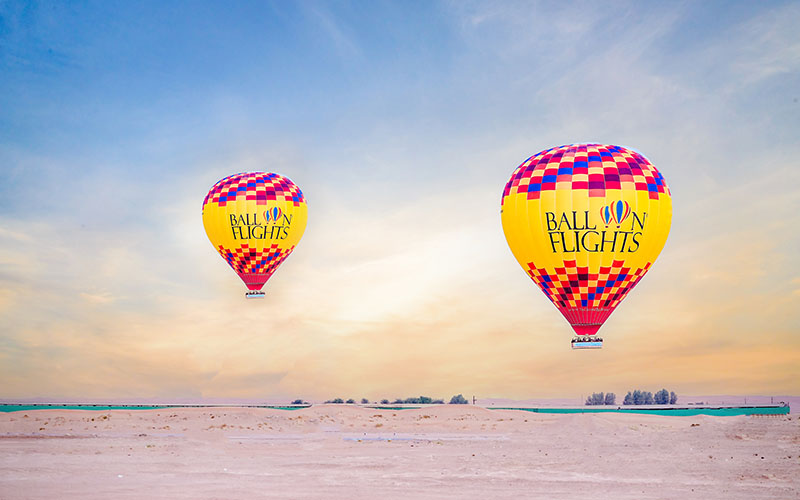 As compared to extreme adventures such as skydiving in Dubai, a hot air balloon ride is a milder adventure that offers an adrenaline rush of soaring in the air from a bird's eye view. A hot air balloon ride is an air adventure, which involves flying in the air while standing on a wicker basket that is attached to a huge, light nylon balloon with the help of metal cables. When the burners are turned on, the balloons rise and become lighter, making it possible for it to carry the wicker basket along with it. The hot air balloon can go up to 1000-1300 feet above the ground, while there are hot air balloon rides that can take you as high as 4000 feet. With a hot air balloon ride in Dubai, you get to see an aerial view of the entire desert.
Different sizes of hot air balloon baskets are available. While the most common ones are those that can carry 8 people at a time, you can also book hot air balloon baskets that carry around 14 to 24 people. It is also possible to book a hot air balloon for one person or even couples looking for a romantic date.
What to Expect on a Hot Air Balloon Ride Dubai?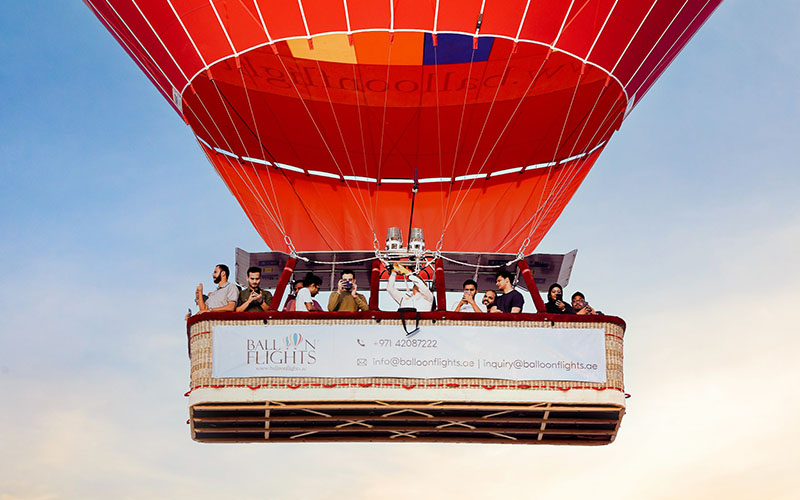 Hot air balloon rides in Dubai begin early in the morning, i.e., even before sunrise. You will be picked up from your hotel or residence around 4 in the morning and driven to the desert camp. Once you reach the place, you will be welcomed by the sight of the fire igniting from the burner to inflate the balloon. Although passengers do not have to know or do much during the flight, some safety instructions will be provided which you have to listen to carefully.
Once the balloon is all fired up, it is time to climb onto the basket, from where your ascend to the sky begins. As the hot air balloon ride starts early in the morning, the first thing you get to see is a glorious sunrise in the desert. As the sun brightens the surrounding, you get to see a bird's eye view of the desert. While taking in the breathtaking views around you and enjoying the silence of the desert, you may also get to see the flora and fauna of the desert. Keep your eyes open to see the animals of the desert like the Arabian oryx, camels, gazelles, etc.
The hot air balloon ride can last anywhere between 20 minutes and an hour. Depending on the hot air balloon ride package you have chosen, you may get to enjoy a traditional Emirati breakfast at the desert camp. Along with a variety of delicious dishes, you will also get to enjoy Arabic tea and coffee. Once breakfast is done, you will be driven back to your hotel or residence, before the desert weather becomes too hot to handle. It is possible to extend the duration of your adrenaline rush by combining a hot air balloon ride with other Dubai desert adventure activities such as quad biking and dune bashing in order to increase the intensity of your experience.
Where to Book Hot Air Balloon Ride in Dubai?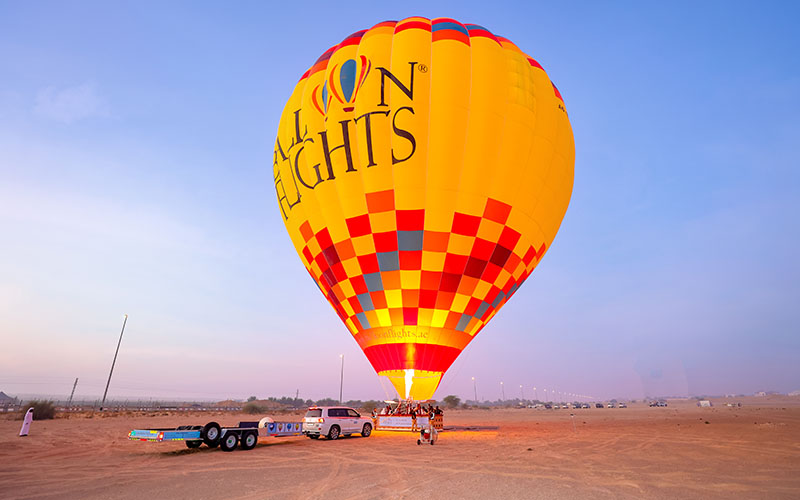 Dubai has several options when it comes to hot air balloon ride locations in Dubai. The Dubai Desert Conservation Reserve is the most popular hot air balloon ride location. Apart from this, you can also choose to ride over the Hajar Mountains as well as over Margham. Most reputed operators provide hot air balloon rides in these places. It is important to book well in advance so that you get the venue you want.
Things to Remember while going on a Hot Air Balloon Ride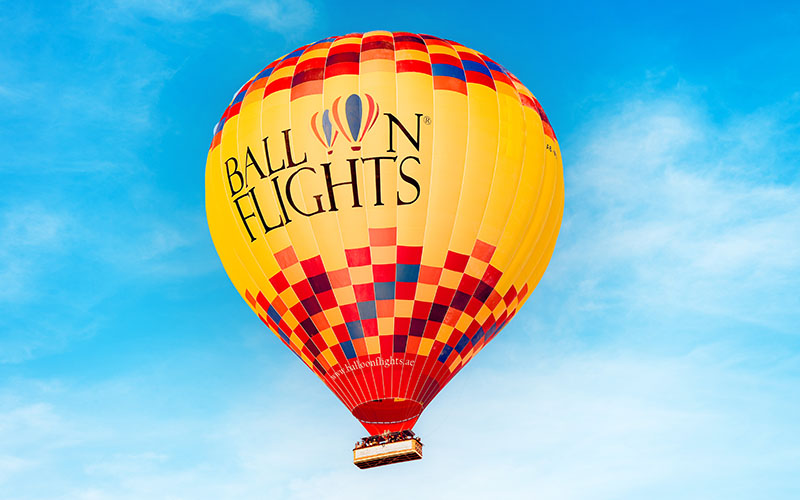 If you are in Dubai and want to go on this special ride, here are some hot air balloon ride tips that you need to remember:
It is important to book your hot air balloon ride at least 3 days before you want to actually do the activity. Most reputed companies need guests to make an advance booking of 2-3 weeks.
Although this is a safe activity for people of all ages, most companies in Dubai do not allow children under the age of 4 years on a hot air balloon.
Pregnant women should refrain from going on a hot air balloon ride.
As the hot balloon ride happens early in the morning, it is important to sleep early the night before. Ensure that you are well rested and fresh for your ride.
Make sure that you do not have a heavy meal before your ride. Also, it is crucial to stay hydrated before and during your ride.
Wear light, comfortable clothes for your ride. However, you also need to carry a warm jacket or coat, as the temperature in the desert is low early in the morning.
As you are visiting the desert in the morning, do not forget to carry your sunglasses, hat, and sunscreen.
Carry a camera to capture the beautiful views of the desert during your ride. However, if you want to carry heavy professional equipment, you need to take permission from your operator beforehand.
The hot air balloon ride in Dubai is one of the best ways of experiencing Aladdin's magic carpet ride. So, do not skip this activity, and do include it in your travel itinerary. Whatever might be your age or interests, the hot air balloon ride will definitely be the most memorable experience of your Dubai holiday.