Dubai is labelled as one of the glitziest and glamourous cities in the world. While this is true, there is much more to Dubai than being opulent and glamorous. The city is rich in history and culture and offers a food galore like no other. Moreover, it is also one of the most adventurous cities in the world. Be it land, aerial, or water sports, you would find all kinds of adventurous sports here. One of the most popular adventurous activities you can try in Dubai is skydiving. So if you are adventurous and have a Dubai visa, book your tickets today to enjoy one of the best skydiving experiences ever.
Skydiving in Dubai
Skydiving in Dubai is only conducted by SkyDive Dubai. The most common type of skydiving experience here is tandem skydiving, which is ideal for beginners. In this case, you are attached to a professional while skydiving. All the technicalities of the skydiving would be handled by the professional while you would be free to enjoy the experience and the view. However, licensed or professional skydivers can go for freefall skydiving experience at SkyDive Dubai.
At SkyDive Dubai, you get two skydiving options: The Desert Drop Zone and the Palm Drop Zone. In each case, you jump from the aircraft some 13,000 ft. above the ground. In case of the Desert Drop Zone, you would get to see the aerial view of the vast Dubai desert, while those who choose the Palm Drop Zone would get to see the bird's eye view of the Palm Jumeirah, the palm-shaped island, which is the largest manmade island in the world. Adventurers usually head to the Palm Jumeirah drop zone for skydiving and leave the desert views for a Dubai desert adventure.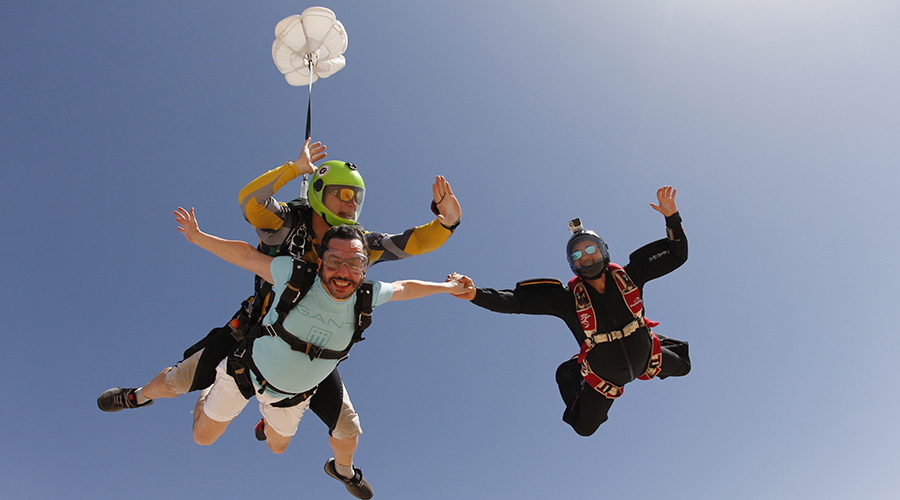 Step-by-Step Guide for Skydiving in Dubai
If you are an adventurous person and would love to go skydiving during your holiday in Dubai, here we give you a step-by-step guide that would help you through the entire process.
Find Out if You Are Eligible
The first thing that you need to check before you go tandem skydiving is whether you are eligible. Yes, not everyone can go skydiving. When it comes to age, anyone above the age of 12 years is eligible for skydiving. However, there are some exceptions. You need to have a medium level of fitness, and a BMI of less than 27.5 for women and less than 30 for men.
Sign the Declaration Form
In case of minors, i.e. children between the ages of 12 and 17 years need to get the Parent Consent Tandem Waiver filled and signed by their parents. Moreover, the parent who signed the waiver has to accompany the child at the time of the dive. On the other hand, people above the age of 70 years need to fill a Declaration of Fitness Form and get it signed and stamped by a certified doctor. The same applies for people suffering from any ailments like diabetes, high blood pressure, epilepsy, etc. Pregnant women cannot go skydiving.
Book Your Slot
Once you find that you are eligible and signed the waiver forms (if necessary), the next step is to book a slot for yourself. It is best to book your slot 3-4 days so that you can get the date and time you prefer. You do not need to visit the SkyDive Dubai office to book your tickets. You can easily do this online. If you are a woman and would not be comfortable skydiving with a male instructor, you can request for a female instructor at the time of booking. Once you have booked your slot, you would receive confirmation for the same via email.
Reach on Time
While the actual skydiving experience lasts just for a few minutes, you need to dedicate at least 3-4 hours if your day for skydiving in Dubai. Check the arrival time in the booking confirmation email that you receive from SkyDive Dubai. Ensure that you reach before or on time so that the entire experience goes smoothly. Getting to your skydiving adventure on time is possible if you stay at one of the hotels in Palm Jumeirah. The best time to visit the Atlantis in Dubai is during winter. A combination of luxurious accommodations at Atlantis the Palm and exhilarating skydiving at Palm Jumeirah makes for unforgettable memories of your Dubai vacation.
Dress Appropriately
It is extremely important to dress up in comfortable clothes while skydiving in Dubai. It is best to wear long pants and t-shirts and avoid clothes like mini shorts, low-cut blouses, sleeveless shirts, and tops that come with tassels and collars.
You must wear comfortable sports shoes and sneakers instead of high heels, sandals, slippers, boots, etc.
Avoid any kind of accessories and jewelry while skydiving in Dubai.
Gear Up
After you reach SkyDive Dubai, you would be geared up to begin your flight. You would be weighed and would also be given some safety instructions. Although you would be accompanied by a certified instructor, it is important to listen to all the instructions provided and follow them carefully.
Skydiving Experience
Once you are geared up, you would have to get into the aircraft along with your instructor. The pilot would take you 13,000 feet above the ground. On the flight, you would be tied together with your instructor with the help of a harness. When the aircraft reaches the chosen venue, you would be asked to jump from the aircraft. The entire adrenaline-rushing experience of falling from the aircraft would take around 2-3 minutes, after which your instructor would pull open the parachute, when you would be able to enjoy the view below you.
Once you reach the ground, you can relive your skydiving experience with the video shot by a videographer who accompanies you for your drive. Do not forget to flaunt your experience on social media pages and amongst your family and friends as well. It takes about three hours to complete the whole adventure from briefing to jumping from the plane to touching down. Once you've experienced this life-changing adventure, you can head to other attractions. Check out Burj Khalifa Guide or take a tour of Dubai at night to see the city sights illuminated.