Dubai is not a stranger to shopping malls. In fact, the city is home to one of the largest shopping malls in the world, the Dubai Mall. Moreover, the malls in Dubai are not only meant for shopping. They are packed with numerous dining and entertainment options along with retail. You will get to see some of the most unique attractions inside the malls of Dubai, like an ice rink, aquarium, and even a ski resort.
The latest mall to join the long list of malls in Dubai is the Dubai Hills Mall. A project by EMAAR Properties, the announcement for the mall was done in 2017, and the Dubai Hills Mall opening date was February 17' 2022. If you are visiting Dubai any time in the future, the Dubai Hills Mall is a place you must visit.
Here we will give you a complete guide to the Dubai Hills Mall.
Dubai Hills Mall: Overview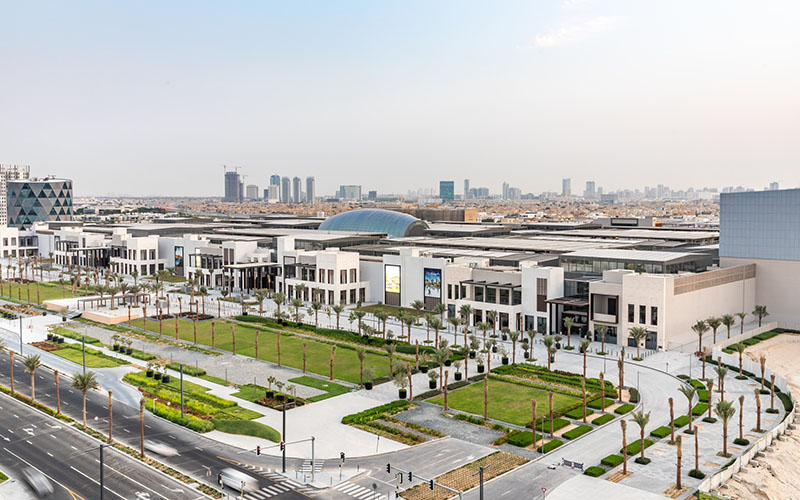 Dubai Hills Mall is a part of the Dubai Hills Estate, a mix-used development area owned by EMAAR. Spread over an area of 2,000,000 sq.ft., Dubai Hills Mall is home to more than 750 retail stores comprising high-end brands, making it perfect for luxury shopping. Apart from this, the mall has plenty of restaurants and eateries to satisfy each visitor's taste buds. Moreover, you will also find plenty of entertainment options here. In short, Dubai Hills Mall is the perfect place to spend a weekend or even a weekday with your family and friends.
Dubai Hills Mall: Shopping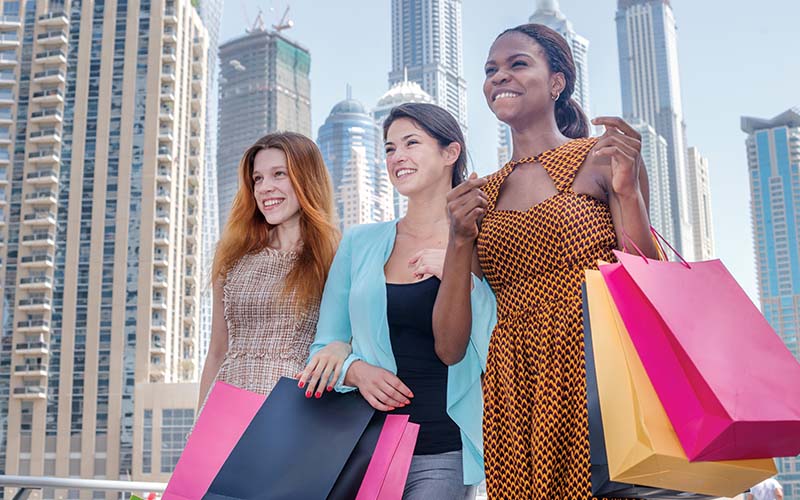 As it is a shopping mall, it is obvious that there will be no dearth of retail stores at Dubai Hills Mall. Right from clothes and accessories to home décor and furnishing, you can get everything you need under one roof here. When it comes to fashion, some of the Dubai Hills Mall shops include stores of leading brands like Zara, Annabelle, Marks & Spencer, Puma, Levi's, Victoria's Secret, B1, etc. People looking for shoes, jewelry, and other accessories can shop at Michael Kors, Damas, Antoine Saliba World of Jewelry, Arabian Oud, Aldo, Adidas, Chanel, etc. Those who want to purchase beauty, makeup, and other such personal products can head to Sephora, Bath & Body Works, etc.
Apart from these, Dubai Hills Mall also has departmental stores where you can buy a variety of things. You must visit Daiso as well as Flying Tiger Copenhagen to buy things like apparel, garden tools, stationery, kitchenware, office accessories, decor, sports and fitness items, DIY stuff, games, etc. The mall also has Geant Hypermarket, where you will get all the household items, including groceries, fresh fruits and vegetables, baby products, deli items, etc. Moreover, Dubai Hills Mall also has Pottery Barn as well as Pottery Barn Kids, where you can get all kinds of furniture for your home along with home accessories like pillows, cushions, bedsheets, curtains, carpets, etc.
Dubai Hills Mall: Dining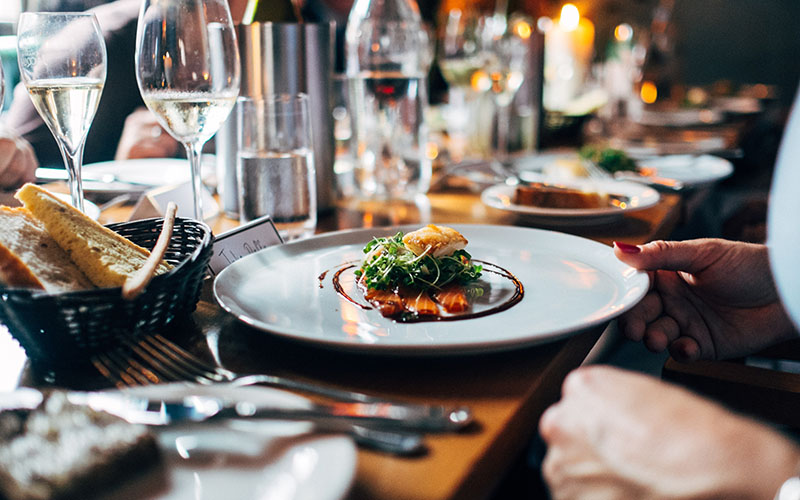 If you are a food lover, you will be spoilt for choice here, as Dubai Hills Mall has plenty of F&B options. Be it breakfast, lunch, dinner, or snacks and coffee or even tea, the mall has something for every part of the day. Moreover, you can also experiment with different types of cuisines here, including Emirati, Indian, Chinese, Italian, Japanese, European, American, Greek, etc.
Some of the popular Dubai Hills Mall restaurants and eateries here include Akiba Dori, Artukbey, Bombay Chowpatty, Bikanerwala, Circle of Crust, Charley's Philly Steaks, Eat Greek, Five Guys, Jamie's Italian, Manchu Wok, Miyabi Sushi, New Shanghai, Papa John's, Oporto, Sushi Library, Wagamama, etc. For ice creams and desserts, there is Baskin Robbins, Cake Bloom, Cold Stone Creamery, Dunkin', Haagen-Dazs, La Romana, Laduree, Pinkberry, etc. The mall also has popular food joints like McDonald's, Starbucks, Pizza Hut, etc. It also has several cafes where you can catch up with friends over a cup of coffee.
Dubai Hills Mall: Entertainment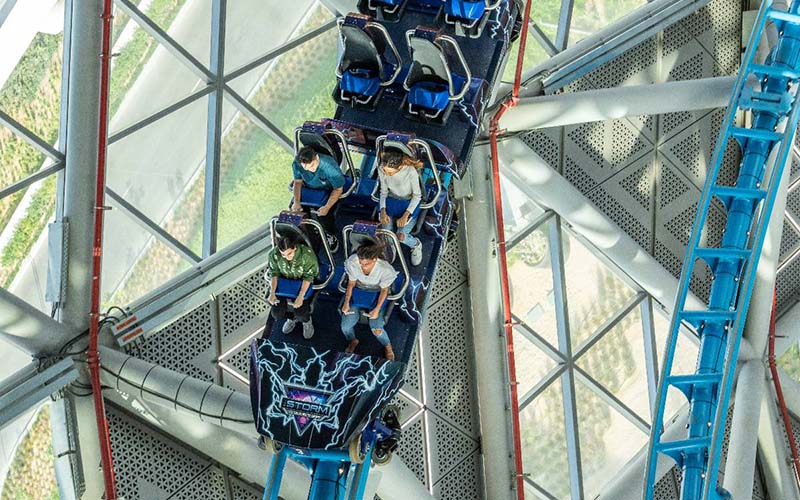 Dubai Hills Mall is not just for shopping and dining. Gear up to catch some fun-filled action inside the mall and beat the heat. The mall has some interesting leisure and entertainment options for everyone.
Adventure Park: As the name suggests, this is a theme park that offers adventurous activities for everyone above the age of 3. Right from rollercoasters to wall climbing, there are plenty of fun and thrilling activities to look forward to at this park. There is also a games corner for the kids here. Adventure Park is the perfect place to spend time with your family, especially if you have kids.
The Storm Coaster: If you love the feeling of adrenaline rush in your body, you must definitely ride on the Storm Coaster. A Dubai Hills Mall roller coaster, the Storm Coaster is located inside the Dubai Hills Mall. It is a vertical drop roller coaster with a height of 50 meters. This roller coaster is open for everyone above the age of 12 years.
Roxy Cinema: Catch up with the latest blockbuster at Roxy Cinema, a Dubai Hills Mall cinema hall or theater. The star attraction here is Roxy Xtreme. Measuring 423 square meters, it is the biggest cinema screen not just in Dubai or UAE but in the entire Middle East as well. Roxy Cinema, especially Roxy Extreme, offers a one-of-a-kind, luxurious movie-watching experience.
How to Reach Dubai Hills Mall
Reaching Dubai Hills Mall is easier if you are travelling by your own car or cab. The mall is well connected through Umm Suqeim Street and Al Khail Road. Moreover, there are several entry points for those travelling from Umm Suqeim, Deira, and Jebel Ali. If you are travelling by metro, the nearest station to Dubai Hills Mall is the Mall of the Emirates Metro Station.
Dubai Hills Mall Timings
The Dubai Hills Mall is open from 10 AM to 12 AM every day. The timings of certain stores and restaurants may differ.
Frequently Asked Questions
What attractions can one explore near to Dubai Hills Mall?
Located within the Dubai Hills Estate, visitors to Dubai Hills Mall can explore the lush green Dubai Hills Park which is equipped with pathways shrouded in palm plantation and green landscapes. The park also offers a splash park, skating area and ice rink for keen thrill lovers.
Can one reach Dubai Hills Mall by Metro?
As of now, Dubai Metro does not have direct connectivity to Dubai Hills Mall. However, one can alight at Mall of the Emirates  metro station and then a 11 minute cab ride on Umm Suqeim street to reach Dubai Hills Mall.
Is there parking available?
Dubai Hills Mall has more than 7000 parking spaces so you can easily park your car without having to worry about parking spaces.
What makes Dubai Hills Mall unique from other Dubai Malls?
While Dubai Hills Mall beckons visitors to shop and dine just as other Dubai Malls, this brand-new mall is the first ever in Dubai to offer an indoor rollercoaster ride inside the mall! So this is an added allure for those who aren't keen shopper but would love to have a day of indoor fun and thrill in the mall.
Is there a dress code to follow?
The dress code is casual. As with all Dubai public places and malls, it is essential to dress modest with knees and shoulders covered.
Conclusion
The Dubai Hills Mall is the perfect place to visit when the heat of Dubai becomes too much to bear. With so many things to see and do, you can easily spend the entire day here without getting bored.