Dubai, a gem in the United Arab Emirates, is a marvelous place for a week-long vacation. Whether you want to spend a day cooling off at a waterpark, shop to your heart's content in its colossal shopping malls, laze on one of the pristine beaches, or feast your eyes on magical views from the tallest building on the whole planet, Dubai fulfills all your travel dreams in style. And how can we forget the array of Dubai desert adventures available at your disposal? With its infinite stretches of rich, golden Arabian sands, spending a day in the desert is an unmissable activity in the city. Let's dive right in to check out this incredible Dubai itinerary.
Day 1: Old Dubai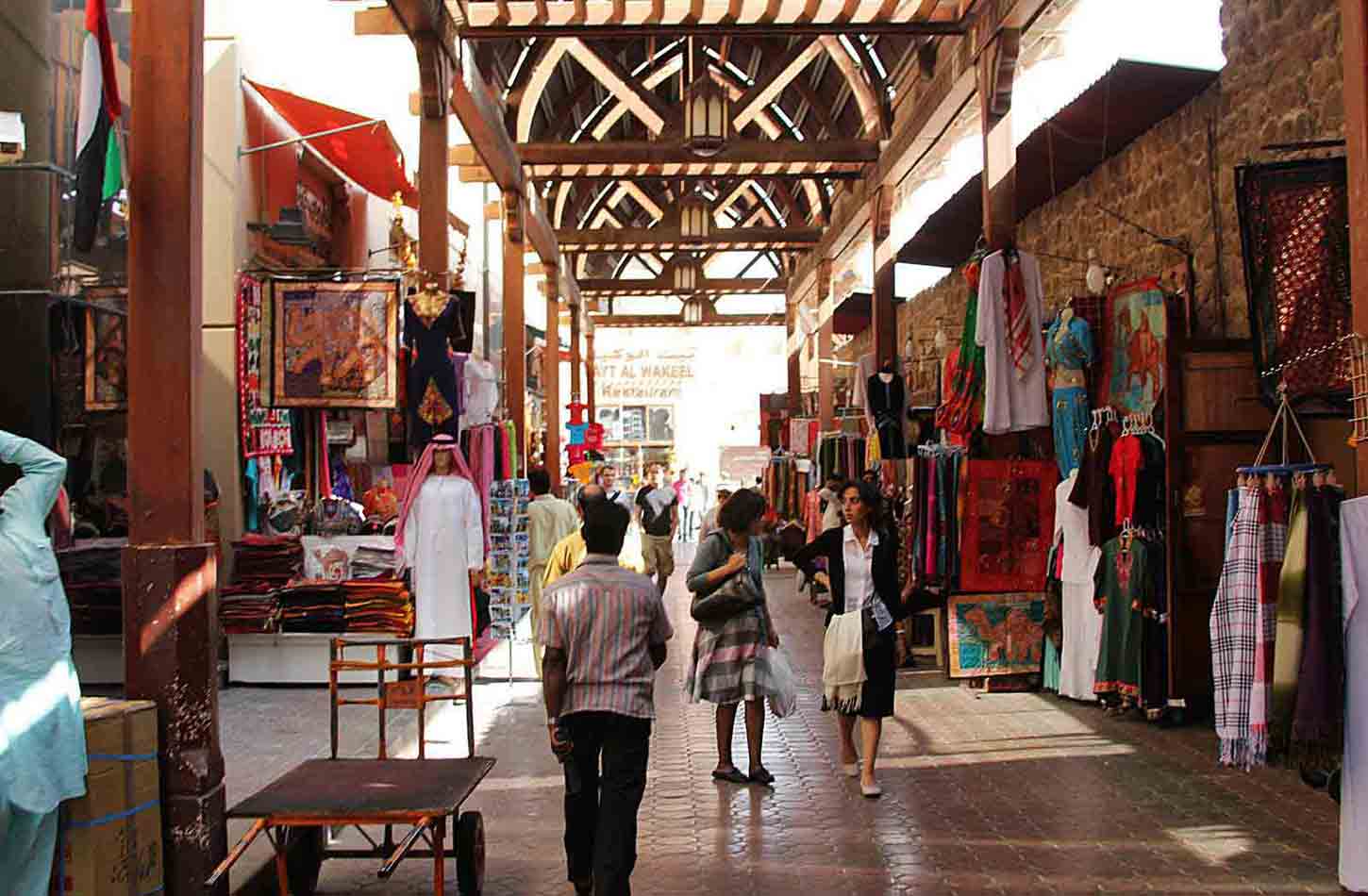 Instead of starting with the city's glamorous side on your first day, why not gain some insight into its past?
In the morning, visit the Al Fahidi Neighborhood and go back in time to learn about Dubai's history. The buildings here are made of natural materials such as teak, sand, stone, palm fronds, and gypsum, and the area is adorned with art galleries, restaurants, cafes, and boutiques. It's also rife with museums and cultural landmarks; check out the Coffee Museum, Dubai Museum, and Sheikh Mohammed Centre for Cultural Understanding. The Arabian Tea House is a fantastic pit stop for lunch, serving some delicious meals and beverages.
Cross the beautiful Dubai Creek on an Abra, a wooden boat used in the olden days, just for 1 dirham. This saltwater creek separates the city into Deira and Bur Dubai and had a lot of significance for trade in the past. You can visit the souks or traditional markets on both sides of the creek and shop for souvenirs such as dates, spices, tea, dry fruits, perfumes, apparel, footwear, and more.
In the evening, set off on a dhow cruise dinner at Dubai Marina, offering mesmerizing live entertainment and a sumptuous buffet dinner onboard.
Day 2: Desert Safari, Dubai Dolphinarium, and Dubai Frame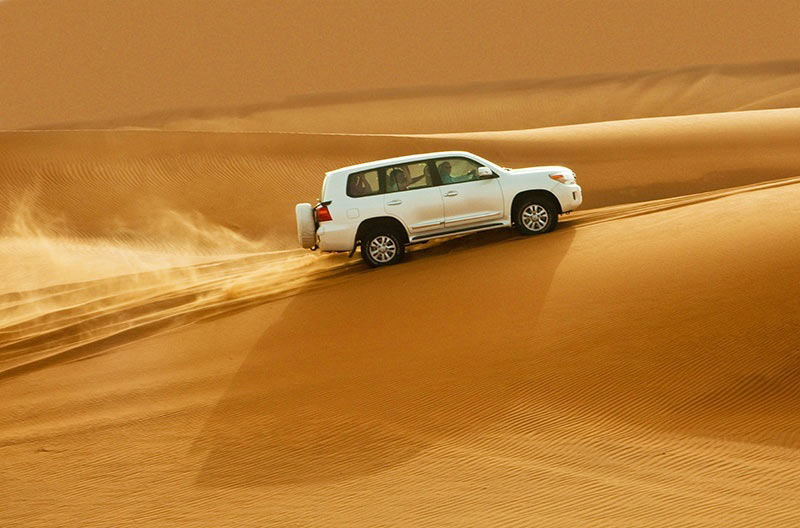 Start your day with an exciting hot air balloon ride in Dubai. Soar 4,000 feet above the ground and soak in the breathtaking vistas surrounding you. Witness a captivating sunrise, spot desert animals like camels, gazelles, and Arabian oryx, see a falcon show, and savor a yummy breakfast after touchdown.
In the afternoon, head to the Dolphinarium and watch in awe as the cute dolphins and seals surprise you with their antics and intelligence.
In the evening, visit the iconic Dubai Frame that stands proudly between the old and the modern city and enjoy some remarkable views.
Alternatively, you can go on a desert safari in the evening and visit the Dubai Frame and Dolphinarium in the morning.
Day 3: Dubai city tour and Downtown
When it comes to shopping malls in the city, nothing can beat the massive Dubai Mall. It has a children's activity center, an ice skating rink, an aquarium, and a virtual reality theme park, apart from several other entertainment and food options, and you can easily spend an entire day here.
While visiting the entire mall in one day may not be possible, we do suggest making a stop at the Dubai Aquarium and Underwater Zoo, which houses thousands of fascinating aquatic creatures.
The spectacular Burj Khalifa is one of the top reasons most people apply for a Dubai tourist visa. Head to the 124th floor in the fastest elevator and enjoy unparalleled panoramic views of the entire city. Don't miss the Dubai Fountain show, which is quite an enchanting spectacle of lights, water, and music.
Day 4: Abu Dhabi City Tour
Abu Dhabi, the capital of the United Emirates, makes for an ideal one-day trip from Dubai. The Sheikh Zayed Mosque is a sprawling mosque and, hands down, one of the best examples of brilliant architecture. This grand structure is known for its intricate decor, imposing minarets, and large domes, and visiting this glorious masterpiece is one of the best highlights of this trip.
The Abu Dhabi Corniche is a lovely waterfront development brimming with cafes, restaurants, etc., and a good pitstop for refreshments.
The famous Louvre Museum needs no introduction and is a must-visit for history buffs and art connoisseurs.
If you are a fan of the Warner Brothers movies, then keep some time aside to visit their iconic Warner Bros. World. This is a fun and massive indoor theme park with rides and attractions based on their movies and franchises.
Another outstanding attraction here is Ferrari World, a theme park based on the world-class car manufacturing brand Ferrari. You can try your skills at driving the world's fastest car and enjoy a hair-raising ride on the fastest roller coaster, the Formula Rossa.
There are other attractions in Abu Dhabi, like Yas Mall, Yas Marina Circuit, Qasr Al Watan, and Heritage Village, which are worth stopping by if you have time.
Day 5: Aquaventure Waterpark and Palm Jumeirah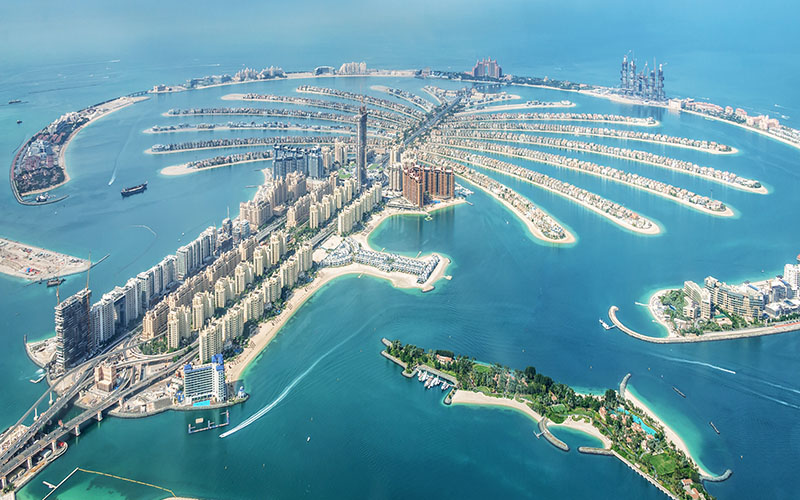 The Aquaventure Waterpark is located within the Hotel Atlantis, The Palm, a renowned landmark in Dubai. You can try numerous thrilling rides here, such as Shark Attack, which has water slides passing through a shark-infested lagoon; The Leap of Faith, a 9-storey vertical drop straight into the lagoon; and Aquaconda, the largest water slide in the whole world.
In the evening, drive through the splendid Palm Jumeirah, another example of astounding engineering, and visit its many restaurants, boutiques, and nightclubs to enjoy the lively nightlife of the city.
Day 6: Jebel Jais
For those who enjoy exhilarating adventure sports, Jebel Jais, the highest peak in the UAE (at a height of 1935 meters above sea level), is a fantastic place to visit outside Dubai. Situated in Ras Al Khaimah, it is approximately a 2-hour drive from Dubai and offers a plethora of adventure sports for thrill seekers and nature lovers. It is home to the world's longest zipline, offering stunning views of the magnificent Hajar Mountains. This place also offers myriad activities such as hiking, mountain biking, tobogganing, and camping under the stars.
Alternatively, you can also visit the Dubai Parks and Resorts, featuring amusement parks like Motiongate, a Hollywood-inspired theme park, and Legoland Waterpark, and spend the entire day there.
Day 7: Miracle Garden and Global Village
If you are visiting between October and April, the Miracle Garden and Global Village are seasonal attractions open during this time and are indeed unmissable.
The Miracle Garden is a human-made garden with natural flowers spanning over 72,000 square meters. As you stroll around, you can see over 100 million flowers and plants in a riot of colors and different hues. The garden features floral installations of prominent landmarks, cartoon characters, and even famous people, which change every year. Building such a colorful oasis in the middle of a desert is something only Dubai can pull off, and this place will surely transport you to paradise.
The Global Village Dubai is an enormous open-air exhibition that opens from October to April every year. This impressive cultural extravaganza brings entertainment, shopping, food, activities, live performances, and much more under one roof. In simple words, this is like a world exhibition where different countries put up their pavilions and sell their local products. You can taste food from all over the world and shop until you drop.
However, if you are visiting between May and September, you can visit the Mall of the Emirates and spend a few hours shopping and chilling. It also has Ski Dubai, a huge indoor ski park offering several snow activities for all age groups.
Best places to stay in Dubai
Dubai has a varying degree of accommodation destinations that meet every budget requirement. While you select your accommodation in Dubai, you must opt for a place that will minimize your travel time as you browse through the various star landmarks of Dubai to explore the fascinating culture, heritage, and attractions and indulge in new experiences.
Your accommodation budget will vary depending on multiple parameters, such as travel and personal preferences.
Deira – This location is ideal for a budget stay in Dubai. Experience the great mix of historical elements and affordable accommodation during your stay. This place is also quite close to the Dubai International Airport, making transfers convenient and time-saving.
Budget stay recommendations in Deira – Super 8 by Wyndham Dubai Deira is a great option for a budget-friendly stay.
Downtown Dubai – Nestled amidst tall skyscrapers and humongous malls, this is one of the most touristy destinations in Dubai. The neighborhood has many shopping and iconic landmarks that will enhance your stay.
Budget stay recommendations in Downtown Dubai – Ramada Downtown Dubai gives you access to a budget-friendly stay with amazing vistas.
Dubai Marina & JBR –An ideal location for experiencing the glitzy nature of Dubai. All first-time visitors would love the beachside locations, vibrant nightlife, fine dining options, and fabulous shopping destinations in this waterside district.
Budget stay recommendations in Dubai Marina & JBR – Rove Dubai Marina is an ideal budget-friendly location, which is placed in the vicinity of Jumeirah Beach.
Jumeirah Village Circle & Triangle – This quaint residential area is a great way to break away from the shackles of busy city life and get close to some natural elements. This is quite far from the majority of the attractions and the malls.
Budget stay recommendations for Jumeirah Beach Village & triangle – Enjoy a fabulous budget-friendly stay at Adagio Jumeirah Village Triangle.
The Palm – An iconic destination in Dubai that promises unique and special experiences during your stay. Ultra-luxurious indulgences and opulent experiences are common in all available accommodation options.
Budget Stay on the Palm – Adagio Premium The Palm is one of the rare budget options you will find on the palm.
Top hotels in Dubai – Dubai will spoil you with luxurious choices as the hotel staff keeps no stone unturned to pamper their in-house guests to the core. Some of the top hotels in Dubai that you can look to book are the Burj Al Arab, One & Only Royal Mirage, Atlantis at the Palm, Grosvenor House – a luxury collection hotel, 25hours Hotel One Central, Jumeirah Beach Hotel, and Address Downtown Dubai.
Best time to visit and explore Dubai
Many tourists prefer the months between November and February to explore the fascinating landscape of Dubai, which also coincides with the peak touristy season of Dubai. The temperatures are pleasant, and the streets are buzzing with diverse activities and events that attract people worldwide.
The season's pleasant temperatures, around 25oC are ideal for outdoor activities and sightseeing. You can enjoy the sun's warmth as you soak in the ambiance and festivities of the season. Being the peak tourist season, be prepared for more crowds, long queues, and surged hotel and flight pricing.
The months between June and August witness fewer tourists due to the relentless sun, where temperatures go more than 40oC.
Dubai always has a surprise up its sleeve, no matter what time of the year you want to explore Dubai. Every season has its flavor, where the spring welcomes blossoms and greenery, and the summer brings early morning and late evening attractions to the fore.
Your Dubai holiday budget would vary depending on your taste preferences, travel options, and indulgences you would like to encounter during your stay in Dubai. On average, you should set aside AED 911 (USD 248) per day
The breakup of the budget is as follows:
Conclusion
Dubai has so many interesting places to see and things to enjoy that you will never realize a week has passed. This is just a sample itinerary, and you are welcome to tweak it according to your likes and interests and even add some leisure time in between. In whatever way you choose to spend seven days in this delightful city, we promise that you will keep returning for more.
Frequently Asked Questions (FAQ)
How much would it cost for a Dubai holiday?
Your Dubai holiday budget will vary depending on your taste & travel preferences you opt for in Dubai. In general, most of the attractions in Dubai can be accessed for a ticket price of less than AED 100 per person. On average, a person can spend around AED 6,377 for a week's trip to Dubai, covering their local transport, accommodation, meals, and sightseeing.
Which is the best season to visit Dubai?
The winter between November and April is considered the best time to visit and explore Dubai due to the pleasant climate that makes it ideal for shopping, sightseeing, and other outdoor activities.
Is it possible to plan a budget travel to Dubai?
Yes. Your travel interests and preferences that you opt for will significantly impact your overall travel budget. During the peak touristy season, using the off-season to explore Dubai, using budget accommodation, and using public transport to move around are some ways to plan for budget travel in Dubai.
What is the currency used for transactions in Dubai?
Many transactions in Dubai are covered with cash. The currency used for transactions is dirhams, the official UAE currency. You need to exchange your home currency against dirhams for transacting within the country. However, global currencies are accepted in some stores and shops.