Do you adore Bollywood music, iconic Hindi films, and love to hum a Bollywood song at any time of day? If you are a Bollywood lover and seeking an extraordinary family attraction in Dubai, you should visit Bollywood Parks Dubai. Bollywood deserves a lot of credit for providing fantastic entertainment, and it is the only film industry that has become so well-known around the world, aside from Hollywood in the United States. Those who are unfamiliar with it and are inquisitive about what this genre of Indian movie is all about can have a glimpse of it at the magnificent Bollywood Parks Dubai. Here's what this amazing Dubai attraction is all about.
Bollywood Parks Dubai – An Overview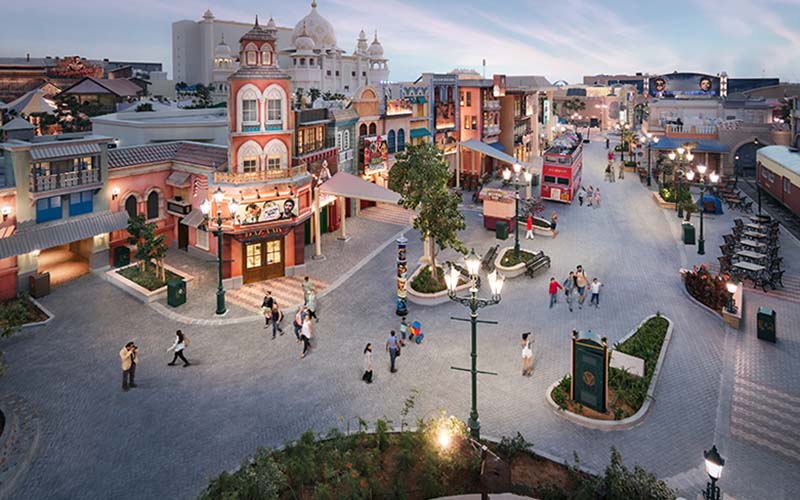 Here's where you explore the flamboyant liveliness of Bollywood apart from India! Bollywood Parks Dubai is one of the theme parks in the Dubai Parks and Resorts one of the biggest integrated recreational attractions in the world. It is the world's first international Bollywood-themed park and is entirely dedicated to Hindi film cinema. Come along to explore a medley of fun rides, spectacular shows, and activities all based on Bollywood movies and iconic movie characters. The attraction is a hit among families as it suits all ages. When you visit Bollywood Parks Dubai, you are immediately taken to impressive sets and given the impression that you are strolling through a kaleidoscope of renowned Hindi cinemas. This is also one of the Dubai venues where you can enjoy some of the most delectable Indian culinary specialties.
Bollywood Parks Dubai – Location and Getting There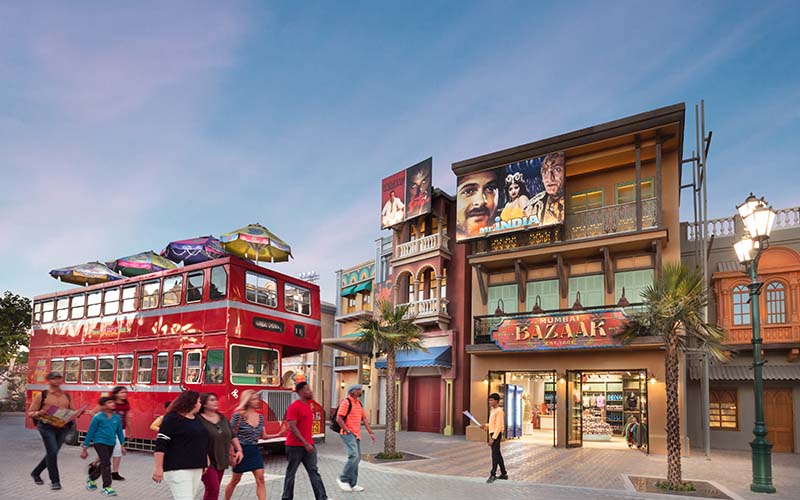 Bollywood Parks Dubai is part of Dubai Parks and Resorts, a sprawling theme park destination on Sheikh Zayed Road. This attraction is around 40 minutes by car from Bur Dubai and Deira, and 20 minutes from Dubai Marina and Palm Jumeirah. If you are taking the metro from Downtown Dubai, take the red line to UAE Exchange Metro Station, which is the closest station to alight, and then take a bus or taxi to Dubai Parks and Resorts.
Tickets and Timings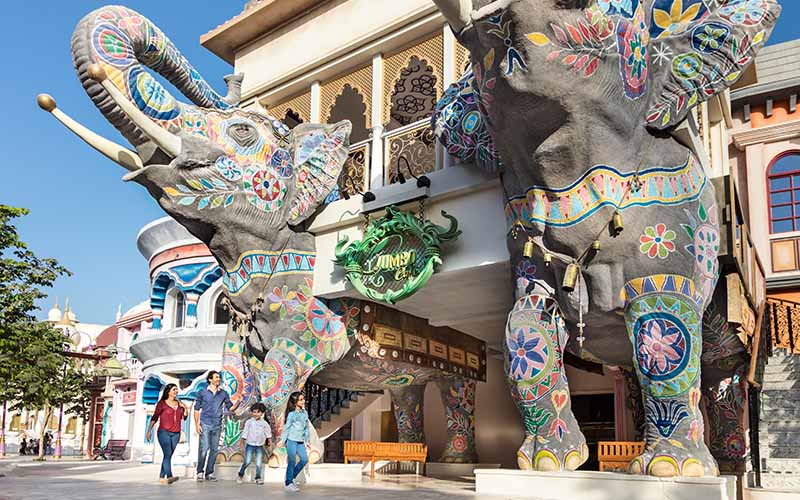 Bollywood theme park Dubai timings are from Sunday to Thursday from 12 pm to 9 am, Friday and Saturday from 12 pm to 10 pm. The timings of the live shows and meet and greet events, on the other hand, fluctuate throughout the year. One-day Bollywood Parks Dubai tickets are approximately AED 244 per person. The park is free for children under the age of three.
What to expect inside Bollywood Parks Dubai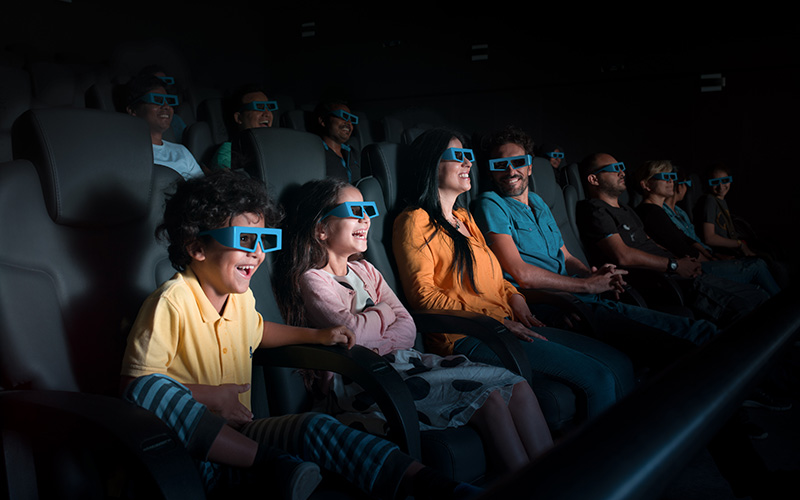 If you're wondering what makes Bollywood Parks Dubai counted as one of the best things to do in Dubai with family, take a look at the wide range of activities and entertainment it provides, which is appropriate for all age groups.
Bollywood Parks Dubai is split into five fascinating zones based on popular themes from Bollywood films, and it features an incredible assortment of 3D and 4D events, Meet and Greet service, live performances, street dances, and much more. The theme park also offers numerous restaurants, street food outlets, and cafes scattered throughout the zones, allowing you to take a breather and satisfy your food cravings at any point throughout your visit.
Rustic Ravine – This zone is designed to look like a tiny rural Indian village, as seen in blockbuster films like Lagaan and Sholay. The majority of Bollywood theme park Dubai rides in this zone are based on the Oscar-nominated film Lagaan and the smash hit Sholay. The most recent additions to the rides in this area are Abra ka Dabra and Bollywood Skyflyer, the tallest swing ride in the world.
Royal Plaza – Discover the grandeur of Hindi cinema and witness the larger-than-life side of Bollywood. The Rajmahal Theatre, which is designed to resemble like a grand palace, is actually a theatre that can hold over 800 spectators who can enjoy spectacular live shows. This location is also in the spotlight because it is the venue of the 'Stars on the Steps' live performance, which puts you in the mood to shake a leg along with the dancers to invigorating Bollywood music and beats.
Mela Junction – Enjoy a Bollywood Carnival and be ready for some thrilling new rides including Wheel of Stars – an impressive Ferris wheel ride with a 360-degree view of Bollywood Parks and beyond. Monsoon Masti is a multi-rider thrill ride that allows you to have fun with water gun fights with your friends and family.
Bollywood Film Studios – Get set to enjoy fantastic 4D multi-sensory shows such as RA.One: Unleashed and Krrish: Hero's Flight at this zone. It is a complete family entertainment zone and also offers a chance to view behind-the-scenes experiences based on the hit movie Zindagi Na MIlegi Dobara.
Mumbai Chowk – Discovers Mumbai's fascinating ambience at this corner of Bollywood Parks Dubai. Just a glimpse of Mumbai's vibes through this zone will allure you to know more about it. Here, you get to check out Tanga no. 31 and Taxi No. 1 – both of the rides having elements so deeply rooted in Mumbai's city life.
Aside from the thrills and rides, the park includes some wonderful restaurants and cafés, as well as boutique stores and retail outlets, where visitors can take a break from the thrills and enjoy shopping and dining experiences. Dubai Parks and Resorts also provides in-house accommodation – Lapita Hotel – that guests can pre-book for an overnight stay within the park so that guests and young visitors could enjoy modern comforts and a cosy relaxed stay after all the excitement in the park.
So, if you are planning to visit Dubai with friends and family and want to add a hint of Indian glitz and extravagance, then make sure Bollywood Parks Dubai is one of the attractions shortlisted for your Dubai travel plan.