Grab your passports and get your Dubai visa! December is right around the corner, and you don't want to miss all of the great things Dubai has to offer! December is an excellent time to visit Dubai. A moderate temperature and loads of exciting experiences await guests in Dubai while the whole world turns its attention to snow-laden destinations. It's the perfect time of year to explore the outdoors and revel in the festive vibes in the UAE's most coveted emirate. If you are in Dubai in December, here's what you should look forward to on your visit.
Dubai in December: why should you go?
People love Dubai in December because the weather is great compared to the rest of the year to move around and enjoy Dubai's extravagance. Dubai temperature in December varies from 26 to 14 degrees Celsius, and the sun isn't scorching hot. It's the right time to explore Dubai's outdoors such as evening desert safaris, water sports and theme parks. With the Persian Gulf on its western coast, Dubai is the most ideal December vacation destination for sun, sea, and sand instead of snow or freezing weather. A buzzing festival vibe fills Dubai in December. The month of December is jam-packed with activities, from shopping festivals to New Year's Eve parties. With great weather and special offers in the winter, it's even more appealing to visit.
Discover Dubai's seasonal attractions – the Dubai Miracle Garden and Global Village.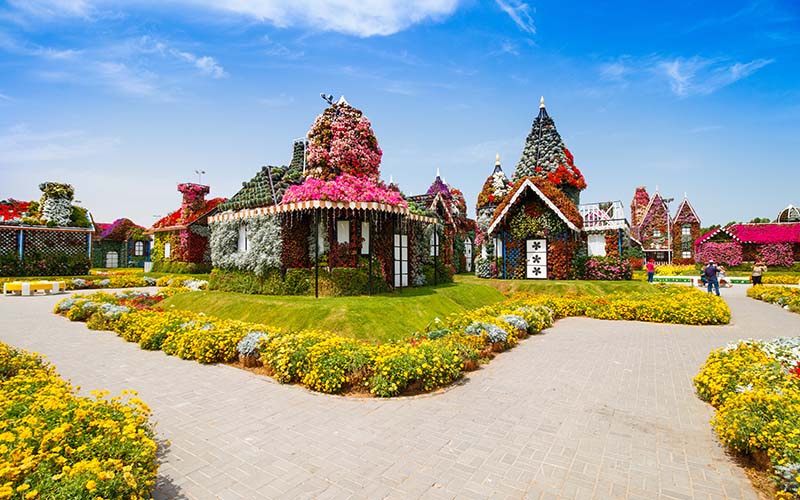 It's the perfect time for Dubai Miracle Garden to bloom again with the drop in temperature. Get lost in its riot of vibrant floral blossoms this month in this enchanting garden in Dubai. Over a million flowers sculpted into extraordinary dioramas make this a must-see attraction! Another seasonal attraction worth checking out is Global Village, a mega carnival featuring countries around the world showcasing their culture, food, and entertainment. Getting awe-struck by colossal installations and flooding your social handle with tonnes of photos from these enigmatic attractions can be counted as some of the best December things to do in Dubai.
Enjoy thrilling water sports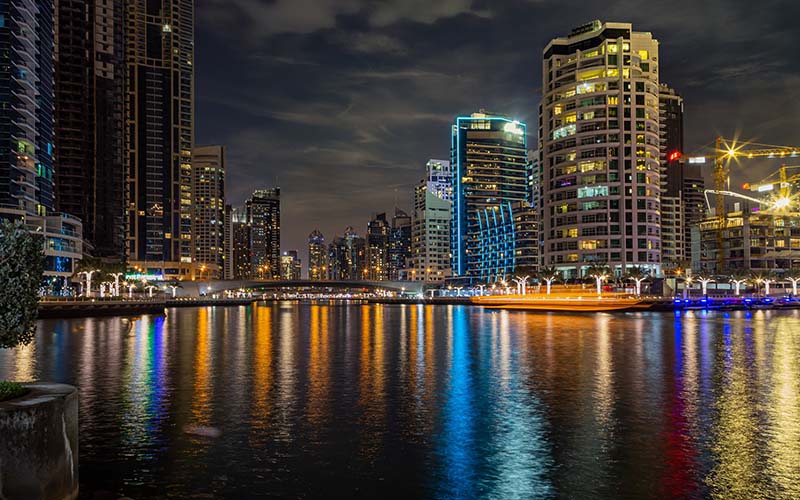 The dip in temperature makes the beaches inviting and if you love to bask in the sun with a touch of adventure, head to the beaches near Palm Jumeirah and Dubai Marina for exhilarating water sports adventures. You have a myriad of thrills to explore when it comes to water sports, from jet skiing to flyboarding to enjoying a donut ride with family and friends. You can also enjoy the stellar panoramas of Dubai city while you're at it!
Let kids have fun at open-air parks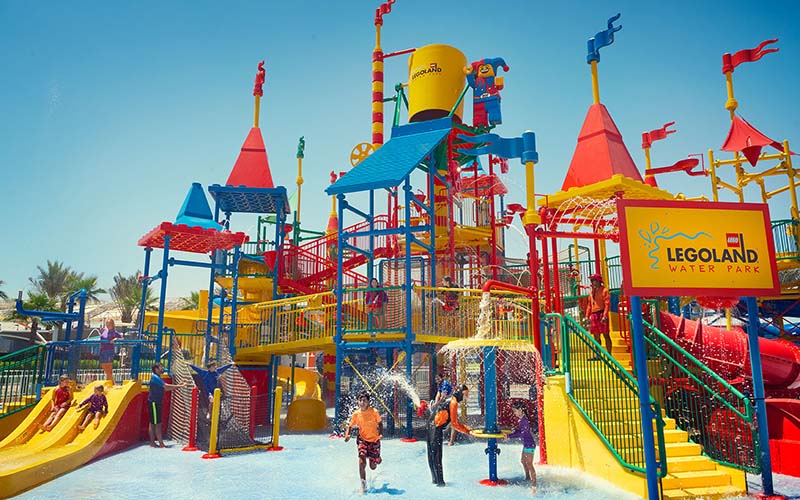 December is an excellent time for families to visit outdoor theme parks and have fun with their children. Spend the day splashing around at Aquaventure Water Park, LEGOLAND Water Park, Wild Wadi Water Park, or Laguna Water Park. At Dubai Parks and Resorts, you can spend a day exploring 3 types ofaction-packed theme parks and a water park, perfect for kids and adults. Besides that, the emirate has fantastic parks and gardens, including Al Nakheel Park, Safa Park, and Zabeel Park. If teens and tweens are looking for adventure fun, be sure to check out Aventura Park and The Block Park.
Go on a shopping spree during Dubai Shopping Festival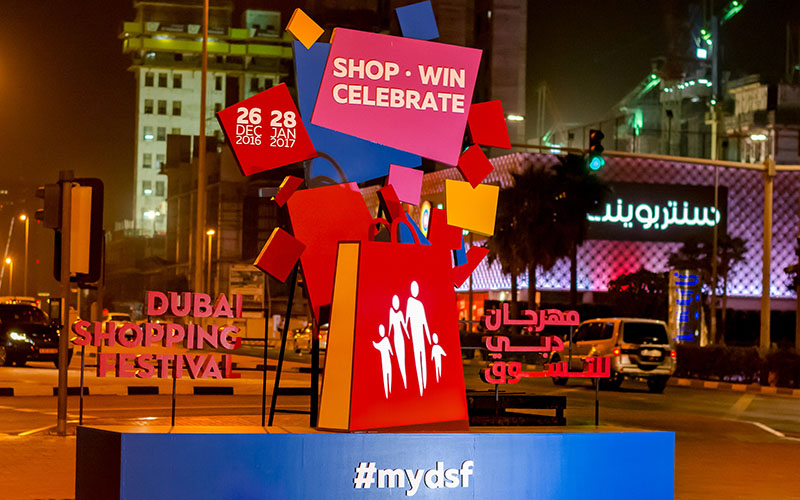 There is no way you can forgo shopping in Dubai. December entices shopaholics especially with the grand annual shopping event – The Dubai Shopping Festival – where guests can shop for amazing discounts and even enter raffles and lucky draws to win outrageously extravagant prizes. In December, the festive spirit is in full swing, and the malls are filled with fashion shows, performances, and fun activities for kids. There are also myriad of festive offers at local restaurants and hotels throughout the emirate with delectable culinary palette on their menu to try out. If you want to indulge in some retail and food therapy, Dubai in December is the place to be.
Go skydiving and snow skiing!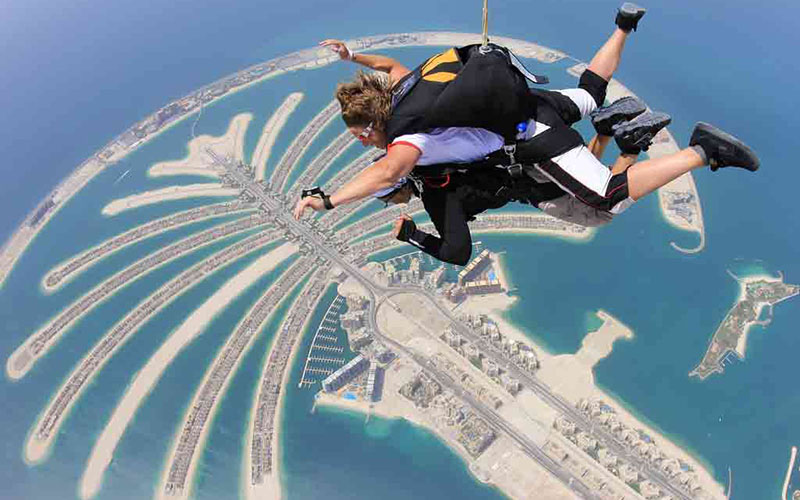 Daredevils! Don't miss your chance to skydive! The pleasant weather also makes for ideal conditions for skydiving. Get ready to experience the ultimate adrenaline rush when you skydive at Palm Jumeirah Dubai, one of the world's most picturesque drop zones. Also, add a touch of wintry vibe with a visit to Ski Dubai, one of the most beautiful and largest indoor ski attractions in Dubai, where you and your family can enjoy skiing, snowboarding, and more. You can even see cute penguins wandering around in the vicinity.
Enjoy Dubai's outdoor excursions and getaways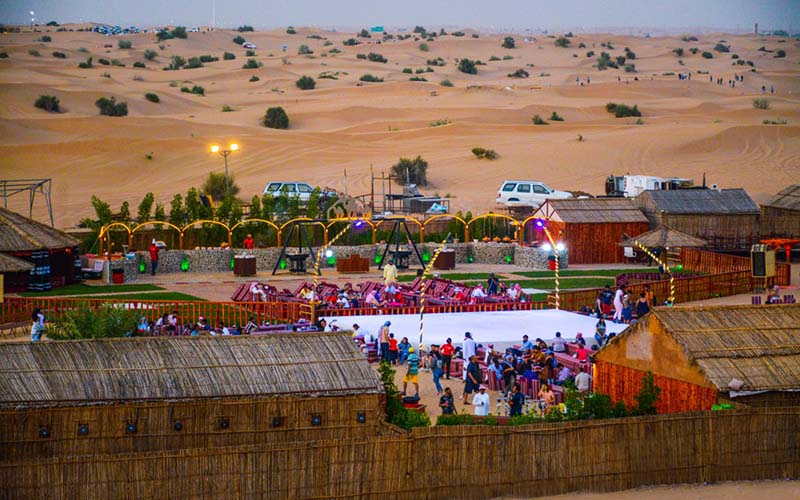 December is all about being outside in Dubai, and for an outdoorsy person, the emirate offers recreational spaces beyond the city borders. Embark on a Desert Safari tour and sign up for dune bashing, quad biking, camel rides, and more in the amber Arabian desert. It's awesome to spend an overnight in the desert in December. Consider upgrading it with luxury tents and camping resorts. Similarly, visit Hatta Wadi to enjoy peaceful glamping and stargazing activities. There's no doubt that these excursions are worth every penny of your Dubai vacation budget.
Check out extravagant live shows
Throughout December, Dubai comes alive with events and performances. The emirate has evolved into a global stage for many renowned tourists and talented personalities. The last month of 2022 features performances by Lucky Ali, Abida Parveen, and Kylie Minogue, along with spectacular shows such as The Nutcracker and The Sound of Christmas. Pre-book your tickets in advance before they are sold out!
Usher in the New Year amid extravagant festive vibes!
Finally, it wouldn't be fair to miss New Year's Day and Eve in Dubai. Or, you'd be utterly disappointed. On the final day of the year, Dubai glams up with scintillating lights and laser shows as the frenzy spreads throughout the emirate.  For December visitors, celebrating New Year in Dubai with family should be on your list. You'll never find a dull moment during your stay, whether you're enjoying special dinners and brunches in opulent restaurants or catching live performances. New Year's Eve is a time for celebration, with Dubai hosting some of the world's most exclusive parties on New Year's Eve. Wait with bated breath for the stroke of midnight as the Dubai sky explodes in millions of fireworks making it one of the most spectacular sights you will ever see on an international trip. There is no doubt that Dubai will make your New Year's Eve a memorable one since the city definitely knows how to put on a show to remember.
Conclusion
While the world is witnessing snowfall and slipping into trench coats, Dubai in December is pleasant. These things to do in Dubai are just the tip of the iceberg. So, plan the perfect holiday to Dubai this winter month and have cherish-worthy moments for the rest of your life.