Apart from being Dubai's first ever water theme park, Wild Wadi Waterpark in Dubai is also popular among people for several other reasons. It is located at a strategic location next to the Burj Al Arab hotel, the only seven-star hotel in the world. From the standpoint of tourism, what makes it an exciting place to visit is its best rides and sights. Whether you come here for rides or sightseeing, you can look forward to having an exciting time ahead.
While Wild Wadi water park is one of the most enjoyable things to do in Dubai in one day, it might not be possible to visit all the attractions and rides in a single day. For the best tourism experience, you can plan your trip depending on the number of days for which you wish to stay in the city. A lot will depend on the duration of your Dubai tourist visa.
Read on to know more about the best rides and top attractions of Wild Wadi Waterpark in Dubai.
Top Rides of Wild Wadi Waterpark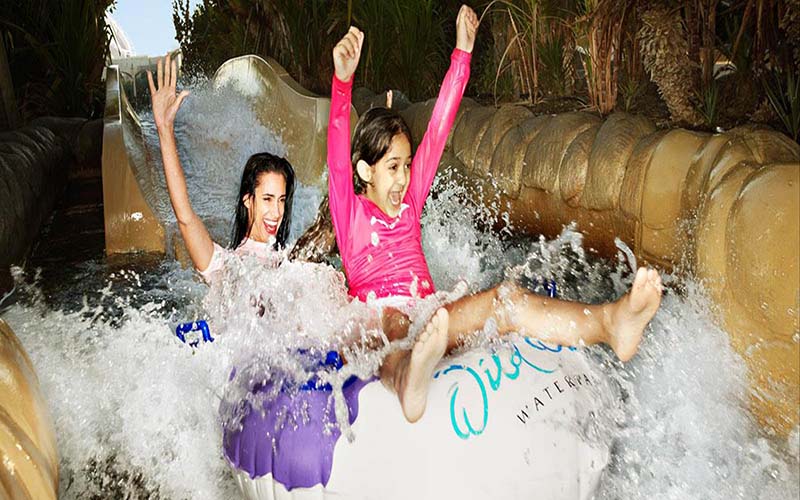 As discussed earlier, Wild Wadi Waterpark has some of the best rides among the water parks in Dubai. These rides constitute the primary reason why visitors visit the waterpark. The top rides of the waterpark include the ones given below. When you get to visit Dubai on a Dubai visa, make certain you do not miss out on taking these rides.
1. Jumeirah Sceirah
Ever since its availability for visitors in 1999, Jumeirah Sceirah has gone through several improvements. At present, it has a revamped look with an exciting ride that touches the hearts and minds of visitors of all age groups. It is the ultimate ride for those visitors who are adventurous by nature.
The ride begins at the height of 32 meters, and visitors get inside a unique glass capsule that gives them a one-of-the-kind feeling. Initially, an operator closes the gate and then opens it suddenly. Visitors seated inside the glass capsule go below 120 meters at 80 km/hr, which gives them a thrilling experience.
2. Tantrum Alley
Filled with adrenaline-pumping sections, Tantrum Alley offers a ride featuring three tornadoes which will not only give you a surprise but also make you scream. The ride closes with a plunge into a pool. Throughout the ride, you can see the Jumeirah Beach Road. Tantrum Alley is for participants of all age groups. So, you can also indulge with kids in it if they accompany you.
3. Burj Surj
Do you wish to take a ride in which every moment is filled with thrill and excitement? If yes, you must ride on the Burj Surj. At the time of heading downwards, its swirls and twists will give you a once-in-a-lifetime sort of feeling. While it is meant for four people, you can also consider joining it even if you are accompanied by two companions. The ride at Burj Surj concludes with a plunge into a pool.
Top Attractions of Wild Wadi Waterpark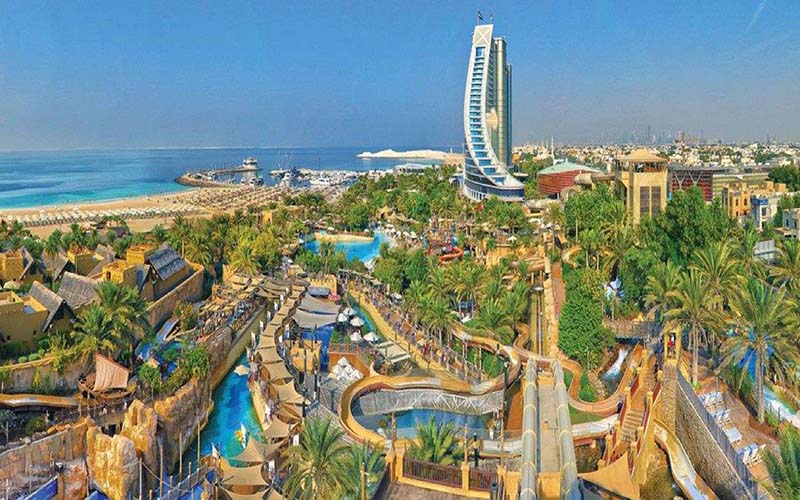 Close to Wild Wadi Waterpark lies a long list of tourist destinations. With this feature, the waterpark draws a large number of tourists throughout the year. If you feel desirous of sightseeing after enjoying different rides at the waterpark, you can visit the below-mentioned destinations.
1. Burj Al Arab
Just as Burj Khalifa represents the culture of the UAE these days, Burj Al Arab used to do the same in the past. In fact, it is still one of the most prestigious luxury hotels in Dubai and the only 7-star hotel in the world. Shaped as a sail, it is a five-star hotel with many luxury spas and eateries. A part of it is made of gold which gives it a distinctive identity among other five-star hotels in Dubai. By visiting it, you can get to know more about Arabic culture from a close range.
2. Jumeirah Beach Hotel
If you have done some research on Dubai, chances are you may have already come to know about one of its most popular beach hotels that goes by this name. Located next to Burj Al Arab, this five-star hotel is shaped like a wave. It presents a stunning view of the Arabian Gulf. Watching the wavy sea water making and breaking waves from this five-star hotel will soothe your senses at any time of the day. Other than accessing the wonderful beach next to it, visiting this hotel will also allow you to explore Dubai's luxury and culture.
3. Souk Madinat Jumeirah
Unlike the other two attractions listed above, this one is located at a fair distance from Wild Wadi Waterpark. The Souk Madinat Jumeirah offers a modern twist to the traditional souks in Dubai, which offers a lively atmosphere for shopaholics. It is situated at a distance of 7 kilometers from the waterpark. At Souk Madinat, you will find all or the majority of your preferred items under a roof. Whenever you visit Wild Wadi Waterpark, do not forget to head to this fantastic modern mall. Entry to the mall is free of cost.
Cost of Wild Wadi Waterpark Tickets
The cost of Wild Wadi Water Park tickets may differ for different individuals. Along with the age of the individuals, it also depends on their activities. The ticket price for visitors with a lesser height than 1.1 meters is lower than for those whose height is 1.1 meters or more. To minimize the cost of the tickets, you can check out the online discount offers by hotels and other providers.
Conclusion
From water rides to sightseeing and shopping, Wild Wadi Waterpark offers exciting activities to its visitors. Its strategic location allows visitors to go to several tourist spots. Include the aforementioned rides and tourist attractions in your travel plan to Wild Wadi Waterpark Dubai to make your trip to it both fun-filled and memorable.