Taking a family vacation? The hardest part of planning a holiday with kids is to decide the places you want to visit which will be exciting for kids as well. One advantage of choosing Dubai as a vacation spot is that the emirate is a great family vacation spot with a wide range of experiences and activities. The little visitors also will have the time of their lives when they visit and explore Dubai. In addition to including family-friendly attractions, the emirate also considers the comforts of young children. These are the best spots to visit with young children and teenagers if you have a Dubai visa and are intending to visit Dubai on a family holiday.
Burj Khalifa and Dubai Fountain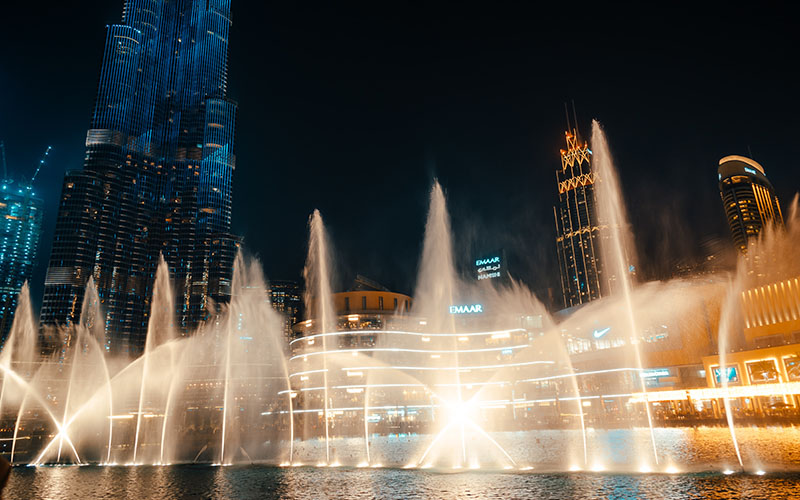 Watch as the youngsters are mesmerised by the cutting-edge engineering achievement that no other destination has. The Burj Khalifa's dazzling grandeur is breathtaking to witness. When combined with the brilliant spectacle of the Dubai Fountain's illuminated performance, the kids will undoubtedly relive the experience in their memories. There are many family-friendly activities in Downtown Dubai, but taking a stroll along the area's iconic landmarks is an experience that cannot be missed at all.
KidZania Dubai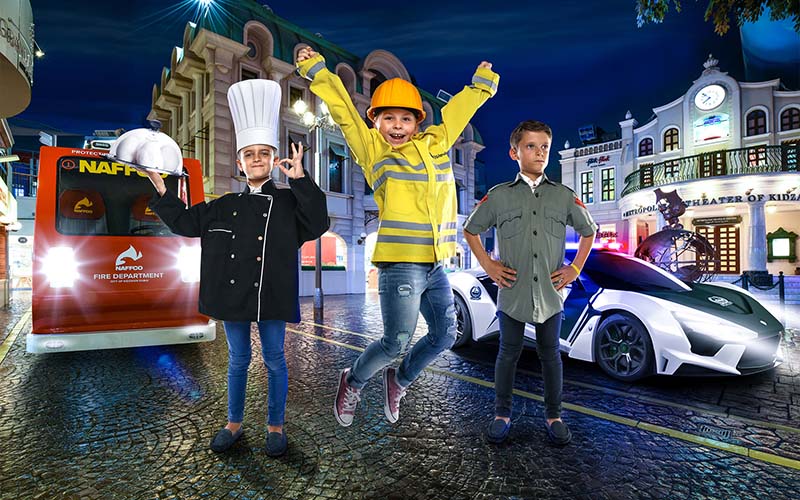 In Dubai Downtown, right next to the Burj Khalifa and Dubai Fountain, you can find the biggest shopping mall in the Middle East – The Dubai Mall. Some of the most thrilling kid-friendly attractions and kids activities in Dubai can be found in this fascinating mall, including KidZania Dubai. Let children experience what they want themselves to be when they grow up, try being an adult for a day, learn about responsibilities, and even earn money in a mini-city created for and managed by children. It's a fantastic approach to provide kids with some fun and excitement while letting them spend the day in a grown-up's shoes.
Dubai Aquarium and Underwater Zoo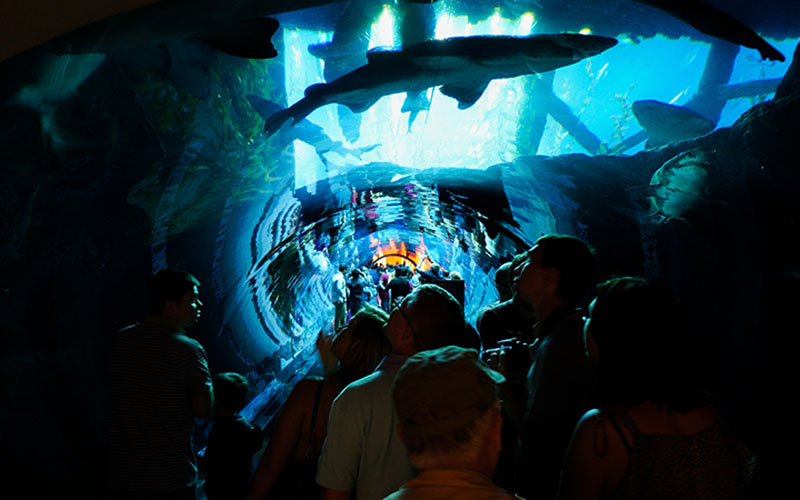 Don't leave Dubai Mall just yet! There's still plenty to see and do here. For example, how can you not visit The Dubai Aquarium and Underwater Zoo, one of the most beautiful underwater attractions in the Middle East? The aquarium, which is housed in the Dubai Mall's lower floor, contains the biggest suspended glass tanks filled with a wide variety of colourful fishes. You can have a wonderful day exploring this stunning ocean realm and all of its aquatic life with an admission ticket.
Dubai Dolphinarium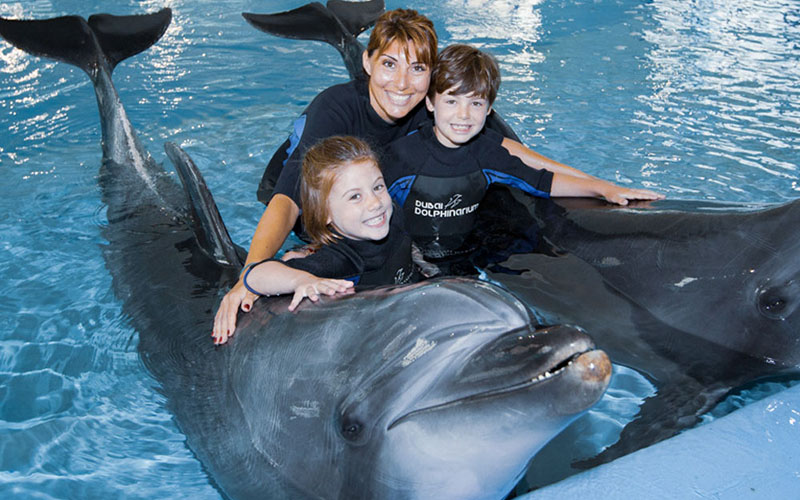 At the Dubai Dolphinarium, get up close to some of the world's friendliest aquatic animals. Watch bottlenose dolphins and furry seals perform their antics and tricks to keep you entertained. Kids can also enjoy swimming with these gentle marine creatures at this venue.
LEGOLAND Dubai and LEGOLAND water park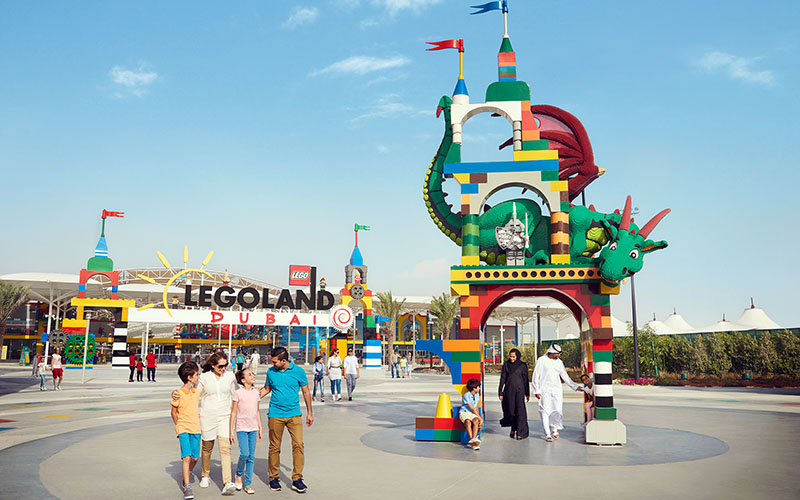 LEGOLAND Dubai is a must-see destination for families travelling to Dubai with small children and toddlers. LEGOLAND, based on the popular LEGO blocks, is the Middle East's first-of-its-kind theme park, with activities and attractions designed for children as young as two years old. Together, the theme park and the water park provide an incredible chance to enhance your bond with your children while having a great time creating something creative with enormous LEGO blocks.
IMG Worlds of Adventure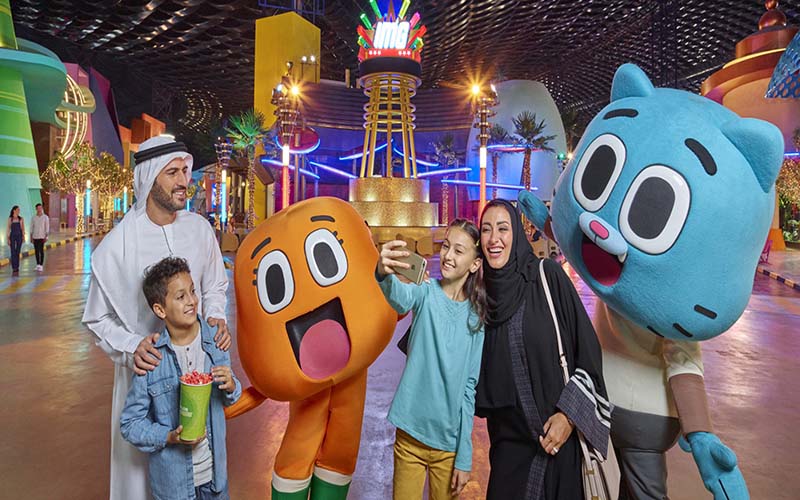 IMG Worlds of Adventure, the largest indoor theme park in the world, is one of the best things to do in Dubai with kids. Both grown-ups and kids can join MARVEL superheroes and Cartoon Network characters in thrilling adventure rides and shows inside this massive arena. The theme park also has a section based on pre-historic times – The Lost Valley which is swarming with animatronic dinosaurs. With kids having their fair share of fun, you can easily spend an entire day enjoying delicious food, shopping for collectibles, and having a fantastic time.
Ski Dubai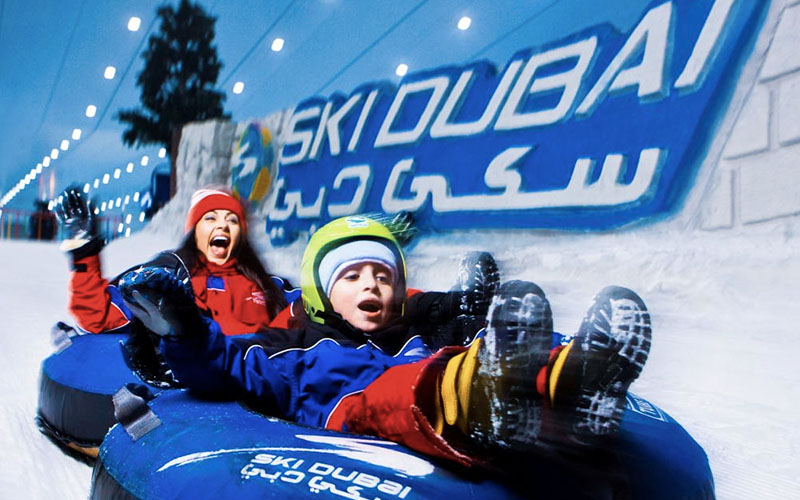 Watch kids get bamboozled at the sight of snow in a desert city. One of the best attractions with loads of activities for kids in Dubai with a unique touch is the Ski Dubai at the Mall of the Emirates Dubai. Kids and their families can enjoy playing in the snow, try snowboarding, learn to ski, and even witness penguin parades at this indoor attraction that is always kept at -4 degree Celsius temperatures. Kids can unwind here away from the desert heat and enjoy some wintertime activities to their heart's content.
Aquaventure water park
A day at Aquaventure, the biggest water park in the world, is a great way to have exciting quality family time in Dubai. his water park in Palm Jumeirah is a daredevil's paradise, but it also has some great family-friendly water attractions, multi-rider water slides, and a beautiful splash area for youngsters with rides and pools designed to keep small children entertained. A day of splashy fun at Aquaventure Water Park will be one of the memorable highlights of your Dubai family vacation.
Green Planet Dubai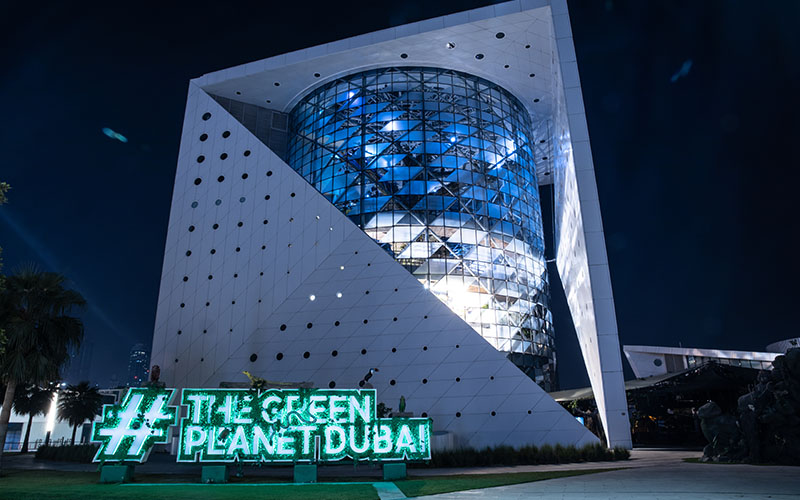 Step into Green Planet Dubai, one of Dubai's greenest attractions. This verdant oasis is nestled inside a glamorous contemporary-designed structure thanks to Dubai's engineering ability in producing a tropical rainforest-like ambience for its visitors to enjoy and appreciate. Cherish nature's verdant beauty and colourful foliage in indoor forests which is also home to a great variety of animals and birds. From feeding the fish, experiencing a tropical thunderstorm indoors to donning the hat of a zookeeper for the day, there is much to keep kids entertained here!
Museum of the Future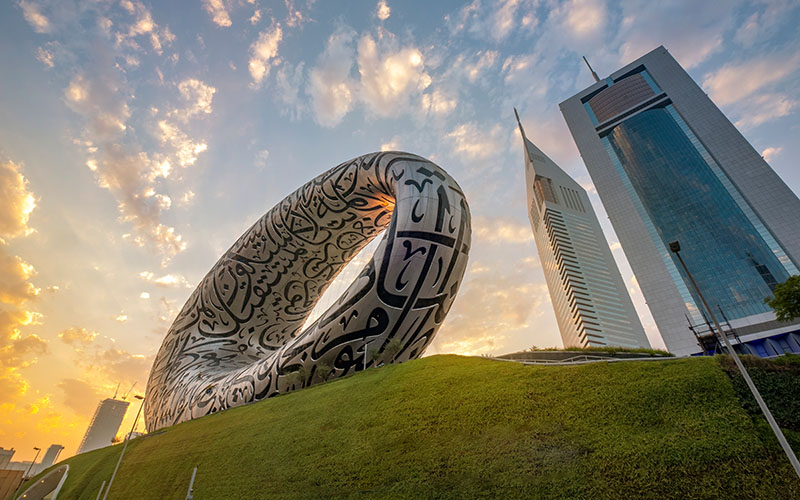 Last but not least, if you and your family have a Dubai tourist visa and are considering visiting Dubai, be sure to check out the Museum of the Future. One of the most remarkable places to see in Dubai is this recently unveiled attraction. In contrast to the otherwise tall skyscrapers, its oval structure commands the scenery along Sheikh Zayed Road. Its concept is rather original; instead of emphasizing the past, the museum shows what the future of humanity might look like through a variety of unique installations and exhibitions. In addition to entertaining and fascinating the kids, the installations and galleries will provide them with a chance to learn about the problems we face today and how they can be solved using technology.