Dubai is a city of engineering wonders. Within a day, you can see some of the astonishing man-made spectacles. Almost every attraction has an enticing element that elevates the appeal factor for visitors. Dubai Fountain is one such attraction. While strolling around Downtown Dubai, you will find yourself awestruck by this fountain and two other incredible Dubai attractions – the Dubai Mall and Burj Khalifa. It's impossible not to stop and marvel at this dancing water spectacle if you are strolling along the arena. A Dubai tourist visa holder should not miss this attraction. Get to know more about it and make some space in your travel itinerary once you get your Dubai visa and start planning a trip.
Dubai Fountain and its features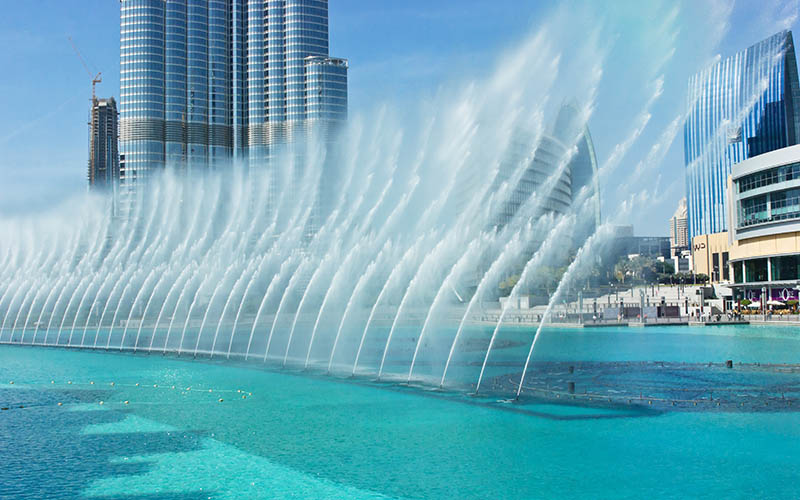 The Dubai Fountains are one of the most popular attractions in the emirate, and not just because they are stunning to look at. Behind its spectacular grace lies an impressive display of engineering and creativity. After its first illumination in 2009, this colossal fountain quickly became one of Dubai's most photographed sights. The attraction is located on the Burj Lake in Downtown Dubai, adjacent to the towering Burj Khalifa. It's hard to miss when you visit the precinct. The world's biggest choreographed fountain adds extra glamour to the panorama of this section along with Burj Khalifa. From any vantage point on the precincts or across the lake, viewers can observe this stunning visual spectacle of water, light, and music. Here's what makes Dubai Fountains utterly marvellous for bystanders.
The Dubai Fountain stretches across Burj Lake which occupies more than 30 acres next to the Burj Khalifa. Designed by WET Company, one of the best-known firms in California which is known for its creative works on Bellagio Fountains of Las Vegas, the Dubai Fountain ensures a mesmerizing experience for all visitors. The fountain features a series of submerged water jets and robotic nozzles placed in a circle design of varying diameters in the lake, which shoots over 22000 gallons of water during the water, light, and sound performances. This fountain's jet shoots water 500 feet high, the height of a 50-storey building. Through cutting-edge technology, the jet shoots, sways, and twirls in tune with the music.
Water jets and music are synced to a lighting system, which has over 6000 super lights and colored projectors that cast powerful beams of light onto the water jets and the water screens. This complex system of lights illuminates the Dubai Fountain in a way that can produce an endless number of colours and configurations, including a spectrum of more than 1,000 abstract graphic patterns.
A team of engineers works diligently on the complexities of each element to ensure that the fountain is operating smoothly at all times. With precision, all elements combine seamlessly to provide a scintillating experience to onlookers. Dubai Fountain put on a stunning show on different types of music ranging from Arabic to international. If you watch closely, you will note that everything about the performance feels seamless and polished. There won't be a single water shoot, light beam, or musical beat out of place. Everything works in perfect synchrony.
Dubai Fountain Timings
Dubai Fountain welcomes guests every day and gives an amazing performance every 30 minutes from 6 pm to 11 pm. A million lights transform the arena into enchanting scenery for the evening show. Viewing the attraction from the precinct is free, but you can amp up the excitement level by combining it with a boat tour or dinner at one of the fine dining restaurants in the area. Since this is an outdoor show, you can plan your visit during October to March which is the best time to visit Dubai.
What to do at Dubai Fountain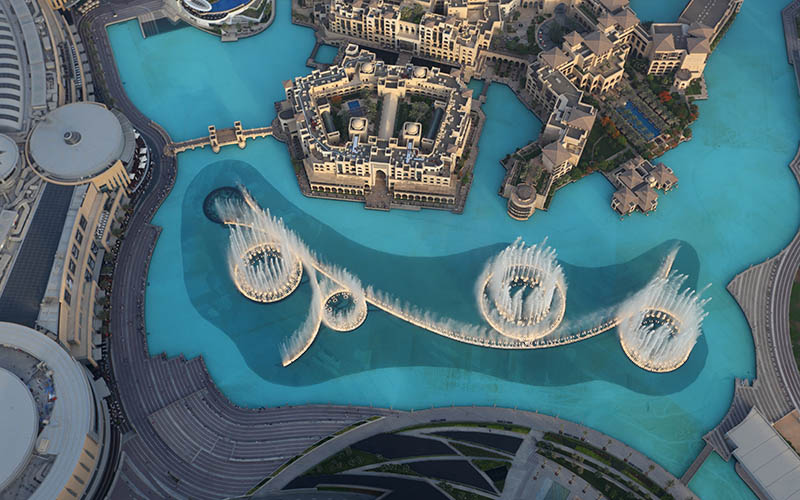 It is possible to enjoy the Dubai Fountain's performance in many ways.
Experience a breathtaking bird's eye view of Dubai along with the scintillating fountain show from the 124th floor of Burj Khalifa – At the Top Burj Khalifa.
It is highly recommended to get on an abra – a traditional wooden boat and glide on the Burj Lake as you watch the performance of the Dubai Fountain from up close. It is one of the best ways to enjoy the Dubai Fountain Lake attraction in the most enthralling way possible. Tickets are priced at approximately 70 AED per person.
Discover some of the best fine dining venues in Dubai that offer amazing views of the Dubai Fountain. The restaurants offer sumptuous cuisine and guests can enjoy the show while they enjoy their meal.
There is a Dubai Fountain Boardwalk that lets you walk until you are only 9 meters away from the enchanting water sprays. This is the closest you can get to the fountains and is an amazing experience for all Dubai visitors. You can enjoy this experience for AED 20 per person.
Take in the gorgeous spectacle of Dubai Fountain without spending a penny while strolling around the precinct.
Conclusion
In a city that is distinguished by a multitude of icons and landmarks, the Dubai Fountain is without a doubt one of the most spectacular. Today Dubai is a center of attraction with its unlimited skyscraper that adorn its skyline. Nonetheless, the beautiful water elements of the Dubai Fountain add a touch of class to the otherwise urban ambience of the city. As the Burj Khalifa beckons you to stand in awe as you admire its beauty, the Dubai Fountain inspires you to take a moment to savour the beauty of its surroundings.