Dubai is a global metropolis that is well known for its exceptional architecture and magnificent skyscrapers. Built in the middle of the desert, the city is the result of the creativity and persistence of human beings and the belief that with hard work anything is possible. It is home to extravagant hotels, sprawling shopping malls ,various souks markets in Dubai and also Burj Khalifa which is the tallest building in the world. With the growing footfall of international tourists and the extravagance they pursue on their arrival, Dubai has seen massive investments being made in the entertainment and leisure industry. Entertainment venues in the form of theme parks and water parks are operational as well as being planned all over the ever enchanting Dubai!
In this article, we try to highlight the best theme parks in Dubai for you:
1. IMG World of Adventures
IMG World of Adventures is one of the largest theme parks in UAE and is as big as 28 football fields taken together. It consists of sixteen restaurants and twelve food kiosks. There are four zones here – the first is IMG Boulevard which consists of a haunted hotel. There is a Marvel zone which consists of all your favorite characters from the Marvel comics such as Hulk, Ironman, Spider Man, and Thor. In the Cartoon Network zone, say hello to the Powerpuff girls and help them fight Mojo Jojo's evil robot creation. In the Lost Valley zone, there are exhilarating vertical plummets and you will encounter some terrifying dinosaurs. IMG is also home to the fastest and tallest rollercoaster in Dubai called the Velociraptor which covers 100km in 2.5 seconds from the pre-historic jungle into the desert.
2. Motion Gate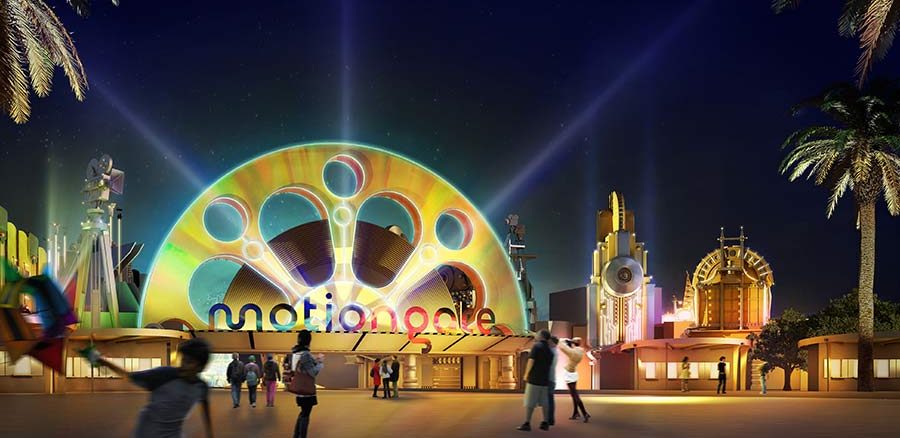 Motiongate is a Hollywood based theme park where you can get up, close, and personal with all your beloved movie characters. There are numerous rides and animation films, and you will have plenty of options to keep you entertained. Three of the five zones are dedicated to Hollywood's most legendary film studios including DreamWorks, Sony Pictures, and LionsGate, while Smurfs Village is entirely family friendly. You can also some insight into real-life movie sets of New York and get some behind the scenes trivia at Studio Central. Additionally, Bollywood Parks Dubai offers an opportunity for movie buffs to view Indian films and musicals, which share space with Motion Gate at Dubai Parks and Resorts.
3. LEGOLAND Dubai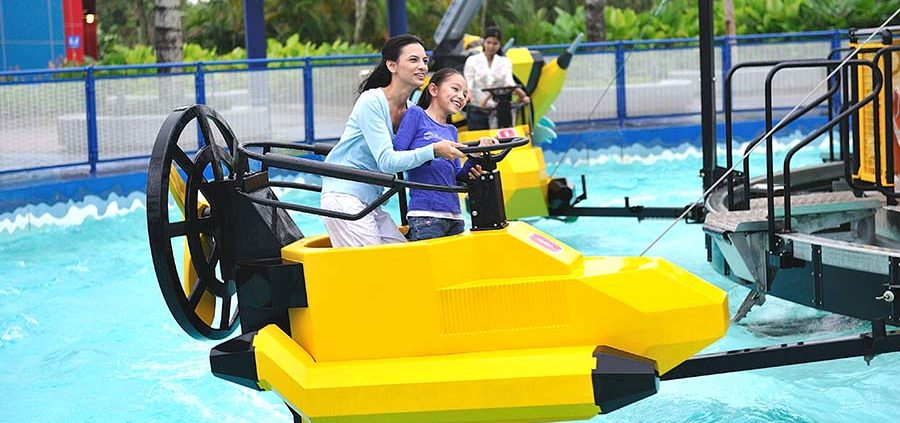 Dubai parks and resorts have a LEGOLAND Dubai which is yet another ultimate theme park destination for children and their families. 60 million plastic Lego bricks were used to make it what it is today. Legoland is divided into 6 different lands based on various themes such as Lego City, Imagination, Kingdoms, Factory, Adventure, and Miniland having more than 40 attractive rides. LEGOLAND Water Park, one of the most kid-friendly water parks in Dubai, offers more than 20 child-friendly waterslides and attractions that include a wave pool, a DUPLO splash safari area for toddlers, giant water-dumping buckets and a lazy river where you build your own Lego raft. There are also educational elements like water flow channels where children can construct dams from Lego blocks to understand blustery fluid flows.
4. Bollywood Parks Dubai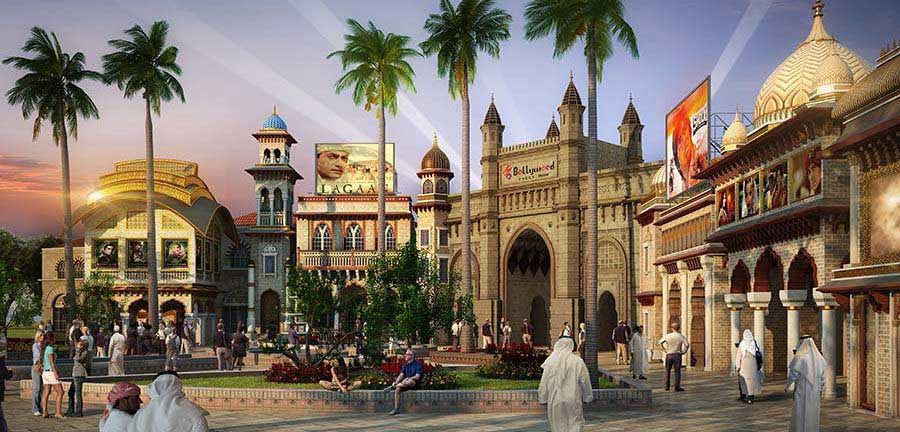 Bollywood Parks Dubai celebrates the vibrant Indian culture and traditions of Hindi movies. Dubai ticks off another world' first with this theme park dedicated to India's larger than life Bollywood film industry. The park features more than 16 cinematic rides, 30 live shows across seven different stages, and five zones including Bollywood Boulevard, Rustic Ravine, and Mumbai Chowk. You can enjoy thrilling rides based on iconic movies such as Sholay, Lagaan, Krish, and Don among others. One of the key highlights of this place is the famous Rajmahal theatre which plays extravagant Bollywood style musicals. It also has several Indian dining options to keep your hunger pangs at bay.
5. Wild Wadi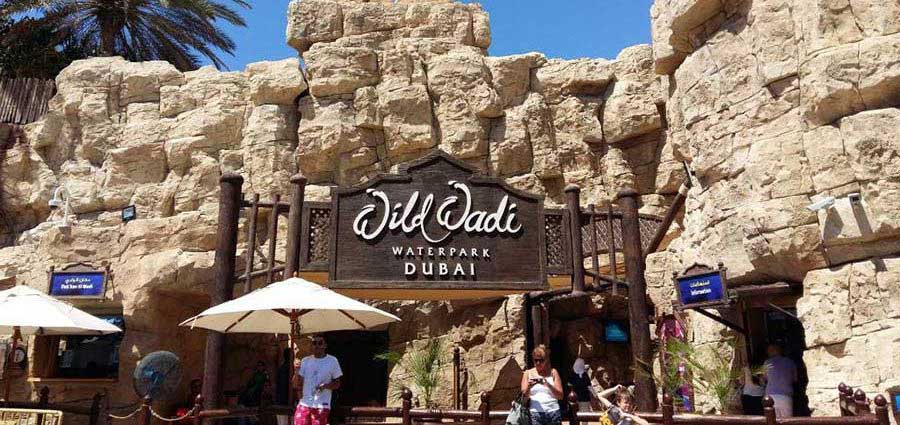 Wild Wadi offers 30 rides and attractions. The park is themed around the tale of Juha- a well-known character from the Arabian folklore. There are a lot of imaginative structures and exciting rides. The ring rides are the most attractive –Tantrum Alley & Burj Surj are two recent slides that have taken over the family rides. Both are the first of its kind in the region. Tantrum Alley is a slide with an exclusive blend of 3 tornados & Burj Surj has 2 bowls. Jumeirah Sceirah is the tallest and fastest free-fall water slide outside of North and South America rising to 33 m with riders reaching speeds up to 80 km/h. It also consists of the largest wave pool in the Middle East called the Breakers Bay.
6. Aquaventure Waterpark
Boasted as one of the largest water parks in the Middle East, Aquaventure water park is also one of the most fun things to do in Dubai with family and friends. Aquaventure waterpark offers some of the most thrilling water slides and attractions. This colossal waterpark is housed in Atlantis, the Palm hotel and is a paradise for every water lover. Some of the exciting rides here include the Leap of Faith, the Tower of Poseidon and Aquaconda. It also has a private beach where you can relax after a tiring day. There is a splash zone and simple slides for kids to have their own fun time. While here, you can also visit the Lost Chambers Aquarium which is home to an array of exotic aquatic animals such as sharks, piranhas, sea lions, dolphins, and jellyfish among others. This is enough temptation to get your Dubai visa.
7. Ski Dubai
Ski Dubai is one of the largest indoor ski resort in the world that offers an ideal break from the sweltering heat of Dubai. You can indulge in a plethora of exciting snow activities such as skiing, tobogganing, tube slides, zorbing, and snowboarding. It has a large mountain with 5 different slopes of varying levels and an ice cave for kids. Spanning over 22500 square meters of area, the park maintains a sub-zero temperature throughout the year. It is the perfect way to spend some fun time with your family. A major highlight here is 'The March of the Penguins' show where these adorable creatures leave you amazed with their antics. However, it is essential to get an insight into this attraction and learn basic things to know before visiting Ski Dubai like how cold it would be inside and when is the best time to visit and if you can ski if you are a first-timer.
8. VR Park
VR Park is the place to be for experiencing virtual reality and augmented reality in Dubai. Consisting of more than 25 attractions, this theme park offers several rides and experiences in different genres including action, horror, thrill, adventure, and leisure. It blurs the lines between perception and reality offering an incredible experience to its visitors. Some of the popular activities here are Burj Drop, The Raft, APE-X, and The Walking Dead or VR Outbreak. It is a must visit for adventure junkies and thrill-seekers.
9. Wonderland Amusement Park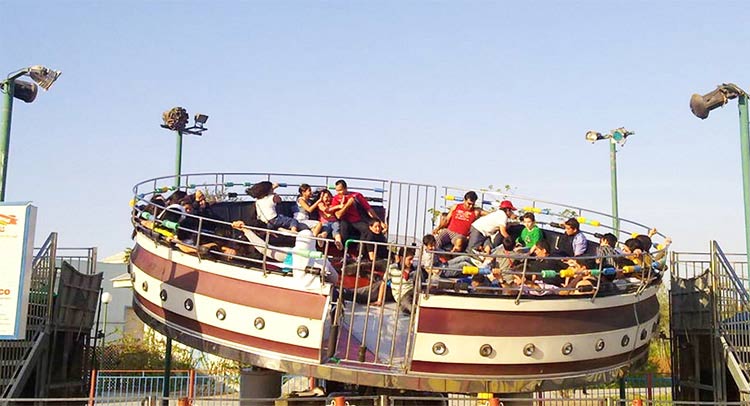 Wonderland Park is one of the largest amusement park in the United Arab Emirates. It also has a water park named Splashland with multiple rides which will make your heart skip a beat whenever you are on it.
There is a surprise in store for you at every nook and corner in Dubai. Theme parks and water parks are a must in your Dubai itinerary as they provide you a day filled with fun and adventure in the company of your loved ones. There is something or the other to cater to every age group. For the elderly, it's a walk down the memory lane and for the young ones it can't get any better.