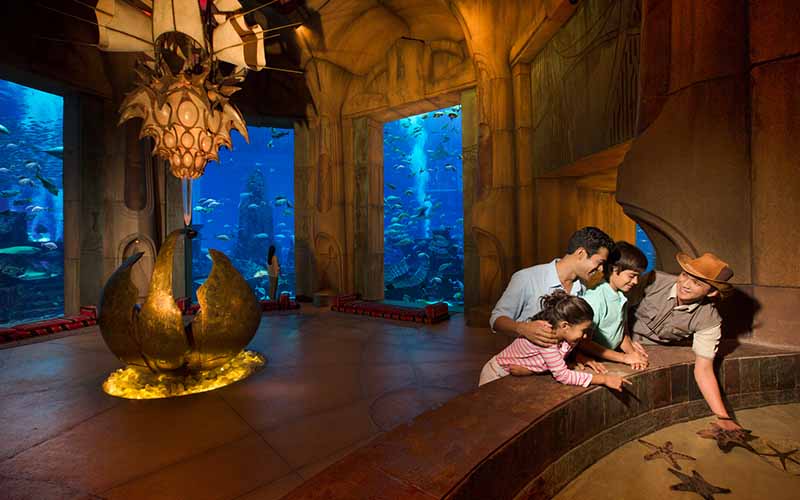 A trip to this underwater paradise at Atlantis The Palm is a must-do if you enjoy marine life. While Dubai Aquarium and Underwater Zoo offer a glimpse of the aquatic world, The Lost Chambers Aquarium leaves a more permanent impression with its visually amazing exhibits and unique underwater activities. The Lost Chambers Aquarium is one of the most popular tourist destinations in Dubai for visitors of all ages and is a fantastic attraction that delights both children and adults. It is home to a variety of marine species in addition to having a regal ambience due to its setting within one of Dubai's most well-known luxury resorts. If you are intend to stay in the emirate for some time, schedule a trip to this enticing ocean world. Here is a glance at what awaits you when you visit this amazing destination.
Why should you visit the Lost Chambers Dubai Aquarium?
The Lost Chambers Aquarium in Dubai is worth visiting for a variety of reasons. Firstly, It's amazing! it is an aquarium experience themed on the mythical tale of the lost city of Atlantis that can only be witnessed nowhere else in the world. The second factor is the abundance of gorgeous, diverse fish and marine life . The Aquarium has over a whooping 65000 aquatic animals of various species showcased brilliantly in 21 different galleries. And lastly, it is a chance for you to interact with these animals in a safe setting. Additionally, you will be able to learn about the ocean life as well as discover the significance of marine life conservation. You may also choose to go diving with trained instructors. Or even get a PADi certification! A visit here is as good as taking an under-surface tour of the ocean world.
Things to do at Lost Chambers Aquarium
Take a walk in the Ambassador Lagoon – the most talked about section of Lost Chambers Aquarium. Here it actually feels as if you are walking on the sea bed surrounded by countless types of fishes. This colossal tank exhibit is one of the largest aquarium tanks in the world, and you can see both large and little fish swimming casually nearby.
Visitors to the Lost Chambers Aquarium can engage in an immersive experience that allows them to explore the underwater environment through both sight and touch. In addition to enjoying the amazing species that are all peacefully living there, visitors can plunge beneath the water's surface to experience what it feels like below the surface surrounded by an assortment of fishes.
The Lost Chambers Aquarium is more than just a fancy aquarium. The entire project is centred on making efforts to provide the best infrastructure, care for marine life, and preserve it. It is recognised by the World Association of Zoos and Aquariums, an organisation dedicated to improving wildlife and marine life on a global scale. A variety of educational programmes are offered at Lost Chambers Aquarium as add-ons to the admission prices that instruct visitors about marine life and conservation efforts in our oceans through engaging encounters. Knowledgeable staff members guide visitors through displays like touch tanks, shark tanks, and fish tanks that allow people to interact with live animals without having to put them into captivity or harm them in any way. The touch tanks and Fish Tales tour is quite a hit among kids.
How to reach the Lost Chambers Aquarium in Dubai?
The Lost Chambers Aquarium is tucked alongside the Aquaventure water park in the Avenues at The Atlantis Palm Dubai. The grand hotel is a Dubai landmark at Palm Jumeirah and dominates the scenery at Crescent Road. Driving along Sheikh Zayed Road will take you 30 minutes to get to the Lost Chambers Aquarium from Downtown Dubai or the Dubai International Airport. You can also take the Dubai Metro Red line till Dubai Internet City Metro Station 2 which is the closest Metro station to Palm Jumeirah. You can take a taxi or bus from there to Palm Jumeirah, where you can ride the Palm monorail from Palm Gateway to Atlantis the Palm Dubai Resort.
Lost Chambers Aquarium Timings
Lost Chambers Aquarium is open daily from 10 am to 9 pm. Once you get inside the Aquarium you can stay as long as you want before the Aquarium closes at 9 pm for the day. The Lost Chambers Ticket timings and rates at the counter can vary hence it is best to pre-book your tickets online to avoid any crowd or disappointments.
Lost Chambers Aquarium Ticket cost
The Lost Chambers Aquarium ticket price starts from AED 110 per person. You can enhance the experience with add-ons such as Fish Tale Tours and Shark Safari. Additionally, if you want the full experience with a touch of luxurious hospitality from Dubai, plan a stay at the Atlantis The Palm Resort. In addition to many other benefits, you will get a complimentary entrance to the Lost Chambers Aquarium and the Aquaventure water park.
The aquarium is an amazing place to get an insight into the ocean realm. Grownups can also explore adventures like Shark safari, scuba diving, and snorkelling. The aquarium is one of the most popular kid-friendly places to visit in the emirate. In fact, the attraction places a significant emphasis on being a complete family entertainment and is wheelchair accessible, providing a variety of amenities to ensure those with disabilities are comfortable as well. Overall, it is a place designed for everyone. So, remember to include the Lost Chambers Aquarium in your Dubai trip itinerary.