During the last few years, especially since the time the pandemic hit the world, remote work has become a norm for many people. In fact, some companies have completely turned remote, giving their employees the chance to work from anywhere in the world. This is a win-win situation, especially for people who love travelling. They no longer need to take leaves to travel around the world. All they need is their laptops and a solid internet connection to get their work done and also explore the new place. This is why several countries have introduced the digital nomad visa, and Dubai is one of them. Here you will find all about the Dubai digital nomad visa.
What is the Dubai Digital Nomad Visa?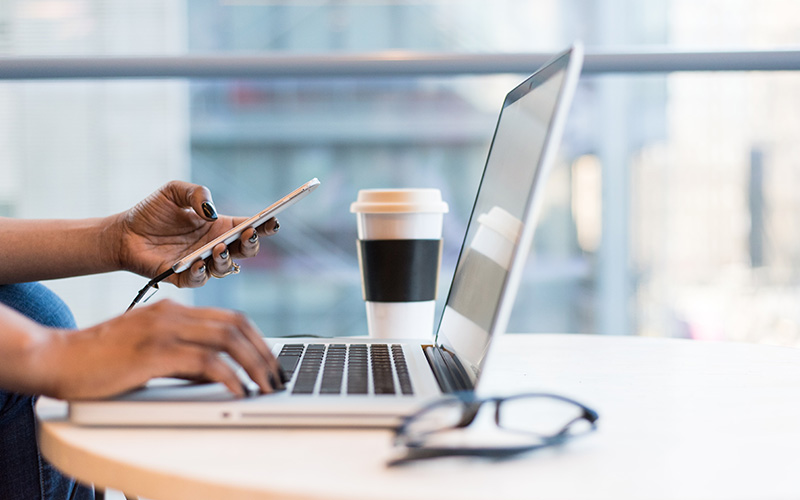 The Dubai digital nomad visa is a type of Dubai visa that comes under the "Work Remotely from Dubai" program. This visa gives the chance to people employed in a company outside of Dubai or UAE to live and work in Dubai or UAE as a resident. This is a temporary residence visa that gives the visa holders all the rights and privileges of a Dubai or UAE resident. This scheme was introduced in March 2021 and gives the chance to remote employees to live and work in Dubai or anywhere in the UAE for a year. This visa can be extended after 1 year by reapplying for the same. The UAE is the first country in the Middle East to offer this type of visa.
Dubai Digital Nomad Visa Benefits
The Dubai digital nomad visa gives you the opportunity to live and work in one of the most happening cities in the world. You get the chance to explore the city and its numerous offerings at your own pace. Apart from this, there are several other benefits of getting a digital nomad visa; some of which are as follows:
This visa gives you access to all the facilities like a regular UAE resident. You can rent a house, open a bank account, and get a telephone line. This visa extends to family members too, and you can also get your children enrolled in a school in Dubai or UAE with this visa.
By living and working in Dubai, you get the chance to use a super-fast internet connection. The internet speed in Dubai is fixed at 189.27 Mpbs, ensuring that your work does not suffer due to a poor internet connection. Moreover, most hotels, cafes, and restaurants offer free internet service to their patrons, if you ever want to work at one of these places.
The UAE is a country that does not require residents to pay any kind of tax. As a digital nomad in Dubai or anywhere else in the UAE, you are not required to pay income tax, local taxes, capital gain tax, or withholding tax. However, you may be applicable to pay the same in your home country.
By being a digital nomad in Dubai, you get access to the top-notch medical services that the city is known for. Both private and public medical services come under the DHA or the Dubai Health Authority. You can seek medical care from either of the sectors, depending on your preference.
Dubai Digital Nomad Visa Requirements
Before you learn about the application process, it is important to know about the Dubai digital nomad visa requirements that you need to fulfill if you want to work remotely from Dubai:
Passport: You need a passport with a minimum validity of 6 months.
Passport-Size Photo: You need to submit a recent digital passport size photo, with a dimension 45mm/35mm. The photo should be in color and should be taken against a white background.
Application Form: You need to fill out an application form that is available on Dubai's official website.
Proof of Accommodation Reserve: As you will be in Dubai for long-term, you will have to provide proof of accommodation, which could be a rental agreement, lease, or hotel reservation.
Health Insurance: You need proof of health or medical insurance with UAE coverage valid with your visa to apply for a digital nomad visa.
Requirements for Employees: Remote employees of a company need proof of employment, the previous month's pay slip, bank statements of the last 3 months, and a minimum salary of $3500 per month.
Requirements for Business Owners: Proof of company ownership for at least 1 year or more, minimum income of $3500 per month, and bank statements of the last 3 months.
How to Apply for Dubai Digital Nomad Visa?
Here are the steps you need to follow to apply for a Dubai digital nomad visa:
The first step is to prepare all the documents needed for applying for a digital nomad visa. Ensure that all the documents are digitized and in English. Documents in other languages will not be considered.
The next step is downloading the visa application form from the official portal of the UAE Government. In the short application form, you will have to fill in important details like name, address, email id, telephone number, passport number, etc.
Once you submit the application form, you will receive an email from the visa authority mentioning the list of documents you need to send.
After the visa documents are submitted successfully, the next step is to pay the Dubai digital nomad visa fee, which is $611 approximately. This visa fee includes the application fee, processing charges, Emirates ID fee, and medical insurance premium. You will receive confirmation of the fee payment via email.
Once the payment is done, all you need to do is wait for the visa application to process. The visa processing time is between 5-7 days. You will receive a notification via email when the application is approved.
With the approved Dubai digital nomad visa, you can fly to the city or anywhere else in the UAE.
Once you are settled in Dubai, you need to undergo a medical check-up. This should be done within a month of reaching the place.
When you receive the results of the medical tests (within 2 weeks), you need to get your biometrics done at one of the biometrics offices. You need to take your medical reports with you while going to the biometrics office.
Once your biometrics is done, you will receive a stamp on your passport. Moreover, you will receive a message from the Dubai government regarding your Emirates ID or residency card, which will let you live in Dubai for a year.
Conclusion
An important thing to remember is that you cannot work for a company in Dubai or the UAE while living here on a Dubai digital nomad visa. On the other hand, if living in Dubai for a long time while working remotely seems appealing, you can apply for a Dubai digital nomad visa through a reliable visa agency or company.