Get your Dubai visa in a click with the Only Dubai Visa App. Download the app now! Be it a holiday tour or business tour, Only Dubai Visa will ensure you get your visa in the quickest, hassle-free manner. We are a decade old company and provide expert assistance in getting your desired form of visa for Dubai. Dubai sees millions of tourists each year. Some come to enjoy the city's amazing attractions, while some come here for business. Both require a Dubai visa online, and Only Dubai Visa will help you get them. We have a successful track record in getting Dubai visa, which has resulted in a strong client base. So, download the Only Dubai Visa app now!
App is Always Better
Most things today can be done on an app, then why not get services related to getting your Dubai visa on-line.Hassle free sign option through social media.Track our previous booking,live chart and support ,Get the best Deal on Visa Service in Hand.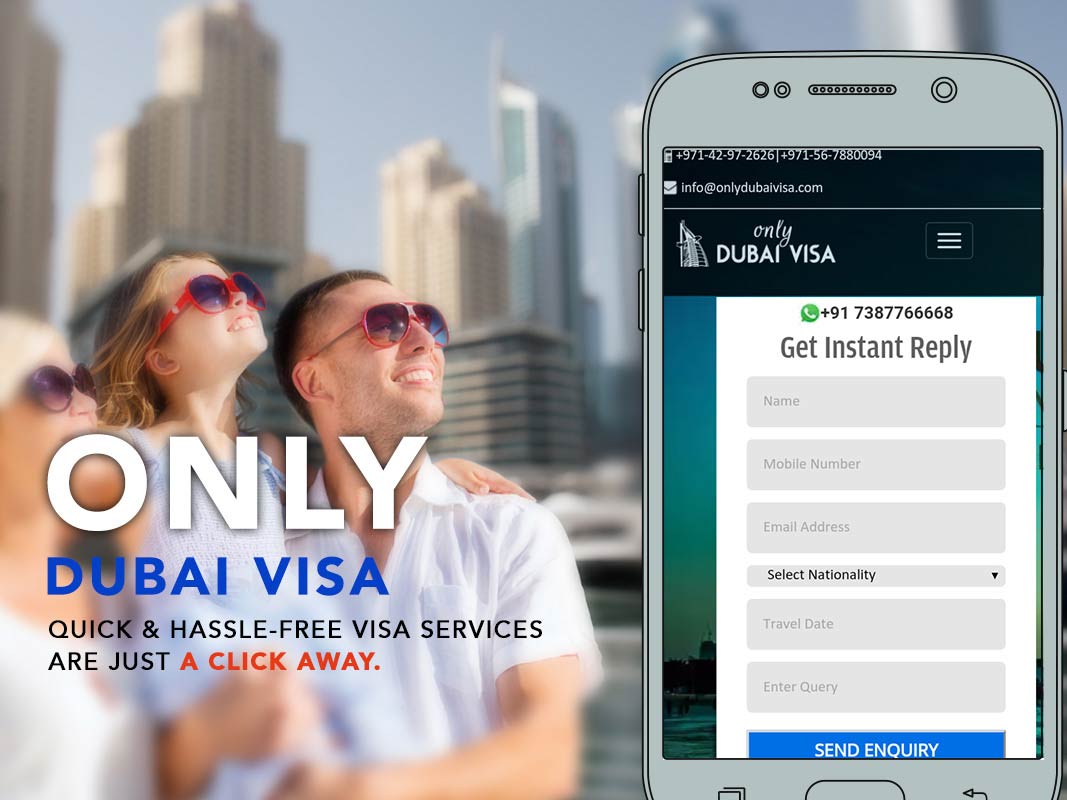 It's Fast :Just a tap, and you have all the information you need. Another tap, you can get in touch with our experts who will guide you for you Dubai visit visa.
It's Effective :Clients using our app have an unmatchable success rate in getting their visas approved in the first attempt.
Up-to-date Information: Dubai visa rules keep changing, especially with the country encouraging more tourists. This app, keeps you updated with the latest rules and regulations.
Personal : If you need to talk to an expert regarding your visa for Dubai, we have them available for you 24/7. Whatever, doubt or query you have, it will be addressed.
Visa Packages
90-Day Multiple Entry Visa: This visa will save you from the hassle of reapplying for a Dubai visa within the period of 90 days. You can have multiple entries. This type of Dubai tourist visa is perfect for people touring the Middle East.
30-Day Multiple Entry Visa :You can enter Dubai many times within the period 0f 30 days. This type of visa is preferred by people doing business who have to travel to the city many times.
90-Day Visa :Enjoy Dubai to the fullest with this long stay visa. This visa is for people who will be staying in Dubai with friends or family for a long time.
30-Day Visa :This non-extendable Dubai tourist visa is for people looking to have a long stay in Dubai with already settled friends and family. 30 days in enough to see all the best attractions and experiences of Dubai.
14-Day Visa :This visa for Dubai is the most popular visa. Holidayers and people looking for short business trips to attends seminars, trade shows, conferences are the biggest applicants of the 14-day Dubai visa.
96-Hour Transit Visa :During your international travel, if Dubai is a stop for connecting flights, and you have time on your hands, take this visa to explore Dubai for a period of 96 hours. This visa is extendable.
Download the App

Looking for Dubai tourist visa, or a business visa? Install the Only Dubai Visa app and take the first step towards a hassle-free Dubai visit visa. Available on Playstore, you can also get in touch with us at +27212048151 or forward an email to inquiry@onlydubaivisa.com.