*Note: From Tuesday (October 4, 2022), 90-day visas to the Dubai have been changed to 60 days Dubai visa and all the 90-day travel visas have been canceled.
---
Dubai is one of the most popular destinations of the world, both for tourism and business. People from various parts of the globe come and visit this city of world records. Even the population of Dubai has only 15% of the locals, the rest 85% is the population of expats. The population demarcation is self explanatory of how easy it is to get Dubai Visa for any authenticate traveler.
While tourists prefer 30 day visit Visa to Dubai, people looking for an extended stay such as backpackers who wish to experience the city deeply or for people looking for taking part in festivals, seminars or exhibitions; applying for a 90 day visit visa for Dubai makes complete sense.
If visiting Dubai is on your bucket list for a longer duration, read on to know complete detail of 90 days Dubai visa application.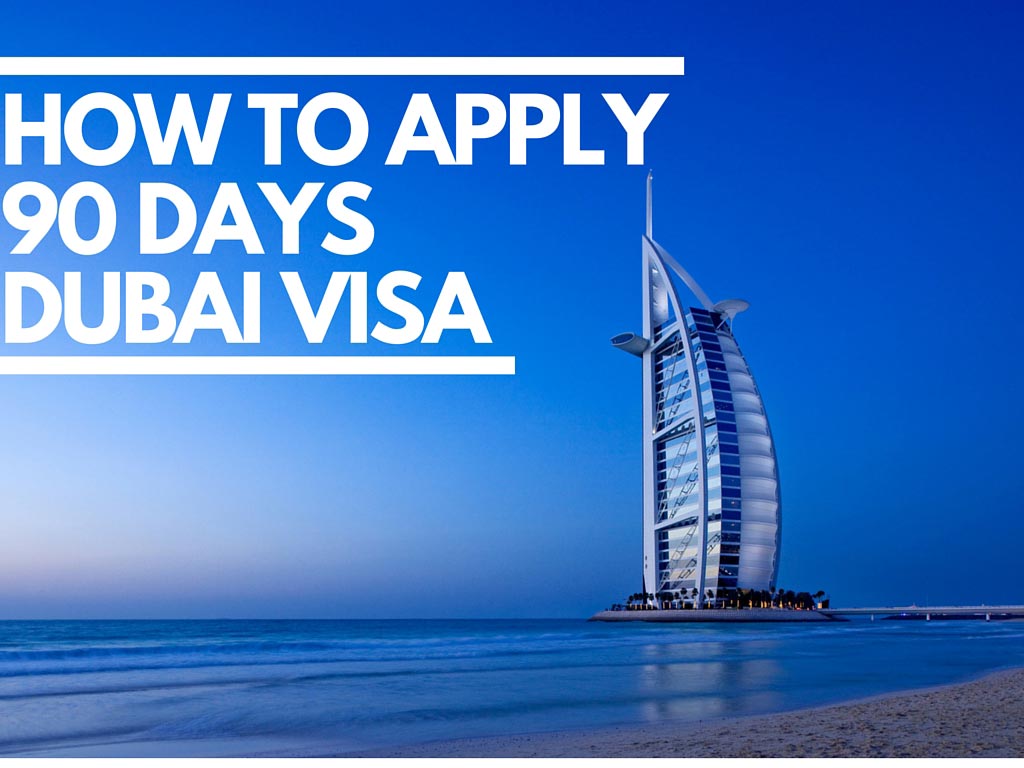 Our complete guide covers all the details about how to apply for a 90 days Dubai visa easily.
1. Prerequisites to avail a 90 day Visa to Dubai:
The citizens of the GCC countries do not require any visa to enter Dubai or UAE. The GCC countries include- Bahrain, Kuwait, Oman, Qatar and Saudi Arabia.
Citizens of the following country will be able to get their visa at the time of arrival in UAE (across all UAE airports and all other points of entry in the country)- Australia, Austria, Andorra, Belgium, Brunei, Bulgaria, Canada, Cyprus, Croatia, the Czech Republic, Denmark, Estonia, France, Finland, Germany, Greece, Hong Kong, Hungary, Iceland, Ireland, Italy, Japan, Latvia, Liechtenstein, Lithuania, Luxembourg, Malaysia, Malta, Monaco, Netherlands, New Zealand, Norway, Poland, Portugal, Republic of Korea, Romania, San Marino, Singapore, Slovakia, Slovenia, Spain, Switzerland, Sweden, United States of America, United Kingdom with (Right of Abode in UK) and the Vatican
For any other country, not listed in the above list, the citizens would require a visa and also a sponsor for the visit. In most cases, the sponsor applies for the visa on the behalf of the applicant.
If the applicant wishes to visit the emirate more than once, the visa can also be obtained as a Dubai 90-Days Multi-Entry Visa.
2. Eligibility Criteria for 90 days Dubai Visa:
Applicants who have a previous travel record of UAE or other countries like USA, UK, Schengen countries, European Union, Australia, New Zealand, Russia, Canada, Switzerland and Japan, at least once in the last 5 years are eligible.
For applicants who do not meet the criteria of previous travel record will be required to present proper financial records, i.e. The income tax return of previous 2 Years having a gross income of over INR 2 lakh per annum. The source of this income should come from business, employment or profession.
A personal invite from any close family member staying in UAE on family status with the spouse and the children below 21 years of age and/or parents above 60 years of age. People satisfying the above criteria can be invited by the UAE residents.
A newly married couple travelling for honeymoon post marriage is eligible for submission of their authenticate marriage certificate and an NOC from their parents. They should include their wedding card, a valid Photo ID proof and a marriage photograph.
3. Documents required for the 90 Day Dubai Visa:
For Official Visits/ Seminars/ Exhibitions:
Scanned copy of each visitor's first and last page of the passport
Confirmed ticket
Confirmed Hotel reservation
Covering letter of the company
Host company's invitation letter or Host's resident permit along with the copy of the passport.
For Personal Visits (Meeting family or close relatives):
Traveler's Passport copy
Confirm Ticket
Host passport copy
Host Resident page
Host covering letter or guarantee letter
Relationship proof
For Tourism or Property:
Passport copy
Confirmed Ticket
Confirm Hotel booking or
Property Tenancy contract and Property papers (in case of property related visit)
4. Application Process of 90 Day Dubai Visa
If you know how to apply for a 14 day Dubai visa or other short-term visa online, the process is fairly same. In today's digital age, the easiest way to apply for 90 days Dubai visa is online. The process is easy, quick and very convenient. Many online firms and tour operators offer hassle-free visa application assistance. Download and fill an online application form with your correct detail and submit it along with the above mentioned supporting documents scanned copy.
There are exclusive Dubai Visa centers in various countries that accept the application.
After the successful document submission an application ID gets generated. You can track the status of the application online.
5. Processing time & Validity for 90 Day Dubai Visa:
The general processing time is between 3-5 working days provided all the documents are authenticate and duly filled. The visa can be applied up to 2 months prior as the validity of such visa type is about 58 days from the date of issue.
6. Guidelines for ensuring fast Visa Application Approval:
For any kind of Visa application approval, it is important to maintain a clean record. No criminal offense cases and no history of bank frauds of bankruptcy ensure better chances of visa approval.
The supporting documents submitted should be clearly scanned and the photographs and writing should be clearly visible. Also, ensure that your application form must be neatly filled.
In case you had been issued a UAE visa earlier and did not use it, make sure you first cancel your Visa and then apply for a new one. In case the earlier visa is not cancelled, you won't be granted a new Visa.
If you have any questions about Dubai visa, such as how to get the cheapest Dubai tourist visa, you can speak with an expert about Dubai visa.