Dubai, the second largest city in the UAE, has long been a favorite of people looking for both great vacation and business opportunities, thanks to the peerless spectrum of shopping, entertainment, and infrastructure facilities that this globally acclaimed destination offers. Not to mention, millions of people from all over the world descend on Dubai per year for a variety of reasons.
Thinking of a visit to Dubai? Based on your origin or nationality, you'll first need to determine whether you'll require a visa to enter Dubai. For instance, nationals of GCC (Gulf Cooperation Council) countries do not need a Dubai visa. Moreover, people visiting Dubai from more than 30 countries in the American, European, and Far Eastern regions are issued a visa on arrival at Dubai airport immigration. Another category eligible for this type of visa is GCC residents with high professional status, along with their families and personal staff.
All visitors who do not fall into the above categories will be required to obtain a visa in order to enter Dubai. Depending on the purpose of your Dubai visit, your sponsor, in the form of a travel agency, hotel, airline service provider, or friend / relative, will apply for a Dubai visa. Different types of Dubai visas include 96-hour visas, 14-day visa, 30-day visa, 60-day visa, 30-day multiple entry visa, and 60-day multiple entry visa. Do note that from 2023, the 90 days Dubai visa no longer is issued and it has been replaced by the 60 days visa.
Looking to check the status of your Dubai visa? Here is how you can do it online.
1. Check your Dubai visa status online
Once you choose the right visa that suits your Dubai visit and lodge an application, you'll receive a unique Application No. Typically, it takes four to five working days to process your Dubai visa application. But if you wish to track your Dubai visa status, you can check with your service provider or do it online by directly visiting the website of the General Directorate of Residency and Foreigners Affairs, Dubai (GDRFA – Dubai) or ICP (Federal Authority for Identity, Citizenship, and Customs and Port Security), depending on the emirate you've applied for your UAE visa.
A division of the UAE's Ministry of Interior, the GDRFA's main role is to effectively control the entry and exit procedures of people who travel to the UAE via air, land, and sea routes. Its core objective is to promote the status of the UAE as a crime-free destination through strict border control and residency rules. You can use its website to check the visa application status if you've applied for a Dubai visa. And for other emirates, log on to the website of ICP to track your UAE visa status.
The GDRFA and ICP have launched a variety of advanced yet user-friendly options to make its services available for people from across the globe. This covers all kinds of transactions pertaining to UAE visa and residency. And the website of GDRFA is an innovative platform that allows you to minimize the time spent on managing your visa application.
Steps involved in the tracking of your Dubai visa status online
Log on to to GDRFA (https://gdrfad.gov.ae/en) or ICP (https://icp.gov.ae/en/)
Click on 'Visa Status' (GDRFA) or 'Application Tracking (ICP)
Check the Status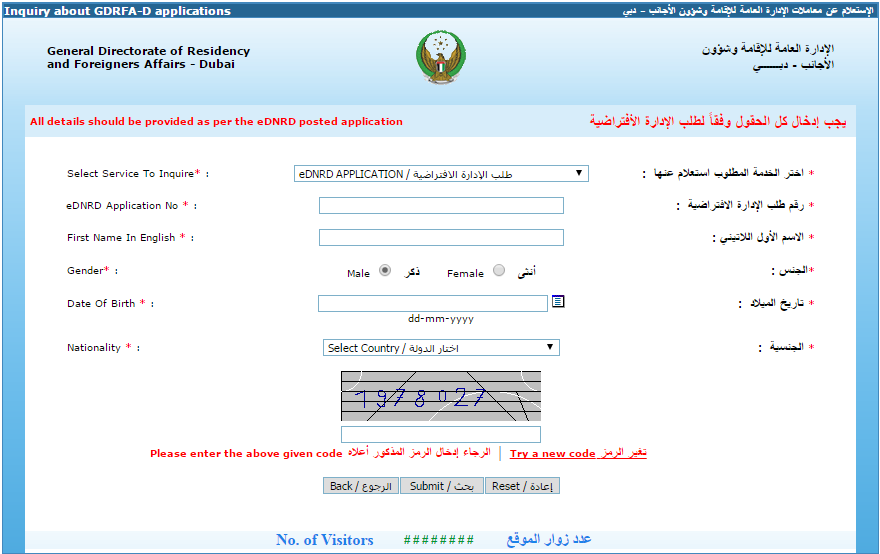 Duly fill in other fields, such as application or register number, transaction number, and payment date. Enter Captcha code
Click on Submit Button
2. That's all! Your UAE visa application status online would be one of the following:
1. Your Entry Permit Request is Processed
This indicates that the Dubai Immigration Department has received your application and is presently undergoing essential governmental procedures. Your service provider would get in touch with you, if they require any additional detail relevant for the processing or approval of your visa.
2. Unable to Process Your Request with Given Details
It mostly appears when the details entered in the GDRFA query form go wrong. So, before you submit the particulars, verify the fields carefully and make sure that they correspond to the details given in your Dubai visa application form. This is vital to get accurate results.
3. Approved
If the status shows 'Approved,' it means your Dubai visa is ready and you'll receive it soon via email. Along with the status, you'll also find details including the last date to enter Dubai.
4. Rejected
It means that your visa application is cancelled due to one of the following reasons:
You're a female below 25 years old and plan to visit Dubai or the UAE alone.
As per your passport, your profession falls under the category of unskilled jobs.
You've a criminal background or were previously deported from the country.
You possess a handwritten passport.
Your previously submitted tourist visa application is still active.
Your previously submitted employment visa application is still active.
You left the UAE without cancelling your residence visa.
You share the same name, date of birth or such other details with other applicants.
Photos in your passport copy are not clear [Dubai Visa Photo Guide]
Typo errors in your visa application form
In the case of still active tourist / employment / residence visas, you can reapply for a Dubai visa; however, only after the cancellation of your previous visa.
Apart from checking the visa status online, the same query form can be used for a variety of purposes, from tracking the exit details and entry permit validity to checking the residence validity and residence application status.