Dubai is touted as one of the most popular honeymoon destinations in the world. Thousands of people apply for a Dubai visa every year to enjoy this spectacular destination. With an array of luxurious hotels and amazing attractions, it is an ideal place for couples to spend their days as newlyweds. However, the city of Dubai can get a bit crowded, especially during the holiday season in the months between November and March. In such case, you may want to go away from the city and spend a few hours with your beloved in quietude.
Check out all the deets on the beautiful Love Lakes in Dubai.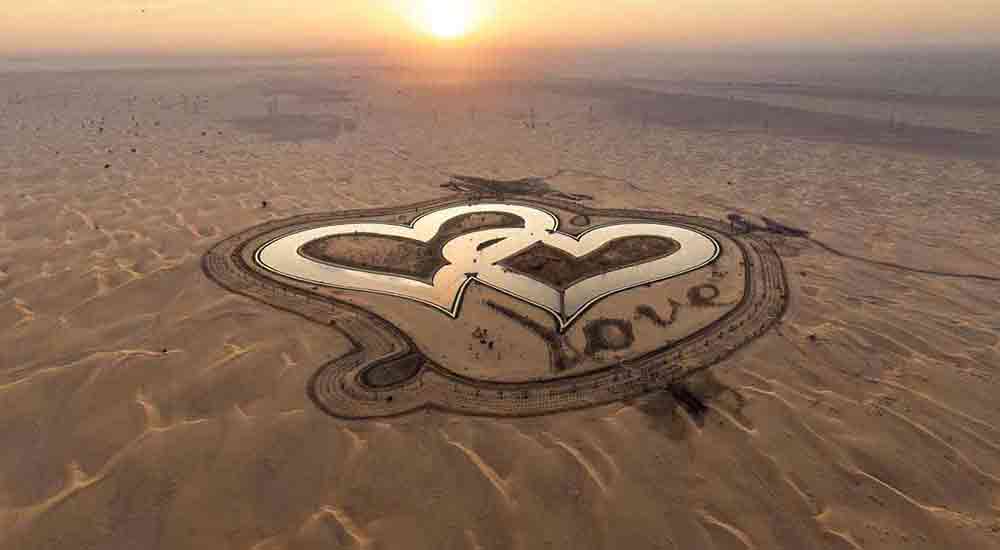 Love Lake Dubai
Located in the Al Qadra Oasis, Love Lake Dubai opened in 2018. Love Lake Dubai is an entirely manmade creation. Two intertwined heart-shaped lakes are the star attraction of this place. These lakes are surrounded by sand and numerous trees and shrubs. Moreover, the trees are placed in such a way that they spell LOVE when viewed from above.
Although Love Lake is located in the desert, it is different from desert safari Dubai. Desert safari is where you get to enjoy the beauty of the desert while indulging in some adventurous activities. On the other hand, Love lake Dubai is where you can have some quiet time with your loved one. It is one of the most sublime things you can see only in Dubai and also a great place to have a picnic with your family and hang out with friends. However, as it is an outdoor attraction set in the desert landscape, Love Lakes are not recommended as one of the places to visit in Dubai in summer.
Things to Do at Love Lake Dubai
Love Lake Dubai is an eco-friendly place and unlike any other popular attraction of the place. You would not find any planned activities or attractions here. It is simply a place to go to when you want to get away from the city and enjoy some private time with your loved ones.
Running or Jogging:

The place has a rubber track where you would have a good time running or jogging. You can also get your bicycles and cycle around the place. Kids would definitely love this activity. You can also watch some colorful fishes and swans swimming on the lake while exploring the place.

Picnic and Barbecue:

If you are missing the old days where you would get a basket ready and enjoy picnic with your family and friends, you can recreate the experience here. There are several picnic tables around the lakes, where you can enjoy a delicious home cooked meal while looking around the beauty of the place. The place also has some barbecue areas where you can cook delicious food on a charcoal barbecue.

Camping:

It is one of the most ideal places to go camping in Dubai. Although overnight camping is not allowed here, you can create a camping like environment, which would especially be enjoyed by little children.

Watching the Sunset:

One of the best parts about visiting Love Lake Dubai is that you get to see a gorgeous sunset here. Unlike the city, where you would be surrounded by tall raises, this place gives you the chance to see the sun dipping behind the mighty sand dunes of the desert, and the sight is truly spectacular.

Enjoy the Flora and the Fauna:

It is wonderful to tour Dubai in December for idyllic outdoor adventures. During this time of year, the Love Lakes have a pleasant ambience. Although a part of the desert, you would get to see a wide variety of plants, trees, and flowers here. Walk along the lake to check out the different types of colorful flowers arranged in the shape of hearts. Apart from this, there are more than 16000 varieties of trees and innumerable shrubs to see here. Moreover, it is a great place for bird watching too. Right from ducks and swans to eagles and falcons, you would have a great time spotting birds here.
Things to Know About Love Lake Dubai
Before you visit Love Lake Dubai, you need to know certain things about the place:
There are no restaurants, shops or even washroom facilities in and around Love Lake Dubai. So, it is important to be prepared. You need to carry food and water with you.
Although watching the sunset is one of the best things to do here, remember that there are no electric lights here. So, once the sun is down, the entire place is completely dark. So, you have to carry flashlights with you.
It is strictly prohibited to feed the fishes or the birds here.
Do not litter in and around the lake. Ensure that you take all the garbage with you when you leave.
If you are planning to use a drone to capture the image of the trees from above, it is important to take the required permissions beforehand.
Although you can reach Love Lake Dubai in a regular vehicle, you would need a 4×4 if you want to explore the nearby desert land.
If you are planning to stay late in the evening, you need to carry a jacket or other warm clothes, as the temperature is likely to go down a bit after sunset.
Love Lake Dubai is one the unique things that you would see in the Emirate of Dubai. However, if you want to spend some quiet time with your beloved or some quality time with your family and friends, there is no better place than Love Lake Dubai for the same. Tagged as one of the hidden gems of Dubai, Love Lake Dubai is a definite visit if you crave for some sublime time away from the modern city vibes.