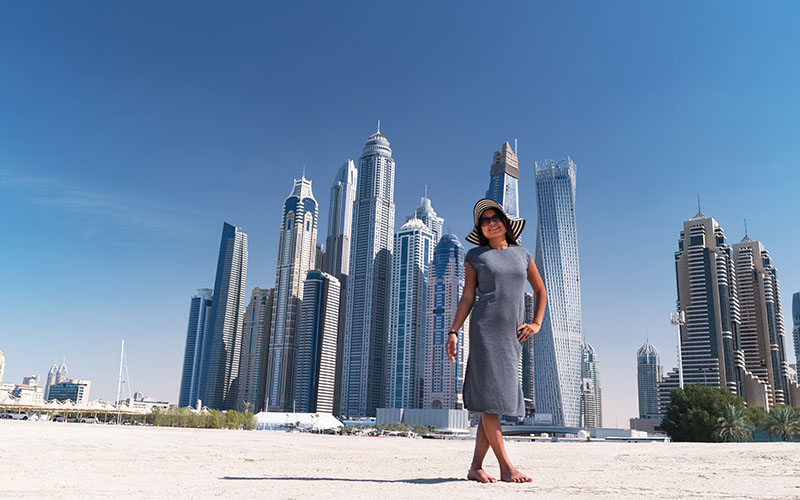 Visitors come to Dubai for different reasons. The financial city in the United Arab Emirates (UAE) has its rules for the entry of foreigners. Some foreign nationals get visas on arrival, whereas others need to get a visa before entering Dubai. The visa-on-arrival feature is available only for select countries. So, individuals who belong to countries that do not have it must know how to apply for a Dubai Visa.
If you are from Oman, you might want to know how to apply for a Dubai Visa from Oman. Oman is a member of the Gulf Cooperation Council (GCC), and according to its charter, which was published in 1981, nationals of its states do not need a visa to enter the UAE. Apart from Oman, there are five other states on the list. These include the United Arab Emirates, Saudi Arabia, Qatar, Kuwait, and Bahrain.
While you may, as a citizen of Oman, enter Dubai without a visa, there are some facts that you must know before you do it. Knowing them will not only keep you well-informed but also help you avoid any legal hassle that may arise following your arrival in Dubai.
Requirements for the Nationals of Oman for a Visa-Free Entry into Dubai
As discussed earlier, nationals of Oman do not need to apply for a Dubai visa beforehand. However, you need to produce your document following your entry into the city. Officials who are entrusted with the responsibility of checking immigration documents may ask you to show your GCC country passport. Producing it is a must for the visa-free-entry option into Dubai as a resident of Oman. If you do not have it, you can also show your national ID.
Types of Dubai Visas for the Residents of Oman
Residents of Oman can choose an option out of the two available visa choices for a legal stay in Dubai. These include a 30-day and a 60-day visa. You can decide to choose one based on your purpose for visiting the city. To get these visas, you need to produce either your national ID or the GCC country passport.
After acquiring a Dubai visa with a validity of 30 days, you will get an extended window of 10 days to expand its validity for another 30 days. If you plan to stay for a longer duration in Dubai, you can request a 90-day visa following your arrival in the city.
When Do You Need to Apply for a Dubai Visa Online?
In the context of a Dubai Visa, the rules are different for nationals of Oman and those who reside there but are not its citizens. You may also want to know about the course of action in case you plan to visit Dubai with someone who is a GCC occupant. Individuals who belong to both these categories need to apply for a Dubai visa online.
The process to apply for a Dubai visa online is simple and easy. An applicant has to decide, first and foremost, what type of Dubai visa they are intending to apply for in order to enter the country. Depending on the length of your stay, the visa might be a 30-day single entry or 30-day multiple entry visa, or it might be a Dubai 90-Day multiple entry visa or single entry visa which from 2022 has been converted to 60 day visas. An applicant needs to provide the required documents and follow the stated guidelines for the visa application. The UAE's Interior Ministry issues an e-visa application to its applicants. Its approval depends on the submission of documents plus the adherence to the stated guidelines.
When an applicant's visa application is approved, they get an e-visa at their email address. It is the same email address that they provide while applying for a Dubai visa online.
Requirements for Dubai Visa Online
To obtain a Dubai Visa online, a GCC occupant or a non-inhabitant of GCC states needs to adhere to the following guidelines:
They need to provide proof of residing in a GCC state for 90 days prior to the date of their appearance.
Travel papers of their residence anywhere with a validity of 90 days before their appearance in Dubai.
For GCC occupants and non-inhabitants, getting a Dubai visa online before arrival is a must. It is an essential requirement for their legal entry as well as stay in Dubai.
Transit Visa
The transit visa for UAE is valid for 30 days. Its validity begins right from the date of its issue. Travellers who arrive in Dubai with this visa must meet two additional requirements. They must have a lodging reservation plus their flight booking for a destination outside of the UAE.
Working Visa
If you are a citizen of Oman and wish to come to Dubai for work purposes, you must apply for a work visa. A work visa is different from a transit visa. Its validity will depend on the contract of your workplace.
GCC citizens have additional document identification requirements. They need to produce their identity documents that are valid for six months at least. In addition, they also need to produce coloured photos.
Those who stay in UAE on a work visa can either request a change in the status of their visa by supplying the requisite documents. If they do not have the supporting documents, they need to leave Dubai before the expiry of their visa.
Conclusion
Visa authorities take immigration seriously in Dubai. Therefore, visitors must know the norms linked with a Dubai visa before they enter the city. Dubai Airport Immigration and border control officials are the ones who make the ultimate decision on whether or not to let a person into Dubai, whether they are Oman citizens or residents. You do not need to apply for a visa beforehand if you are a resident of Oman. However, if a non-GCC resident accompanies you on your visit to the city, they need to apply for a Dubai visa online with the above-mentioned documents and requirements.