Dubai, one of the 7 Emirates of the UAE, is a city in the United Arab Emirates, located in the Persian Gulf. Taking advantage of its vast coastline, Dubai has also recognized its potential as a seafaring destination and has initiated Dubai Global Cruise Tourism. The vision is to turn Dubai into a premier cruise destination over the long term. Beach shores, however, are a wonderful place for visitors and locals to simply unwind. This city is strategically located to connect countries all around the globe and attracts thousands of tourists every year. A Dubai tourist visa that is valid for a particular duration is required to enter the city. Dubai is famous for its sightseeing attractions like Burj Khalifa, arid dunes, luxury shopping, and artificially constructed palm islands. This city also boasts a long stretch of beach with white sand and crystal blue water. Let's take a look at Dubai's top 10 beaches.
Umm Suqeim Beach
Umm Suqeim Beach is also known as Sunset Beach, the only beach in Dubai where you can take a beautiful picture of sunset in combination with the famous Burj Al Arab Hotel. It is a public beach and is open 24 hrs. There is a playground and a jogging path as well. There is a library where you can borrow free books to read on the beach. It is forbidden to swim in Dubai after sunset. But Umm Suqeim is equipped with power light posts which makes it possible to swim in the dark on the beach.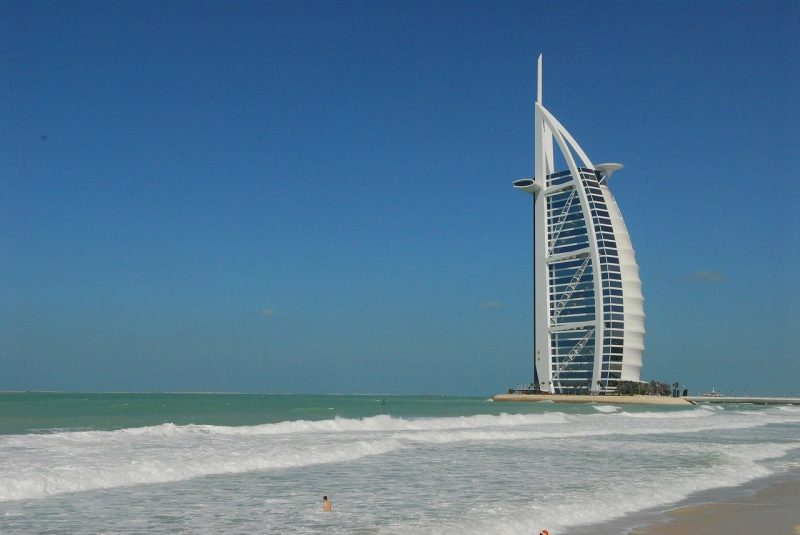 Jumeirah Beach Residence
Jumeirah Beach Residence is the biggest and the most visited beach in Dubai. It is a stunning waterfront community with over 40 tall towers overlooking the Arabian Gulf. The sand is white and powdery soft, and the water is a beautiful blue-green color. There is no real surf or current, perfect for wading and relaxing in the warm water. The Walk at JBR near Dubai Marina is a mile-long stretch with swaying palms and arcaded shops and restaurants on both sides.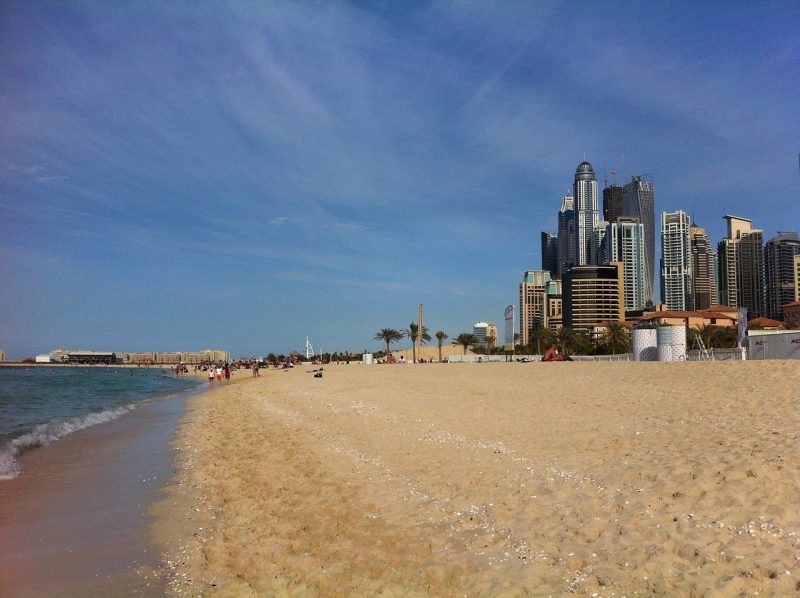 Kite Beach
Kite beach is the place to go for watersport enthusiasts. It is a go-to destination for kite surfers, as the water and wind here are perfect for kitesurfing. Apart from this, wakeboarding and paddle boarding are a few activities that you can enjoy here. Sports lovers can play beach tennis and volleyball too. The sand is a little coarse than other beaches with many shells. There is a 2 km long broad walk. On the side of the walk, there are plenty of food trucks selling pizza, ice cream, coffee, barbeque, seafood, hamburger, salad, and much more.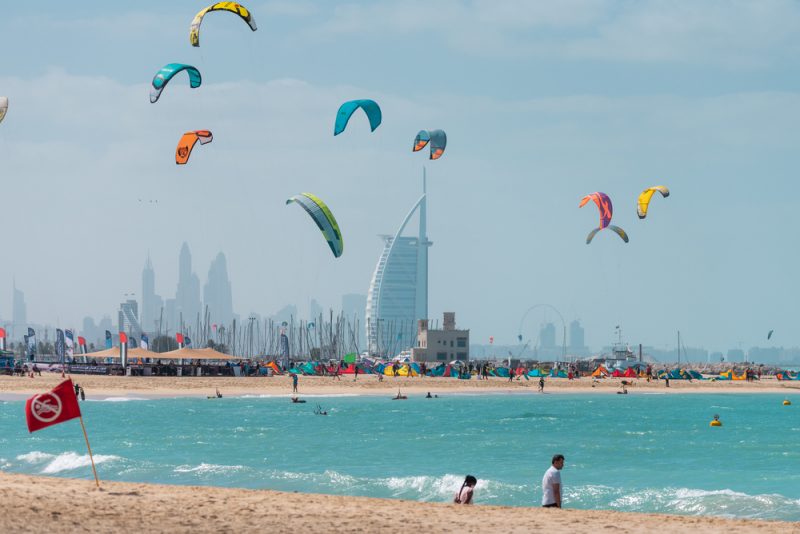 La Mer Beach
La Mer Beach is located in Jumeirah 1 district and stretches all along the sea with a great view of the Arabian Gulf and Dubai city skyline. Timber walkways, palm tree boulevards, and promenades lined with restaurants and shopping stalls add charm to the place. Art lovers will notice the murals and graffiti with beautiful contemporary designs. There is also a waterpark on the beachfront called the 'Laguna Waterpark', a place ideal for kids promising thrills and spills with artificial waves and water rides. Having a beach side water park near to the beach with hoard of lounges, restaurants and cafes and beautiful shaded walkway makes it one of the best places to visit in Dubai in summer as well.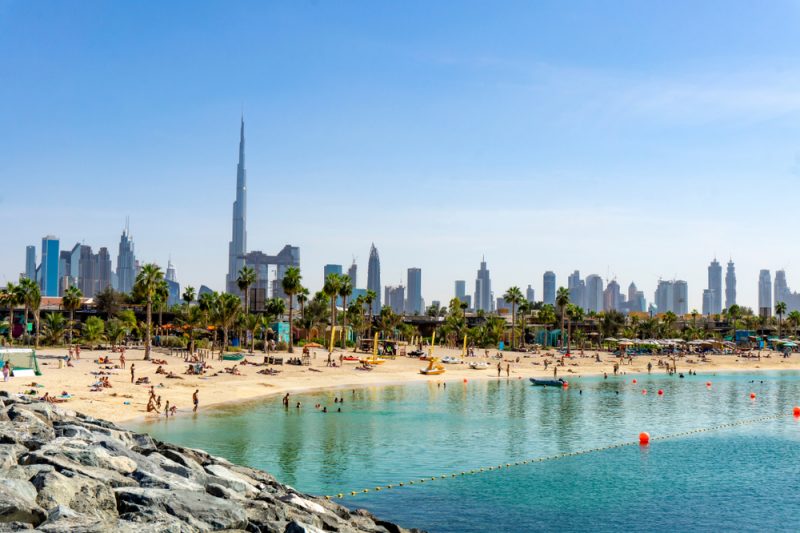 The Palm Jumeirah
The Palm Jumeirah is an artificial archipelago, built in the shape of a palm tree, with a 3-mile-long trunk and a fan of fronds lined with luxury villas and five-star hotels that projects out into the Persian Gulf. All the beaches here are part of luxury hotels. At the top of the Palm stands the rose-hued Atlantis, Dubai's most iconic hotel. You can enjoy yourself at the Aquaventure Waterpark or swim with sharks, dolphins, and sea lions at Dolphin Bay.  As a premier drop zone for skydiving in Dubai, these artificial islands have also become one of the most popular destinations among extreme adventurers. Leaping out of the plane would be quite rewarding for anyone brave enough to try it, as the view of these islands from the air is quite breathtaking.
Al Mamzar Beach
One of the oldest waterfront developments, Al Mamzar is a favorite place for locals and tourists alike to experience sun, sand, and sea for leisure by the side of swaying palm trees. Al Mamzar Beach Park is a key attraction. This landscaped beach park includes a swimming pool, playgrounds, picnic areas with barbeque, watersports like kayaking, snorkeling, jet-skiing, bicycle rentals, and air-conditioned cabanas. Facilities include showers and changing rooms, along with sunbed and umbrella rentals.
Black Palace Beach
Black Palace Beach or Al Sufouh Beach is Dubai's hidden beach, which is the reason why it is also called the Secret Beach. The beach gets its name as it is concealed and accessible by a small sandy road between the palaces of Al Sufouh. It is a beautiful sandy beach with a clear blue sea, perfect to watch the sunset. It has a breathtaking view of Burj Al Arab on the right and the Palm Jumeirah in the front. This beach has no facilities, shops, or restaurants.
Marina Beach
Marina Beach is in Dubai Marina, a luxury residential area. It is in the last section of sandy beach along The Walk, which runs in front of the JBR mall. Marina Beach is a favorite among locals. It is a beautiful beach with soft white sand and offers an iconic view of the blue waters island and the Palm Jumeirah in the Arabian Gulf. Visitors can rent a bed and tan themselves throughout the day.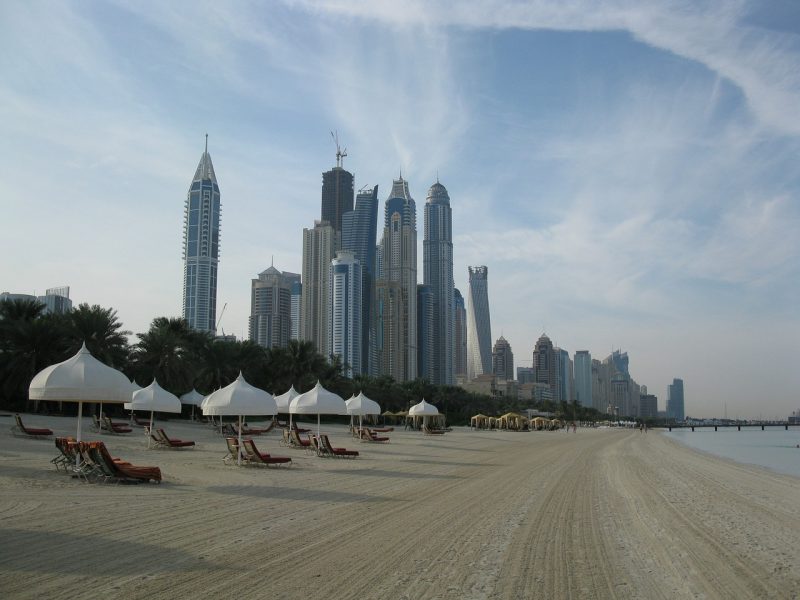 Jebel Ali Beach
If you are a beach lover and looking for a quiet beach to relax, then Jebel Ali Beach is the place for you. Beach Camping is a unique experience that you can have here, and you can even bring a barbeque set here. As the beach does not offer any amenities or rentals, the adventurers have to carry their own kits. Surfing is a popular activity which people enjoy here due to the wind conditions in this area. If you own a jet-ski, this is a perfect place to let it roll.
Mercato Beach
Mercato Beach, a very charming, quiet, and peaceful beach, is located in a residential area along Jumeirah beach road, opposite Mercato Mall. A ten-minute walk to the Jumeirah Fishing Harbour is where you find many restaurants with a view of the Gulf. There are library kiosks here that are free. The area includes beanbags and tables where beachgoers can borrow books to read and unwind while soaking in the sun. No bikes or skates are allowed on the Boardwalk here.
Visitors on the beach should be respectful of Dubai's culture and follow a dress code on the beach. Men should wear shorts and women should wear a one-piece costume. Remember to cover up your bathing suits when visiting the restaurants near the beach.