Learn all about UAE visit visa and tourist visa extension or renewal.
1. UAE Visit Visa and Tourist Visa Extension
The UAE is one of the Middle East's most sought after travel destinations, thanks to its combo of super stylish and extraordinarily charming cities, inspiring culture, awe-inspiring landmarks, and high-end facilities and infrastructure, making it a favorite of both tourists and business people. While GCC nationals can enter the country without a visa and people from over 30 countries are eligible for a visa on arrival at the airport, all other nationalities should obtain a visa in advance to make their entry to the UAE easy and smooth. This further allows them to stay in the UAE for up to 30 days or 90 days dependent on the visa validity term.
Now if you would want to stay here beyond the visa validity period, it's easily possible now. Yes, with the announcement of the new UAE visa extension rule, all complex, timing consuming processes as part of the visa extension including visa run, airport to airport visa change, drive to the border etc. will now become the hassles of the past. As we get a lot of queries on the same, we decided to make a quick guide highlighting the latest UAE visa extension rules and regulations. So come walk through this informative read which covers everything including the UAE Visa Extension 2023 requirements, procedures, and fee.
So let's get started with the GREAT NEWS!
As per the new rule with effect from October 2018, the existing Dubai or UAE visa holders can apply for a visa extension of up to 30 days not once but twice. And the best thing is that you can easily get it done without ever leaving the country. This is a complete contrast to the previous rule which entailed visitors to mandatorily leave the country for the extension of their stay in the UAE. The new rule applies to all types of UAE visas such as short term visa, multiple-entry visa and 90 days' visit visa extension.
It's particularly great for job seekers, tourists, and friends or relatives of expats settled here. Implemented by the FAIC (Federal Authority for Identity and Citizenship), the new visa extension rule comes as part of the latest visa reforms which have also turned out to be immensely beneficial for students, visitors transiting through Dubai or UAE, and most of all, widows and divorcees who are eligible for a residency extension valid for a year. All immense thanks to the UAE government's policies that are focused to strengthen the UAE's 'Humanity Comes First' initiatives.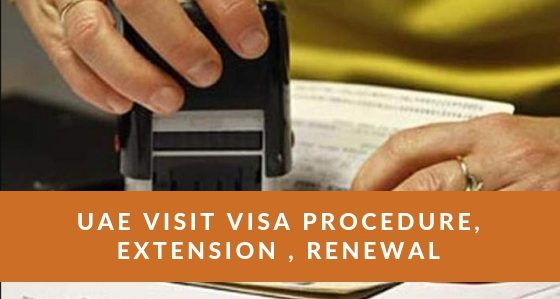 2. Know these Important Things about Visa Extension
If you're planning to extend your stay in Dubai, make sure that you submit your application for visa extension before the expiry of the existing UAE visa.
No matter you currently hold a 30 days tourist visa, a 30 days / 90 days multiple-entry visa or a long-term 90 days visit visa, you can easily extend your visa for another 30 days.
Now if you're not able to extend your Dubai before its expiry, don't worry. There is a grace period of full 10 days, but please note after that you'll have to face a fine of AED 100 per day.
Post the first extension valid for 30 days, you can again extend your stay (if required) for another 30 days.
Accordingly, the UAE government has allowed all foreigners with a tourist visa, on-arrival visa or multiple-entry entry  to make use of this benefit.
Individuals whose visas were cancelled by their sponsors or employers in the UAE can apply for a new tourist visa without exiting the UAE by choosing the option of inside country visa change without exit.
3. Is there any category of visa or people exempted from the New Visa Extension Rule?
Yes, this covers as mentioned below:
The new visa extension rule is not applicable for special entry visas as well as special mission entry visas valid for 96 hours.
Another category of people who are exempted from the new visa extension policy is expats coming from GCC (Gulf Cooperation Council) countries.
The citizens who accompany the GCC nationals on their visit to the UAE are also not eligible for this new UAE visa rule.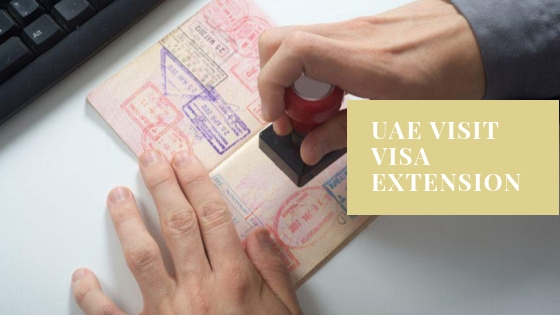 4. Requirements of Dubai Visa Extension
The documents required for the Dubai/UAE visa extension is pretty much same as that of the application of the initial Dubai visa. You'll need the following things to apply for your visa extension.
Photocopies of your passport's front and last pages
Photocopy of your old or existing tourist or visit Dubai visa
One recent passport size photograph (pictured against the white background)
Photocopy of return airline ticket
Accurately completed and signed visa extension application form
5. Procedures for Dubai Tourist / Visit Visa Extension
The procedures involved in the extension of Dubai visa are a lot easier as compared to that of the initial visa approval. Once you compile all documents and requirements as mentioned above, you can hand over the same to your desired travel agency directly or even submit them via online. Your service provider will submit your application to the UAE Immigration Department for its further processing. Upon its approval, you can collect your new visa at the earliest, with the added benefit of never exiting the country.
6. Visa Extension Fee
Whether you're looking for the UAE Tourist Visa Extension Fee or the visit visa or multiple entry visa extension charges, it will cost around AED $$$ for the extension of your visa. Moreover, irrespective of the type or duration of your current visa, you'll be granted only 30 days stay, as your visa extension application is approved.
But if you still have doubts, not just on visa extension, but on any other matter as well such as queries on OK to Board for Dubai Visa or applying for transit visa, you can always contact our expert visa consultants at Only Dubai Visa for any assistance with regards to the application or extension of your Dubai visa.