Traveling abroad earlier was always a grueling task. Getting all your documents and waiting in long queues for getting your visa application was not only gruesome but also time-consuming. But now all this has become very easy, thanks to e-visa. An Electronic visa or e-visa is an official document issued by the Immigration department that permits entry and travel in a foreign country. The whole process, from filling out the form to paying visa fees takes place online. Bhutan, Macao, Trinidad, Haiti, and Senegal are some countries offering free e-visa for Indian passport holders. Apart from these, there are several other countries offering e-visa for Indian citizens.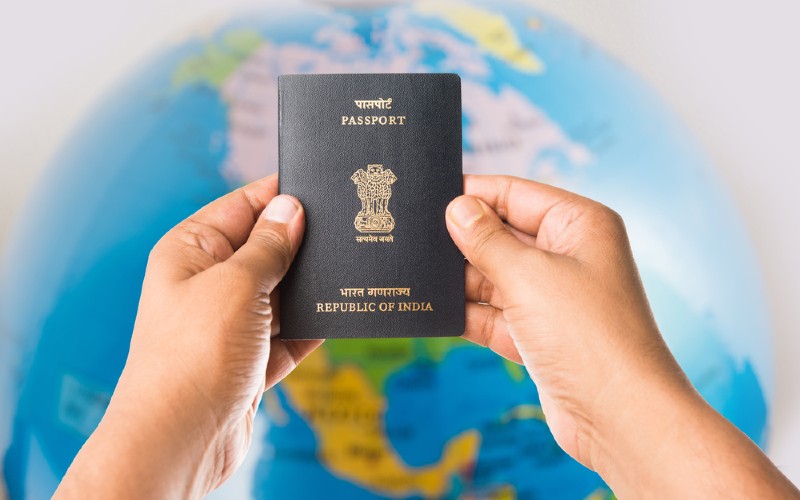 Documents Required for Obtaining E-Visa
Valid passport with a minimum six months validity

Passport size photographs

Invitation letter (if needed)

Any other supporting relevant documents (if asked)
Note* Documents required for Indian passport holders are subject to change as per the country rules.
Let us take a look at some of the E-visa countries for Indian passport holders:
Vietnam
Indian passport holders will have to apply for an e-visa online. This country also offers visa-on-arrival provisions to Indian nationals. Vietnam e-visa takes three working days to process and provides a single entry visa valid for 30 days from the date you arrive in the country.
Singapore
Visitors to Singapore must have an SG Arrival Card to enter Singapore. The SGAC is an electronic landing card. It also works as a Travel Health Declaration and can be obtained online. It permits tourists a maximum of 30 days' stay, valid for two years. It takes three working days to process.
Hong Kong
Indians need to apply for their pre-arrival registration online. Indian nationals can visit Hong Kong visa-free for a 14 days' visit. They must apply online and complete the Pre-Arrival Registration form before they continue to enjoy their stay.
Malaysia
Indian citizens can apply for both e-visa and the Malaysia eNTRI. If you have a Malaysia eNTRI, you can stay in the country for a maximum of 15 days. Whereas, if you have a Malaysia e-visa, you can stay in the country for a period of up to 30 days with multiple entries.
Sri Lanka
Indians traveling to Sri Lanka for tourism, transit, or business should have an ETA (Electronic Travel Authorization) to travel to and within the country. ETA allows you to enter the country for 30 consecutive days and permits you two entries into the country.
Dubai
Indian nationals are among the top tourists flying to UAE every year and hence Dubai visa on arrival are introduced to certain Indian citizens fulfilling certain criteria. UAE e-visa is also a great option for Indian citizens keen on visiting Dubai. The UAE or Dubai visa (a popular term for UAE visa) is valid for 60 days after being issued, and it grants a single entry into the country. The UAE visa is not extendable. Indian passport holders must note that the UAE e-visa does not authorize you to partake in any professional activity.
Turkey
Indian passport holders having a residence permit from Schengen, US, UK, and Ireland are eligible for a Turkish e-visa, obtained online within a few minutes. Turkey e-visa is valid for 180 days from the date of issue, and you can stay for up to 30 days in Turkey within the visa validity.
Oman
There was a time when getting a visa for Oman would mean shelling out a lot of money. But now, with the cheap and trouble-free e-visa process, traveling to Oman has become very easy. Indian citizens with a valid residence permit or visa from Australia, Canada, Japan, UK, USA, or Schengen can apply for an e visa valid for 30 days.
Bahrain
Indian nationals can choose from any of the following Bahrain e-visas: 2 weeks, single entry Bahrain e-visa, valid for one month. Multiple-entry Bahrain visitor e-visa, which grants several 30-day entries. GCC 30 days, multiple entry Bahrain e-visa is available for those Indian travelers who have legal residence in one of the neighboring Gulf countries.
Australia
An online visa for Australia is an electronic travel authorization (ETA) to enter and explore this beautiful country. Tourists and business people must apply for ETA or the Australia e-visitor visa through the online application system. It is valid for a consecutive stay of 3 months. It is a multiple entry visa and is valid up to 12 months from the date it is issued.
Myanmar
Formerly known as Burma, Myanmar is a South-East Asian country surrounded by Bangladesh, Thailand, and Laos. This country provides a single entry e-visa with 28 days stay for Indian tourists. People traveling for business purposes can stay in Myanmar for up to 70 days with a Business e-visa.
Georgia
While most countries in Europe ask you to acquire a visa before the visit, Georgia offers an e-visa facility, making it easier to travel to this divine country. It is a multiple entry visa and valid for 120 days. The processing time for this visa takes approximately 4 to 5 days.
Armenia
Armenia made e-visa facility available to Indian citizens only recently. Armenia issues visas valid for 21 to 120 days, extendable by another 60 days by applying online.
You can apply for the e-visa through the online Visa Issuance System of the Armenian Ministry of Foreign Affairs. The Armenia e-visa fee is non-refundable, and after you pay the fees, your visa will be issued in approximately three working days.
Kenya, Mauritius, Maldives, Jamaica, etc. are countries with e-visa for Indian passport holders. There are many benefits of getting an e-visa done. It saves time as you do not have to wait in long queues. It is a hassle-free process where you make an online payment. The processing time of e-visa is less. Only original documents have to be submitted, and you do not have to be present at the immigration office. If approved, you will receive your e-visa via email.