2023 is in its last leg; it finished like a sprint. Did you even realise that the New Year is around the corner and is all set to usher in the new beginnings? With lockdown, remote working and continuously postponed holidays, the year is about to wrap up. Gear up as we tell you the biggest inside stories of what's going to happen in Dubai for New Year 2024.  What are you waiting for — get all the formalities done for Dubai Visa right away.
A city that writes its own narrative, receives millions of footfall every year and throws world-class parties, Dubai is bold and beautiful. From Guinness World recorded fireworks and international star-studded concerts to multi-cuisine brunches and luxurious cruises, the New Year's Eve is a city-wide fiesta unlike anywhere else.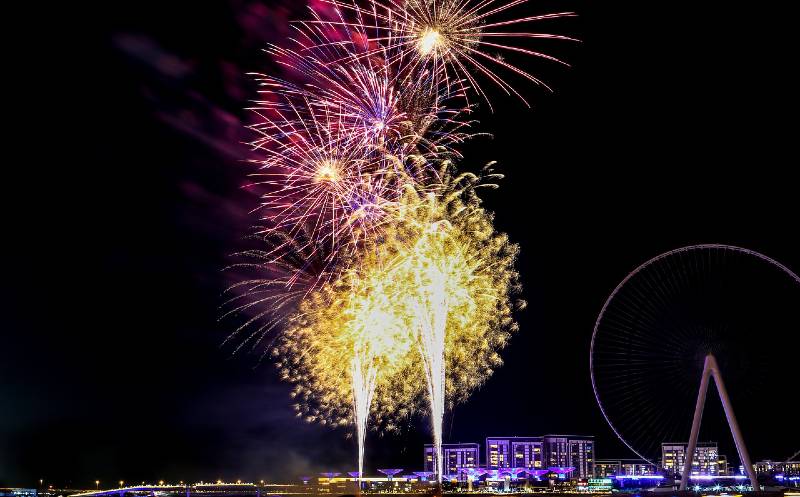 Tagged as one of the safest countries to travel in 2023, UAE knows exactly how to throw a party. Especially in Dubai, there won't be a dull moment. Whether you want to celebrate the big day in the desert, a dhow cruise, or rooftop restaurants, the city has got you covered. Here is a roundup of the 7 most iconic ways to experience New Year in Dubai.
1. Watch Fireworks at Burj Khalifa
One of the best things to do on New Year's Eve in Dubai with family is to view the spectacular fireworks during the night. The world's tallest building and the tallest restaurant, Burj Khalifa hosts the biggest New Year's Eve pyrotechnic show. It lights up the entire sky with colourful bursts and rhythmic sound. To witness these jaw-dropping fireworks, you can reserve a table at one of the many restaurants in Downtown Dubai. Souk Al Bahar is the closest vantage point that fuses the traditional Arabian charm into modern glory. Alternatively, you can have a laid-back evening at Burj Park or check out the view from the neighbouring Dubai Mall.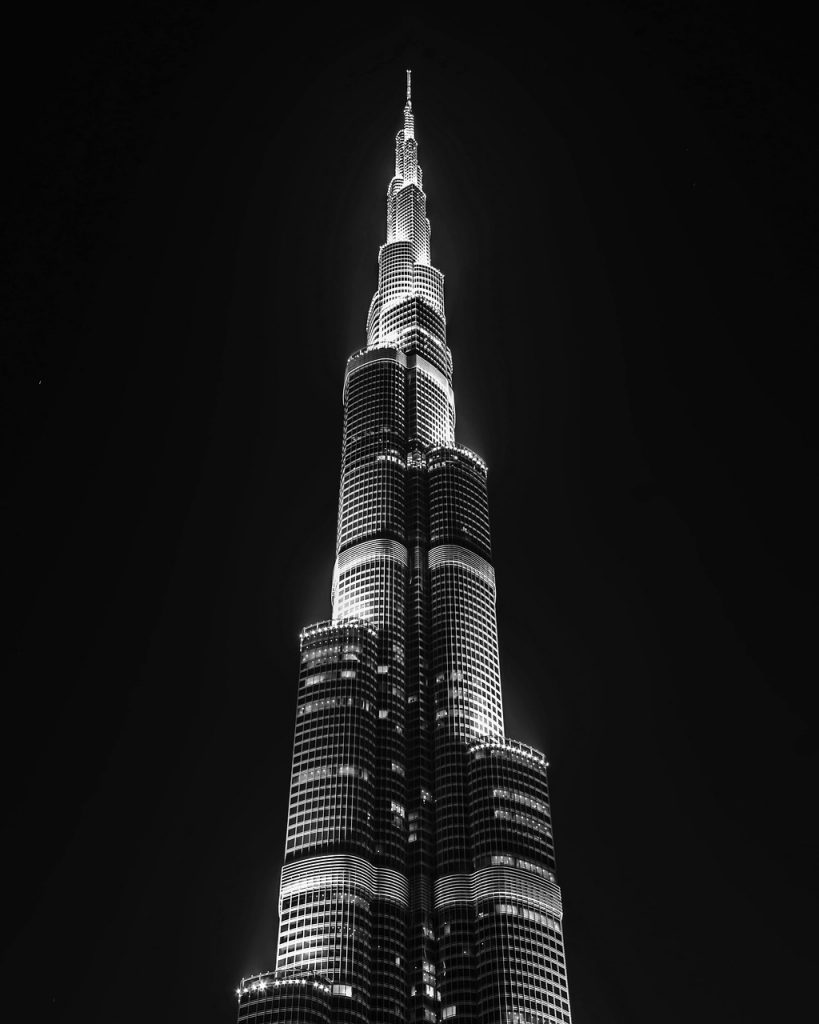 2. Opt for Gala Dinner at Atlantis The Palm
Another exotic place to believe the extraordinary display of Dubai's fireworks is the Atlantis The Palm. Loading it up with opulence, lights, fireworks, shows, music,  an array of thrilling activities and a dash of drama, this rose-hued resort will keep you in the middle of the action. Gulp down the finest wines, have fun at the New Year's Eve Gala Dinner, enjoy a live band, and devour at award-winning restaurants like Nobu and Gordon Ramsay's Bread Street Kitchen. Grab a place at the Palm Jumeirah Boardwalk for the most anticipated fireworks. Also, don't forget to watch the largest fountain on the globe.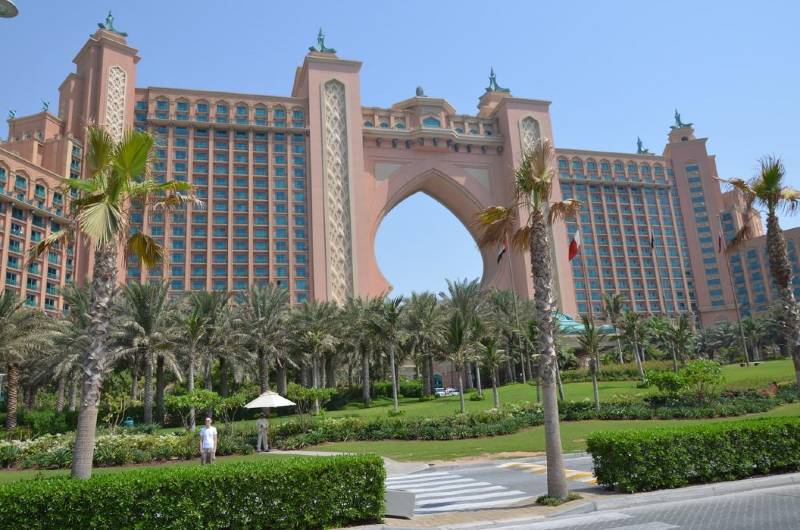 3. Begin the countdown in Desert Camp
One of the most unique and exciting ways to celebrate New Year in Dubai is to go for a desert safari. It is an adventurous excursion that includes a bountiful of action-packed sports like dune bashing, quad biking and sandboarding. The camps are beautifully staged and embellished which brings a cultural punch. You can get your hands tattooed, savour a mouth-watering dinner buffet, sip shisha, order champagne (in advance), and admire live shows like belly dancing and Tanoura. While the ambience is mesmerising, it is the best place to watch the last sunset of the year. Amongst the plethora of options, customise your itinerary as per your interests. Also, if you would like to experience a more relaxed New Year celebration, you can also head to the hidden gems of Dubai, Al Qudra Lake, Swan Lake and Hatta Wadi if you would like to get away from the frenzy of New Year's Eve celebrations.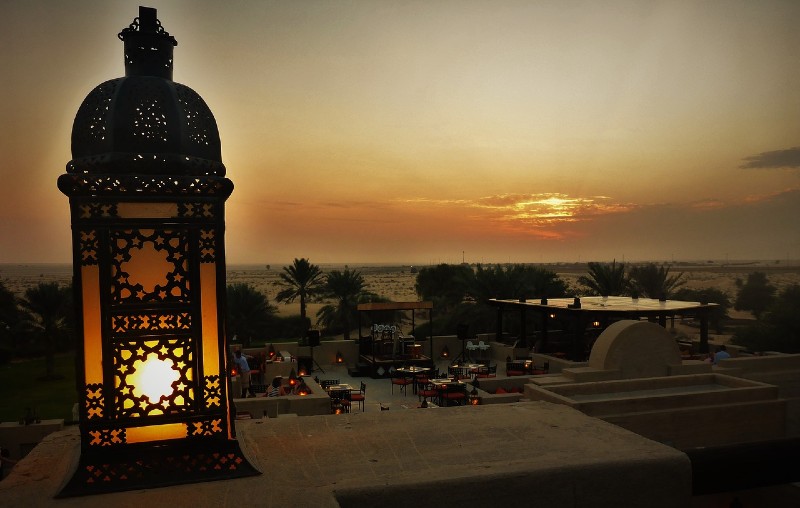 4. Hop on the Ain Dubai
Ain Dubai, the world's largest and highest observation wheel is finally rolling — and is the best idea to mark the beginning of New Year. Plonked on the Blue waters Island, the Ferris wheel lets you admire the wide-ranging cityscape filled with fireworks and celebrations. The bird-eye view is unimaginable. There are various kinds of cabins, including the private ones where you could spend some amazing time, revelling in the fabulous views complemented by extensive dining options.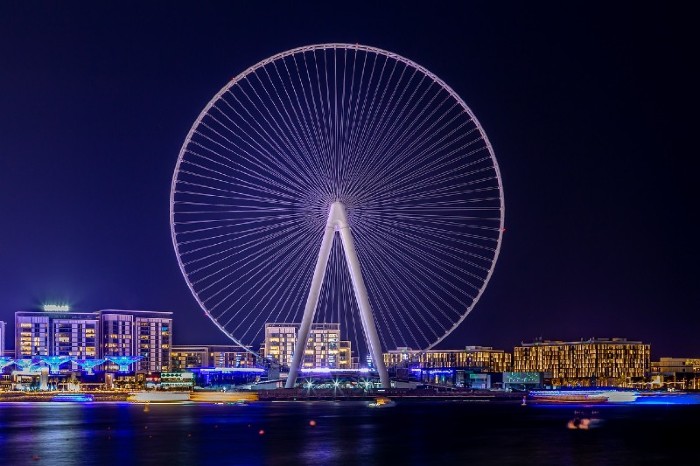 5. Sail on the luxury Dhow Cruise
Take in Dubai's breathtaking views as you sail across the posh and shimmering Dubai Marina on a dhow cruise. There are two floors, where you can eat, gaze and enjoy in the comfort of a glass-enclosed and air-conditioned atmosphere. The 2-hour cruising with delectable food and live entertainment shows offers an enchanting experience and loads of memories. It's a lavish dinner spread with both vegetarian and non-vegetarian options including beverages, midnight cake and champagne. As another option, you can also choose to cruise by Old Dubai's famous landmarks.
6. Let your hair down at Nightclubs
Bid farewell to 2023 with drinks and dance. Tap your toes to the biggest hits of the international DJs at the renowned clubs in Dubai. Indulge in the culinary delights, premium beverages and incessant celebration at the most epic night off. Some of the prominent party clubs are Nikki Beach Club, Barasti Beach, Distillery Gastropub, Zero Gravity, Warehouse, and The Penthouse. You'll love the fact that most of the party places in Dubai have a section dedicated to kids where they remain entertained throughout the night.
7. Have a picnic at Beaches nearby Burj Al Arab
Burj Al Arab, the most exorbitant and luxurious hotel in the world will make the final moments of 2021 memorable with a combination of surprises. It organises a one-of-a-kind New Year's bash. Expect an evening full of live entertainment, delicious food and drinks plus superb views of the fireworks from Burj Al Arab. It is also one of the cheapest ways to celebrate New Year in Dubai. All you got to do is carry a beach mat, pack your picnic bags and head towards the thriving public beaches in Dubai. Kite Beach, Jumeirah Beach and Umm Suqeim overlook this tall sail-shaped silhouette. Here you can relax and cheer without dusting off your wallet.