Dubai is beckoning people from all over the globe with the allure of its contemporary lifestyle, awe-inspiring architecture, thriving nightlife, and extravagant shopping malls. Whether for better job prospects, tourism, or business, people flock to this Arabian jewel like a moth to a flame. An ex-pat population of approximately 85% proudly calls this Emirati gem their home, thanks to the safe and secure environment it offers the residents. 
Nonetheless, Dubai is also known for its expensive standard of living as compared to Abu Dhabi, Sharjah, and other prominent cities in the Middle East. While people happily apply for a Dubai visa, reality kicks in only once they move to the city and get a taste of the lavish lifestyle. But don't fret, as it is very feasible to live a comfortable lifestyle in the city without burning a hole in your pocket. This guide provides a fair idea of managing your monthly budget in the city of gold. 
About the Cost of Living in Dubai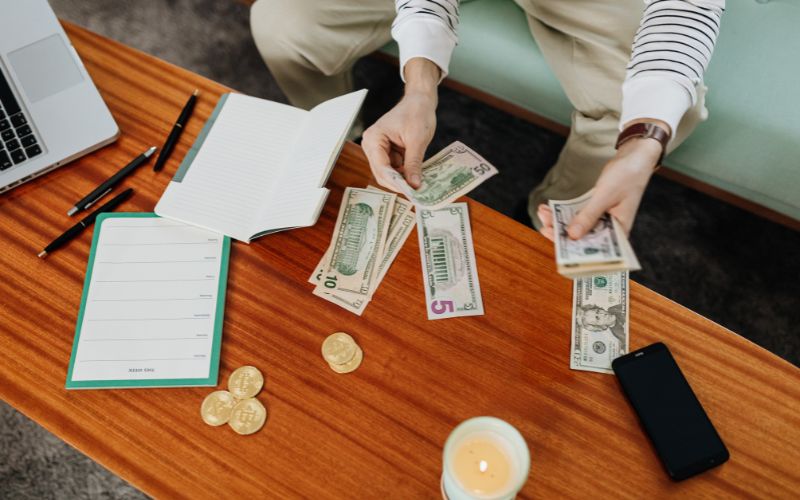 Before we dive right into the breakdown of each expense constituting the cost of living, let's know a little about the local currency. The official currency of the UAE is the dirham denoted, as AED or Dhs. One AED is equal to approximately 0.27 USD and 0.26 Euro. 
But the one unique feature about Dubai or the UAE is that the average monthly salary of an individual is higher than that of its western counterparts, and the UAE is also a tax-free country. It means that whatever income an individual makes in a month is completely available for them to spend. 
Overview of the typical monthly expenses in a household
In order to understand the different expenses in a month, we have broken them down into different categories. 
Housing
One of the most crucial expenses every month is for housing. The rents are sky-high in affluent neighborhoods like Jumeirah Beach Residences, Dubai Marina, and Downtown Dubai. In contrast, renting in areas like Deira or Bur Dubai will be more economical. The rents range from AED 3500 to AED 5000 for a one-bedroom apartment.
Groceries and Food
What you spend on this category depends to a great extent on your food preferences lifestyle, and whether you prefer cooking your own meals or eating out. Most supermarkets have a wide range of products including local and imported goods. So, your grocery bill will largely depend on your dietary habits. Also, economical supermarkets like Lulu Hypermarket, Carrefour, and Union Cooperative have many offers and discounts running on day-to-day products, making it easier to stock your groceries. 
On the other hand, if you prefer dining out more often, Dubai has a wonderful blend of street-side eateries that serve the most lip-smacking delicacies. You will satiate your hunger pangs, but you can still keep your food budget on the lower side. Of course, occasionally, it is perfectly fine to indulge and have a hearty meal at one of the fine dining restaurants or international food chains. But keep in mind that eating regularly at these restaurants will surely put a dent in your finances. 
On average, the monthly groceries per person may be around AED 1,000.
Utilities
Utilities like water, electricity, phone bills, internet and TV packages, etc., are integral to your monthly expenses. The monthly costs depend on usage and accommodation size. But on average, the internet and TV package cost AED 320-380 a month. A basic mobile monthly plan is approximately AED 125 and can go up to AED 550 for premium plans. The combined cost of utilities for electricity, water, and garbage may be around AED 700-900 a month.  
Transport
You will commute to work, school, college, or go around the city for recreation. This cost largely depends on the number of days you commute, the duration, and the distance to the place.  
Dubai has a well-connected public transport system that is on time and extremely safe. The ticket cost for a bus or metro starts at AED 5 for a single ticket. If you prefer cabs, the average base fare is AED 12. So, you can do the calculation accordingly for the amount you will spend on the commute.
The fuel rates in Dubai are lower, so if you are traveling by your car, it is still economical.  But this will also differ based on your car model, the distance, the insurance, and the servicing costs.
Medical Care
It is mandatory for residents to have health and medical insurance in Dubai, and there is no compromising on this. Many companies sponsor medical insurance for the employee and his or her family as well. If the company doesn't cover your health insurance, then you need to purchase a plan for yourself and your family. The premium again depends on the coverage, and the basic benefit starting price is around AED 600 annually and may go up to AED 5,000 annually per person for a comprehensive plan.
If you want more premium benefits and global coverage, then for a family of 4, it will approximately cost AED 70,000.
If you opt for a housemaid, you must provide them with health insurance under the Essential Benefits Plan. Their monthly salary may be between AED 1,500 and AED 5,000.
Education/Schooling
If you are a family with little ones, education is one of the most essential criteria of your life. Dubai has schools offering various curricula, the most popular being American, British, Indian, and IB. The school fees are based on the curriculum and type of school and are usually in the range of AED 4,000 to AED 12,000 for a month.
Many Indian families apply for a Dubai visa from India and settle in the UAE. If you are an Indian family who wants to enroll your kids in an Indian school, the fee is much less compared to the Western curriculum and ranges between AED 3000 and AED 5,500 monthly. 
Entertainment
Dubai has myriad entertainment options: watching movies, visiting restaurants with friends, indulging in retail therapy, or participating in adventure sports. There are numerous spectacular things to do in Dubai for singles, couples, and families.
The annual cost of a gym membership is approximately 2400-3000, a single cinema ticket costs around AED 40, and having a meal may be between AED 40-50 for budget eateries and AED 400-500 for fine dining or gourmet restaurants.
Conclusion
Before making Dubai their home, considering all the various expenses and making a budget is also essential. To sum up, the approximate cost of living for an individual is around AED 3,500-6,000; for a couple it is AED 5,000-10,000; and for a family of four, it is AED 15,000-25,000.