The first thing that conjures up when we talk about Dubai is opulence. That's why it attracts the riches from all over the globe to splurge and enjoy everything money can possibly fetch. However, Dubai also offers a lot to those budget-conscious, apart from the elite class. While it has gained popularity due to its tons of attractions, one thing that pulls visitors from all walks of life is the desert adventure. No wonder Dubai is the first choice for all with an adventure in their blood to soak in desert adventure tourism. So, grab your Dubai Visa and get set go!
Why visitors are crazy about Dubai Desert Adventure?
We all know that Dubai has been blessed with an amazing desert landscape. Not only this area of land is large, but also unique due to its red sand dunes. It has become a popular destination among locals, ex-pats, and tourists. Several organized tours and other adventurous activities are offered by private tour operators such as dune bashing, quad safari, dune bashing buggy, etc. along with food and entertainment inside a nicely set up Bedouin-style camp. So, lots of fun, adventure, sumptuous food, and leisurely entertainment are the highlights of Dubai's desert adventure that attract international tourists.
How to make your Dubai Desert Adventure Experience Special?
There are several offbeat adventures you can enjoy in the desert of Dubai. But you need to book the desert safari with a reputed and local tour operator. Depending on your age and medical conditions, you're offered a choice of dune bashing and camel riding. If thrill and adventure is not your thing, you can go for camel riding, which is a slow activity indulging in which you can marvel at the site of Dubai's amazing desert landscape. And if you want to throw yourself into thrilling and exciting activities, then go for dune bashing. In fact, no desert safari Dubai tour is complete without dune bashing.
What is Dune bashing?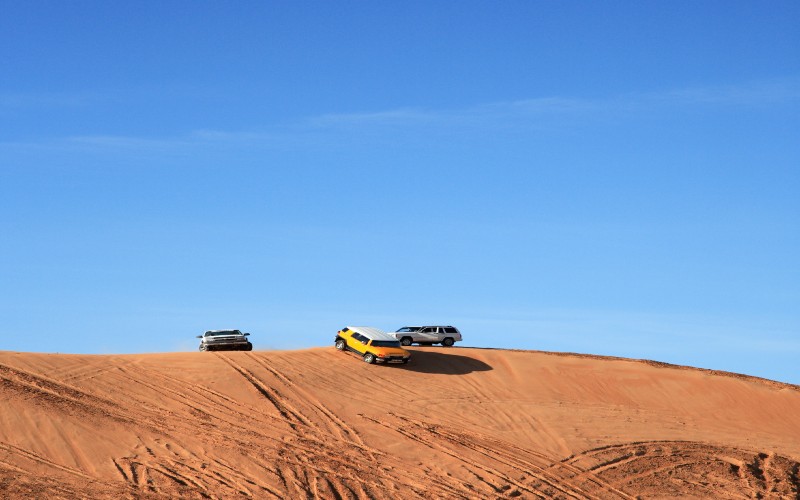 Dune bashing is one of the best things to do in Dubai on a desert safari. Dune bashing is a thrilling and exciting activity in which you are taken for a ride in a powerful SUV all over the sand dunes. A skilled and experienced driver on the wheel will give you a ride of your lifetime on the dunes with speed and turns taking the SUV on the ascending and descending dunes. The speed with turns and twists on the shifting sand dunes will make feel as if you're riding a roller coaster on land.
Ways to enjoy dune bashing
Quad Biking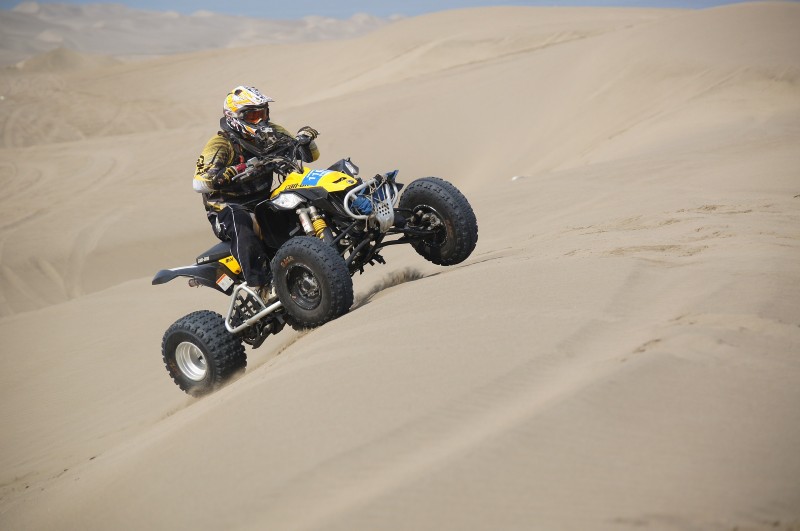 This is another thrilling dune bashing activity in which you will put on a helmet, safety gears and googles and ride a quad bike on the sand dunes. An expert will accompany you to guide you in handling the all-terrain bike on the sandy terrain. If you love motorsports, you will enjoy quad biking in the desert. If you're comfortable and confident, you may also choose to ride the bike all alone. This way, you can feel the thrill of throttling the accelerator and zooming all over the desert landscape.
Dune Buggy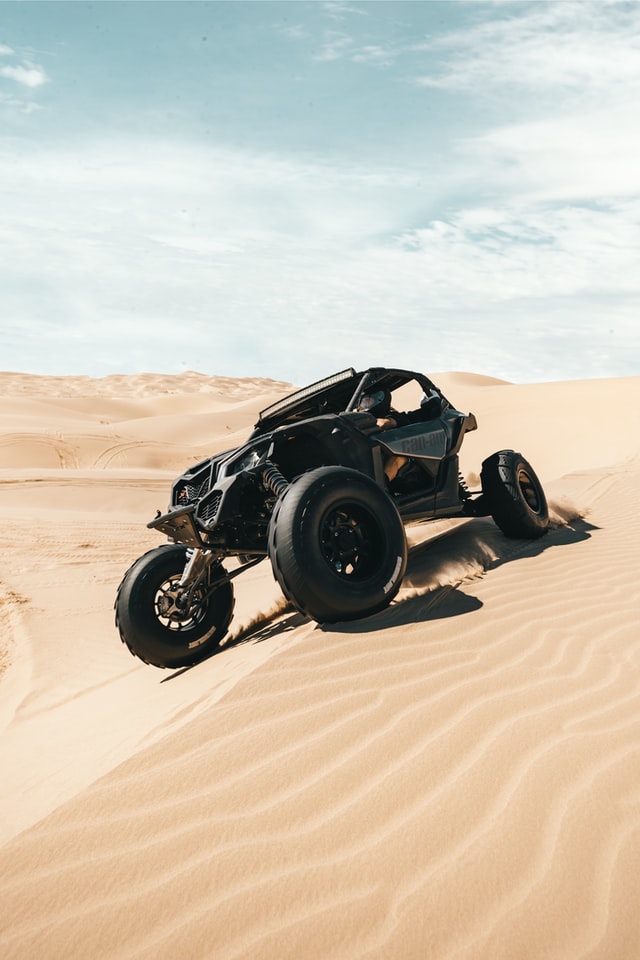 If you want to challenge the sandy terrain on your own, then go for dune buggy riding. For this thrilling activity, you will ride a powerful 1500 cc vehicle. Despite being so powerful, the dune buggy is safe and reliable to ride on the sand dunes. It is designed to offer maximum safety to the driver. To make it safer and more exciting, book the dune buggy adventure with a reputed tour operator.
Sand Skiing
If you thought skiing is only possible on the ice, then you must try sand skiing. You will enjoy the same kind of thrill as you do with ice skiing. For sand skiing, you will stand on specially designed skates. Standing on the skates, you will start from high-rise sand dunes and then slip down in speed while going upward on the other side of dunes with momentum. Unlike dune bashing in an SUV, you will enjoy sand skiing all alone. Whether you're a beginner or seasoned in ice skating, you will be provided with safety guidelines before the start of the adventure.
Sand Boarding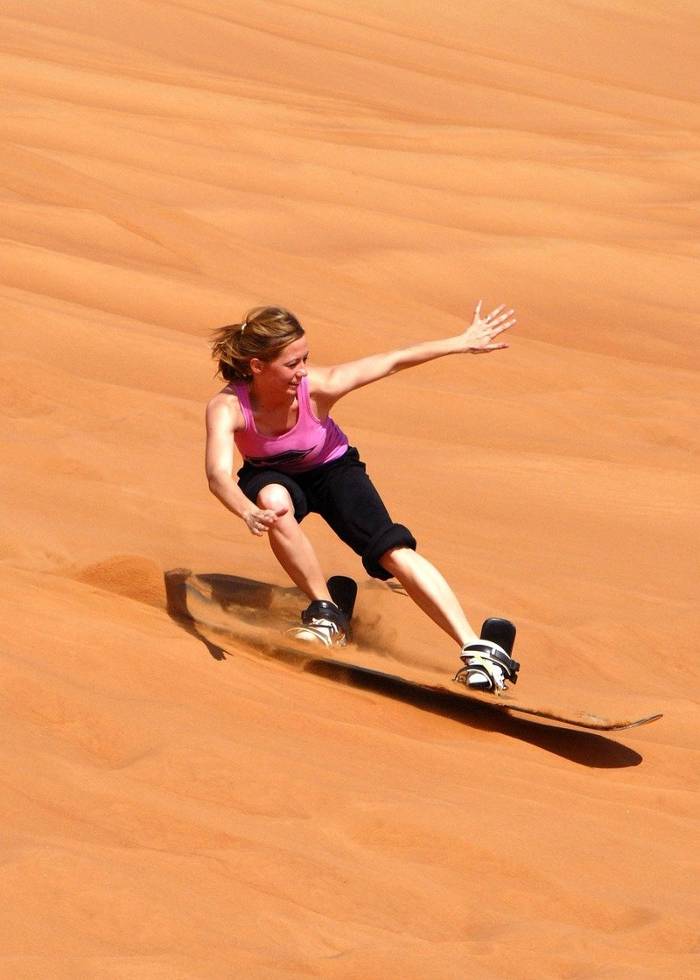 Why go to the snow-clad mountains for snowboarding when you can enjoy it on the sand dunes as well. Yes, this fun-filled activity is an integral part of dune bashing that you can enjoy with the Dubai desert adventure. This extreme and board sport has gained immense popularity among tourists. You will stand on a board and ride high and down across sand dune. Besides standing on the board strapped or loose, you can enjoy this activity lying down on the belly or back as well.
Whether you are looking for the best places to shop in Dubai, visit the fabulous attractions to see, or participate in an activity that is sure to give adventure seekers their adrenaline fix, Dubai has it all. There are several options to enjoy a desert adventure experience. And if you want to go for an adventure that is affordable, then dune bashing, quad biking, and buggy riding are the best.