People visiting Dubai with their families will find this place to be filled with cherished experiences, mesmerizing entertainment options, and memorable moments. Whether your little ones wish to go on thrilling rides or your family wants to see exotic marvels or enjoy a quiet excursion in a serene park or a spotless beach, Dubai definitely has something to suit every taste and age group. Here is a list of some of the top activities for you to try it on your next family trip to this amazing Arabian metropolis.
1. Throw Snow in the Middle of the Desert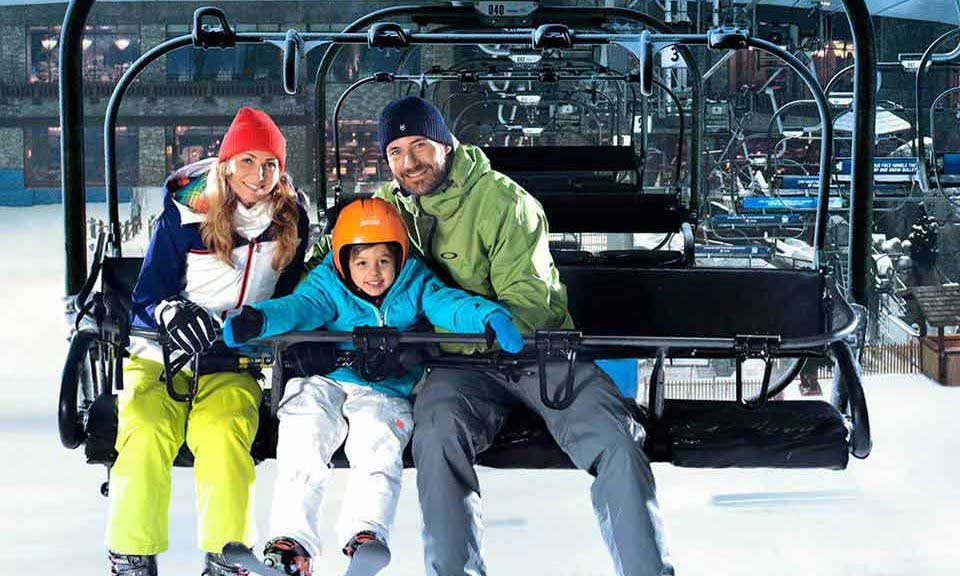 Ski Dubai in Mall of Emirates may be an indoor facility, but it's beyond your imaginations, as it makes you feel like you've landed on a wonderland surrounded by nothing but real snow. All members in your family are sure to adore this facility, with its enchanting snow park, exclusive snow throwing gallery, and five unique runs. Enjoy skiing, practice snowboarding, go tobogganing, try sledding, watch out for amazing Gentoo penguins, and much more, during the time you spend in this first of its kind indoor ski resort in the Middle East. So to ensure a great time with your loved ones, be sure to purchase Ski Dubai tickets.
2. Take a Dhow Cruise / Yacht Cruise / Abra Ride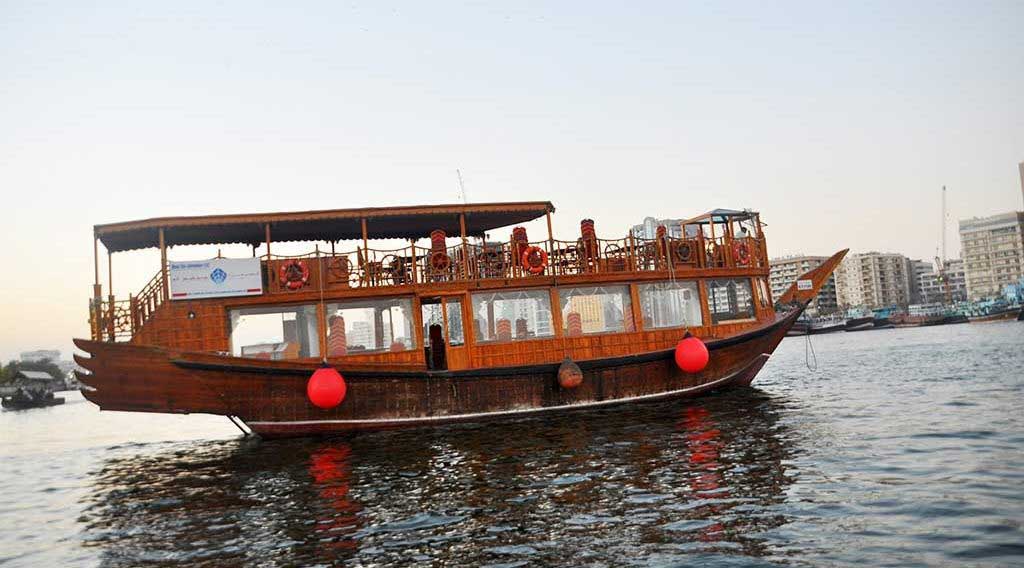 A family-friendly dinner cruise aboard a traditional Arabian sailing vessel is one of the most ideal ways to have some intimate fun time together on your Dubai holidays. Savor culinary delights prepared from the freshest ingredients, relax on the upper deck and enjoy mesmerizing entertainment shows like Tanura performance aboard, as the magnificent views drifts by. For an ultimate cruising experience, charter a luxurious private yacht which is also a perfect way to admire the iconic sights that dot the Persian Gulf. Now if you're looking for a more economical alternative, you can go for a pleasant abra ride along the distinctive Dubai Creek or take a Marina Bus ride that introduces you to some of the region's vibrant spots, such as the Marina Walk and Dubai Marina Yacht Club.
3. Visit the World's Tallest Building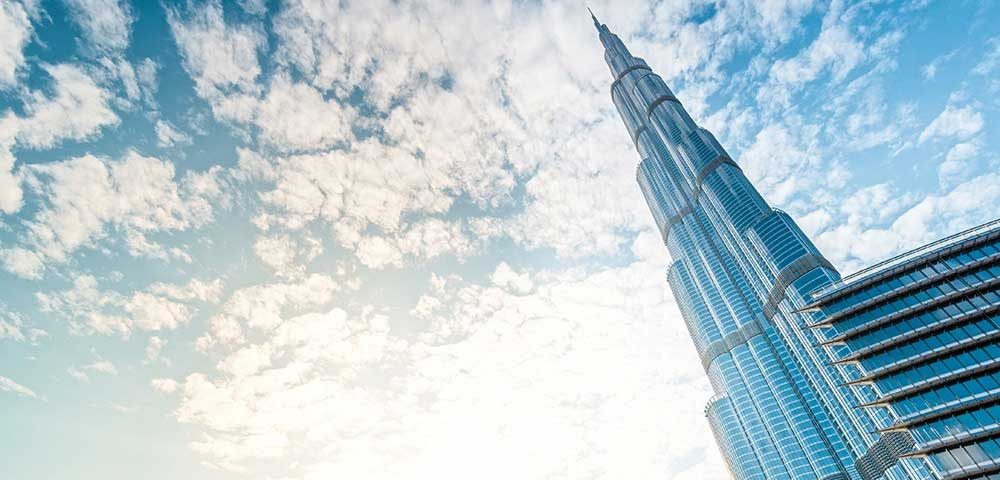 No family trip to Dubai is complete without making a visit to the iconic Burj Khalifa, soaring to a height of 828 meters. Take a ride in the fastest elevator that whisks you to its 124th floor and feasts your eyes with the mind blowing 360 degree views of the city. To enrich your visit, book a Burj Khalifa Sky Tour that allows access to its 148th floor, boasting the world's highest Observation Desk. Not alone astounding views, with a trip to Burj Khalifa, you'll also get to know some interesting facts about Dubai's history as well as the different phases of putting together this architectural masterpiece, thanks to the multimedia presentation.
4. Spend a Day of Shopping, Fun, and Adventure at Dubai Mall
Spanning approximately over 1,120,000 square meters, Dubai Mall – more recognized as the biggest mall in the world – is the place to be for an all-inclusive family experience in the city. As you do some serious shopping, let your kids have some serious fun at its diverse leisure and amusement venues like Kidzania, SEGA Republic, and Dubai Ice Rink.
Not only these, see Dubai Aquarium and Underwater Zoo holding the largest acrylic viewing panel in the world and give your kids the sweetest treat ever at Candylicious, which is the largest of its sweet shop in the world. Dining at Rainforest Café with the views of Dubai Aquarium is another thing we recommend you to do with your family here. Outside of the Dubai Mall are Souk Al Bahar and the Burj Lake with Dubai Fountain, providing a magnificently choreographed show of dancing water, music and light.
5. Swim with Dolphins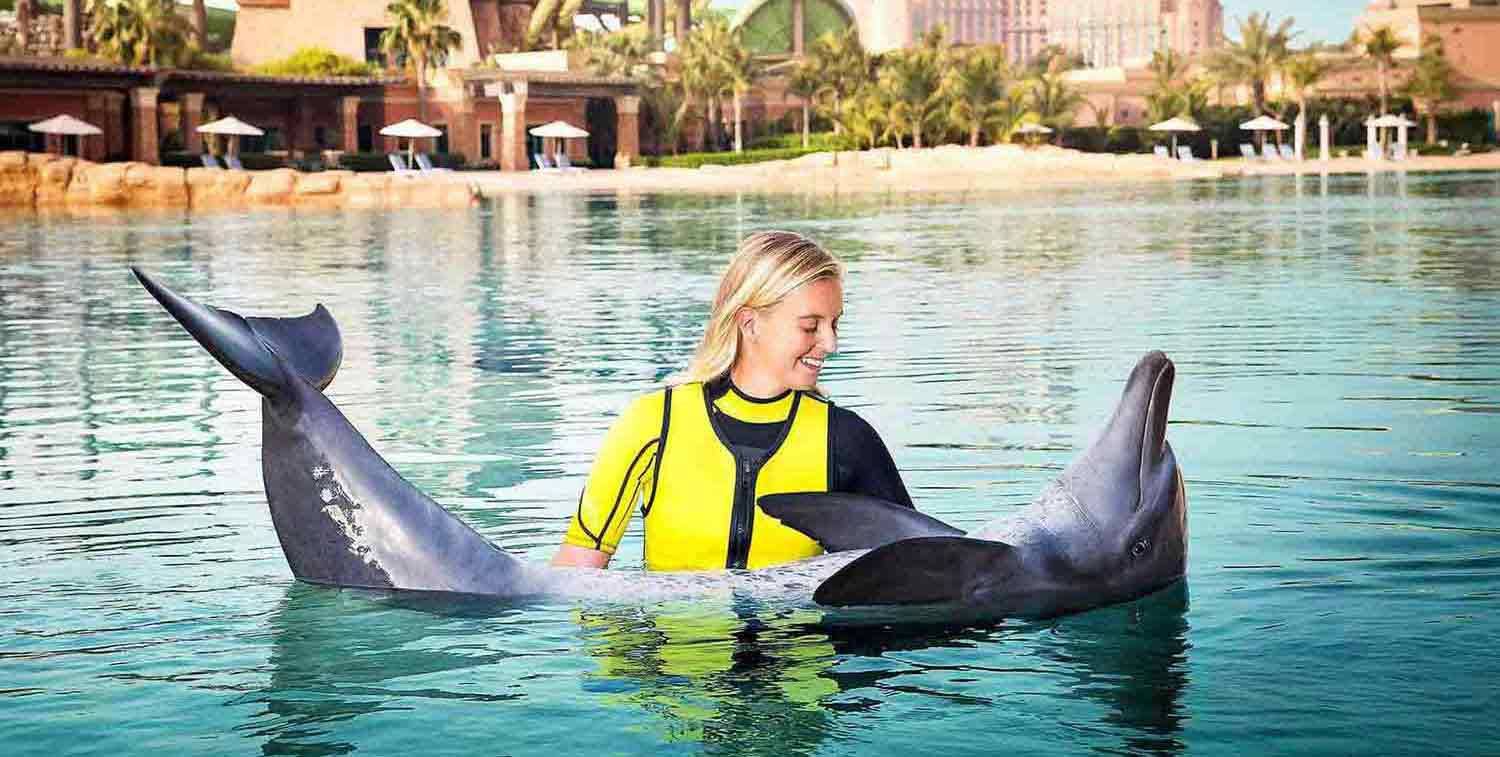 Atlantis, The Palm is one of the Dubai's most exquisite hotels. If you cannot afford a stay in one of its plush rooms or suits, don't despair. After all, you needn't have to reserve an expensive accommodation to enjoy its many highlights. Stupefying architecture aside, it is home to many kid-friendly attractions like Lost Chamber, Aquaventure Theme Park, and finally, the Dolphin Bay – which the kids and family members of all age groups and swimming capabilities will undeniably adore, with opportunities for many fun experiences with charismatic dolphins.
6. Camp in the Desert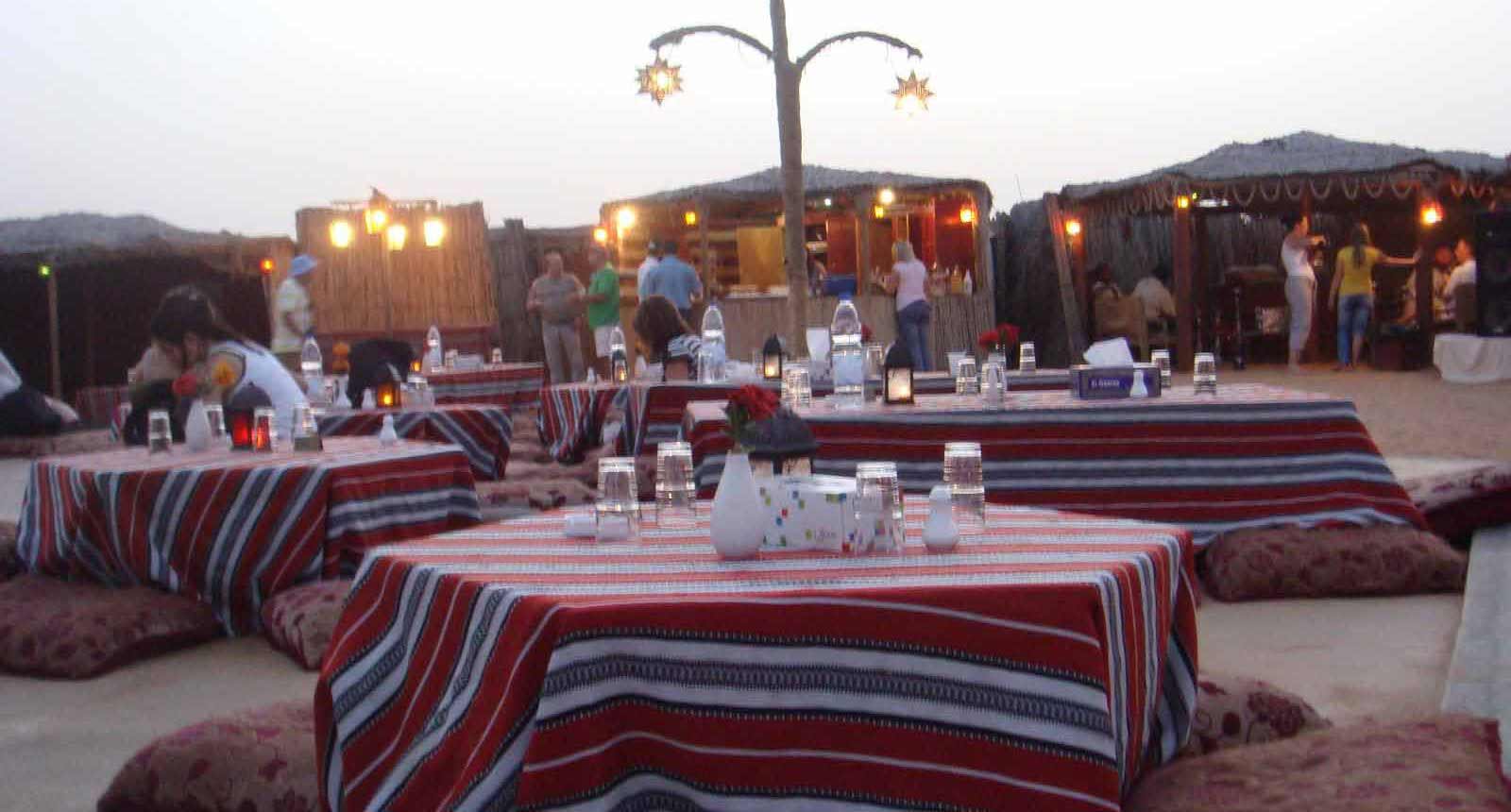 Dubai's alluring desert provides the perfect backdrop for families to get out of the city's glistening sights and have a full throttle fun and thrill. About a 40 to 45 drive from the city center is Al Avir Desert which offers a spectrum of off road experiences ranging from the most aggressive 4X4 dune bash to mindblowing camel ride. While your older teens can opt for a thrilling quad biking or sand boarding session, your little ones can be a spectator or commuter as you ride. If you wish to stay away from all actions, retreat to a desert camp for an unforgettable dining and camping experience in the midst of the breathtaking dunes. With many activities like henna painting, falconry, belly dance and shisha smoking, a trip to desert also assures you of a great cultural experience.
7. Go Wild at Wild Wadi Park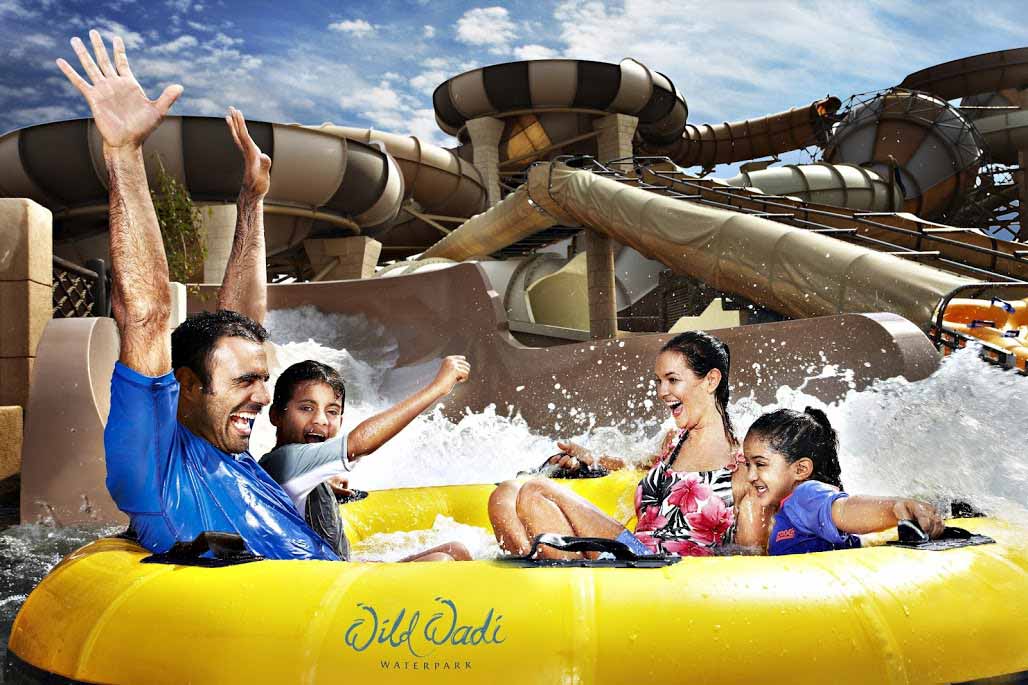 Adjacent to the luxurious Burj Al Arab Hotel in Jumeirah District is Wild Wadi Park, which boasts the Middle East's largest wave pool and the fastest free-fall water slide outside of North America. Not to mention, it has many exciting attractions for kids and adults of all age groups, from kiddies highlight suitable for even tiniest toddlers to adult slides and rides like Jumeirah Sceirah and Master Blasters to rides perfect for teens. There is also a variety of shops and food and beverage outlets within the park.
These alone are not the best things to in Dubai with family. Learn about the emirate's intriguing past with a visit to Dubai Museum or plan an excursion to the quaint Hatta or head over to the Dubai Turtle Rehabilitation Project in Madinat Jumeirah to feed the turtles. Dubai's gorgeous sandy beaches are also worth visiting for a great family outing. For added fun and adventure, visit attractions like Dubai Creek Park and iFly at Mirdif Centre. Other not-to-miss family attractions are Dubai Miracle Garden and Dubai Zoo.
Quite obviously, with youngster-friendly attractions in aplenty, Dubai will have everyone in your family covered!