Are you ready for a thrilling adventure in the land of architectural marvels and bustling souks? Dubai, the extravagant UAE city, is undoubtedly one of the top tourist destinations. It is no surprise that millions of globetrotters visit this remarkable city each year to view its distinctive landmarks, stay in elegant luxury resorts, explore the vibrant, thriving cultural scene, and marvel at outstanding attractions. If you plan to visit Dubai and stay for an extended period of time, a 60-day visa will be the perfect choice for you to explore this modern city's wonders. This guide will help you learn everything you need to know about obtaining and managing your 60-day Dubai visa.
60-Day Dubai Visa- An Overview
Before we start, let's first understand the purpose and benefits of a 60-day Dubai visa. This Dubai visa type is best suited for visitors who want to stay in Dubai for more than a month. The 60-day Dubai visa provides them with ample time to explore the city's unique experience without any rush and at their own pace. Depending on the traveler's purpose of visit, it is issued as a single-entry or a multiple-entry visa. It allows you to plan your two-month visit to Dubai however you like and even divide your trip into shorter stays spread out over that time with a multiple-entry visa. It offers a significant advantage over shorter-term visas, ensuring ample time to make the most of your stay.
A 60-day Dubai visa can be applied for by those who wish to visit Dubai but belong to a country whose citizens need a pre-arranged Dubai visa prior to arriving in the emirate. Till 2022, there were only 30-day and 90-day Dubai visas available. The 90-day visa was amended into a 60-day visa, which tourists can avail of now.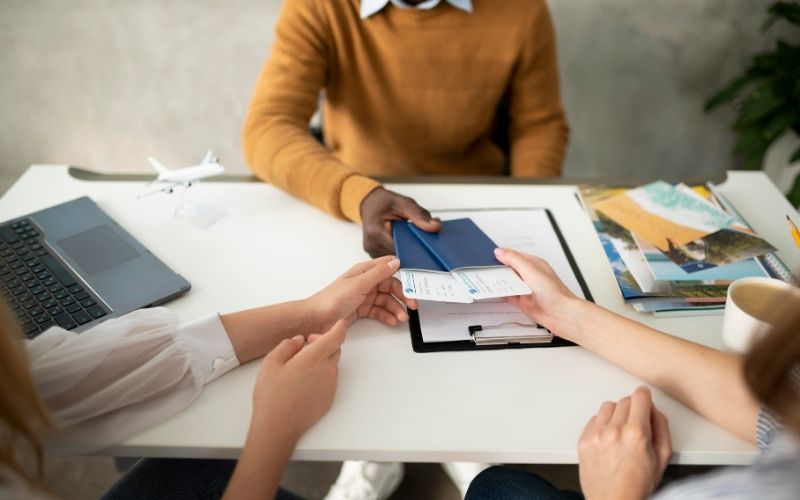 Eligibility for 60 Day Dubai Visa
Before applying for a 60-day visa for Dubai, you must check if you are eligible for one. Dubai offers various visa options for different purposes. If you plan to visit Dubai for tourism, you need to apply for a Dubai tourist visa. To be eligible for a 60-day tourist visa, you should be a citizen of a country outside the Gulf Cooperation Council (GCC). You should also meet specific requirements set for citizens of countries not exempt from visa requirements or benefiting from the visa-on-arrival program. You must also present a passport that is valid for at least six months after you arrive in Dubai. Furthermore, you need to have a good moral character, who is a law-abiding citizen, and explain why you are visiting Dubai, provide proof of your accommodation and travel plans, and show that you have enough money to cover your expenses during your stay.
Documentation Checklist
A 60-day Dubai visa application procedure requires the applicant to submit a series of documents verifying the information you provided on your application and lending credibility to it.  Here are the key documents you will need:
A valid passport with at least six months of validity remaining

Passport-sized photographs that were recently clicked. These should be color photographs against a white background clicked as per Dubai visa guidelines.

The completed visa application form must be submitted online without any errors.

Proof of accommodation, such as hotel reservations or an invitation letter if staying with a UAE resident

Valid, confirmed return flight tickets

Proof of travel and health insurance

Bank statements or other financial documentation to demonstrate sufficient funds

Any additional supporting documents, as requested depending on the applicant's visa requirement, such as marriage certificates or birth certificates in the case of minors, to name a few
Application Process for 60 Day Dubai Visa
One important factor to consider while applying for a Dubai visa is that the applicant cannot apply for a Dubai visa in their country of residence. A Dubai visa has to be applied for via a UAE sponsor residing in the UAE. Once you have gathered all the necessary documents, you can apply for the visa through a reputed Dubai visa application center, UAE tour agencies, UAE hotels, UAE airlines, or someone with a valid residence proof in the UAE. The Dubai visa application form can typically be submitted online, making it convenient and accessible for applicants around the world. Here's the process of applying for a Dubai visa: 
Gather all the required documentation mentioned earlier.

Consult a visa application center or a trusted travel agency to apply for your 60-day Dubai visa.

Fill out the online visa application form accurately and completely.

Upload all the necessary documents and photographs as per the guidelines provided.

Pay the required

Dubai visa fees

through the designated payment methods.

Submit your application and wait for the confirmation email or notification from the authorities.
Visa Fee and Processing Time
After submitting your application, it may take a few days to receive approval for your 60-day visa. Once approved, you will receive an electronic visa via email. Make sure to print a copy of this visa and carry it with you when traveling to Dubai. The visa processing time takes around 5 to 7 working days. However, the processing time may range from a few days to several weeks if additional documents are needed. So, it is advisable to apply well in advance to avoid delays in your travel plans. You can check Dubai visa status on the online portals of the agency through which you applied for the same or by contacting their customer service helpline. The 60-day Dubai visa cost starts at AED 1000 plus any service charges by the agency with whom you will apply for the visa. Certain citizens may be required to undergo additional visa verification known as 'OK to Board' by the airline with which they have booked flights to Dubai. If you wish to extend your stay beyond the initial 60-day visa, speak to your visa provider for visa extension or renewal assistance. 
Simple Tips to Follow to Avoid Visa Rejection
When applying for a 60-day Dubai visa, it's important to follow Dubai's immigration rules to avoid visa rejection. Here are some tips to improve your chances of getting your visa approved:
Double-check all your documents for accuracy and completeness before submitting your visa application.

Keep additional documents ready if authorities ask for them to support your visa application.

Be honest and transparent during the application process.

Apply well in advance to avoid last-minute issues or delays.

Follow all visa rules and guidelines to prevent any situations that may lead to visa rejection.
Dubai Visa extension
You can now prolong your stay in Dubai to enjoy the fascinating culture, attractions, experiences, and wonderful opportunities. The Dubai visa extension gives you the right flexibility to adapt your stay in Dubai to meet your exploration expectations.
The UAE immigration authorities have set new guidelines and regulations to ensure that it positions itself as an attractive destination for investment, entrepreneurship, living, education, and work.
The key highlights of the new rule introduced for Dubai visa extension are:
The traveler must leave Dubai for their extension. If you utilized the services of a travel agent or partner while applying for your visa. The same partner should arrange for your visa extension as well.
The visa extension can be extended for 30 more days for their visit visas, valid for 30 or 60 days. The maximum duration for a person for a shortstay in the Dubai Emirate is 120 days. Extension beyond this period is not permitted.
The entry or extension of the visa permits can be easily done online as well. The visa cancellation processing timeline will take around 48 hours.
All processed Dubai visas will be delivered to your email directly
The price of the Dubai visa extension is approximately AED 1100
Additional documentation required while applying for a Dubai visa extension
The Dubai immigration authorities have set some mandatory documents for a Dubai Visa extension.
Original passport copy – You should have a passport with two blank pages and validity beyond six months from returning to your home country. Always keep a scanned copy of your visa.
Passport-size photograph – A recently captured passport-size photograph with more than 80% face coverage and against a white background
Copy of your old tourist visa – Share a copy of your old tourist visa
Sponsor's documents – If you are being sponsored by a local in Dubai. Please share the sponsor's documents, such as Emirates ID, passport, bank statement, and contact information.
Important Note
Do keep in mind that a 60-day tourist visa in Dubai does not permit you to work in Dubai or the UAE. Working on a tourist visa is strictly prohibited and can result in fines, blacklisting, and deportation. The same consequences apply if you overstay your visa after it has expired. So, always keep checking your visa validity and follow the rules while enjoying your holiday in Dubai.
Conclusion
A 60-day Dubai visa opens the door to an incredible experience in this vibrant emirate. With careful planning and preparation, obtaining this visa is straightforward, allowing you to enjoy everything Dubai offers for up to 60 days. Just remember to follow the rules and regulations, and you'll have a fantastic time exploring Dubai.
Frequently Asked Questions (FAQ)
How long can I extend my stay in Dubai?
All short-term stays in Dubai can extend their stay for 30 more days from the date of their visa validity. Each traveler is entitled to stay for 120 days in Dubai, including the extension period.
How many times can my Dubai visa be extended?
You can extend your Dubai tourist visa twice so it doesn't exceed 120 days in Dubai, including the extension period.
Is the Dubai visa stamped on the passport?
No. The Dubai visa issued to you is an electronic visa, which is transferred to the applicant via the email specified in the visa application form.
How soon should I apply for my Dubai visa extension?
Ideally, you should apply for a Dubai visa extension 3-5 business days before your visa expires. The Dubai visa extension is usually processed in 48 hours.
Please outline the key benefits of a Dubai visa extension?
A Dubai visa extension primarily helps you flexibility to adapt to your dynamic travel needs, where you can explore Dubai's rich culture and heritage in-depth.
It gives you a great opportunity to extend and spend more time with your family and friends residing in Dubai.
Suppose you are in Dubai for a business or work opportunity; a visa extension allows you to continue your business activities without interruption.
You can avoid hefty fines, deportation, and blacklisting of your profile, which may come into the picture due to overstaying beyond the visa validity period.
Is there a fine to overstay in UAE?
Yes. Dubai immigration authorities will charge an additional AED 50 per traveler for each day you overstay. In addition, if you are found with an expired tourist visa, you will have to pay an additional AED 100 while crossing the border controls of the Dubai Emirate.